* Production base:Jun Yi Coated Pipe Co., Ltd

* Model number:JY-4000H-A
* Brand name:Jingyu
* Manufacturing standard:using international materials production under strict Junyi quality control and inspection.
* Design requirements:the standard is in accordance with the most favorable specification in the industry. Emphasizes on the safety of people, articles, and equipments; prolong the service life.
* Production process:Emphasizes the function of each pipe,Produced under the precise manufacturing process. Producing unqualified products are not allowed.
* Testing:In addition to the regular standard gauge testing, a special gauge testing is added for every process to ensure the functional indices reach the standard.
* Sales areas:Asia/Europe/south America/North America/Australia/Middle East
Composite applications picture for JY-4000H-A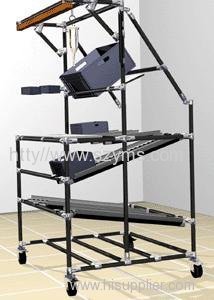 Product features
* The Inner wall has a high density anti-rust coating layer. Comparing with non anti-rust coating products, the service life of our products extends to several times of others'. Moreover, the metal corrosion is greatly reduced.
* Each coated pipe adds 5~10mm (length) for users for the processing position.
* Multiple color choices.
* The surface of the pipes got uniform plastic coating(as shown in the picture)


* Bearing capacity tests parameters table


Junyi coated pipes production is based on the international manufacturing standard and in strictly accordance with ISO9001 management control process. Under such quality control,our products are produced with fewest error. The rust prevention and the durability extend the service life of the product.
Wide application:the coated pipes are widely used in the factories,schools,urban outdoor,business,facilities,farmland,greenhouse,pasture areas… They are often seen as the working tables,production trolleys,conveying lines,office desks,smart combination facilities, household furniture, wardrobes, luggage carts, lockers, storage and warehouse racking system, and so on.
Phone:+8613714145321
Whatsapp:+8613660544039
qq:1475799883