3 1/16" 10k H2 choke valve for Oil wellhead
API Choke valve 3 1/16" x 10000psi H2 choke valve
Introduction of the Wellhead API Choke valve

The choke valve as a important component of Christmas tree, is design to control production
rate of the oil well,with working pressure up to 20000psi. Choke valves can be classified as
follows: adjustable choke valves and positive choke valves. The choke valve is designed and manufactured in accordance with API 6A and API 16C standard and improved from Cameron H2 series adjustable choke valves.
Features of the H2 Choke valve for wellhead
The coupling nut used for connecting the bonnet and body allows fast make-up and break-out.

Carbide alloy is embedded into stem needle of valve, seat

Flow adjustment is indicated on a measuring scale.


Turn hand wheel counter-clockwise and the valve will open; turn hand wheel clockwise and the valve will close.

composite rubber-plastic stem lip packing reduces operating torque
Main technical data
| | |
| --- | --- |
| Size | 2 1/16" to 7 1/16" |
| Working pressure | 2000 to 20000 psi |
| Material class | AA to FF |
| Product specification | PSL 1- 3 |
| Temperature Class | P.U |
| Medium | Oil, Gas, Water |
Structure of the Choke valve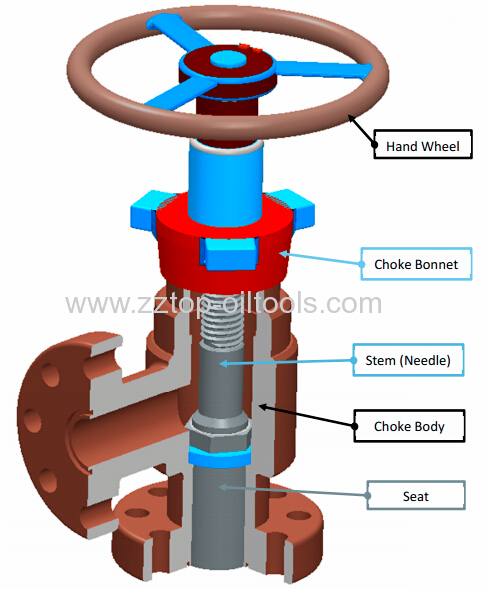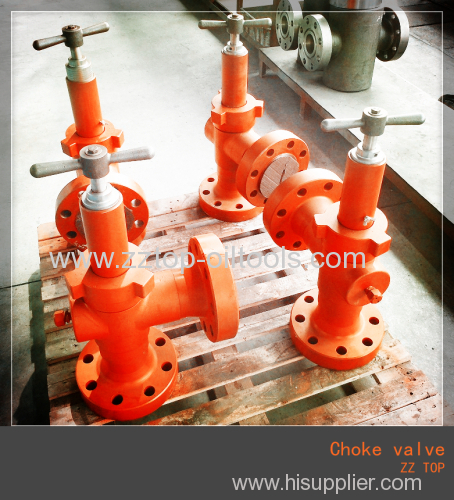 ZZTOP is the experienced and expertized manufacturer for wellhead vairous valves, provides cost effective wellhead equipment in a wide range of pressure and sizes available to accommodate most casing sizes, which are designed complying with API-6A specification levels.
The wellhead valve includes gate valve, hydraulic gate valve, manual gate valve, high pressure gate valve, high pressure plug valve, choke valve, check valve, adjustable choke valve etc.
3 1/16" 10k H2 choke valve for Oil wellhead
API Choke valve 3 1/16" x 10000psi H2 choke valve