Glass IR oven quartz infrared heater tube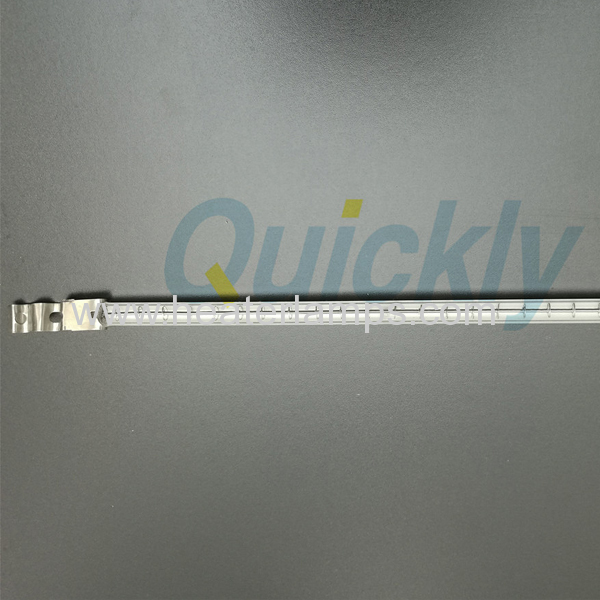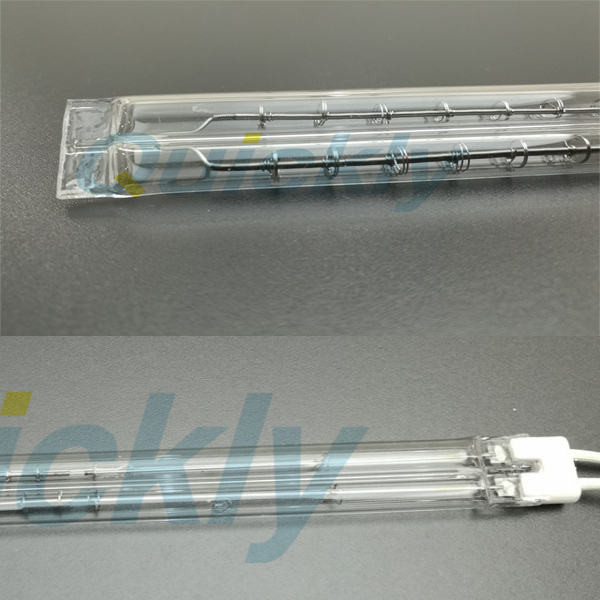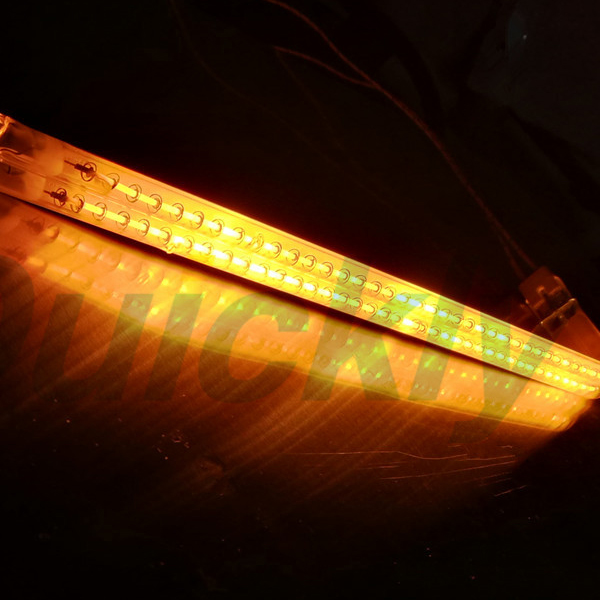 Shortwave infrared heaters features:
Max Power density: 100W/cm
Quartz tube purity: 99.99%
Fulx density: 99%
Energy using rate: 97%
Quartz tube diameter: 10/11/12/13mm
Quartz tube color: transparent

Type: Shortwave infrared heating lamps
Function: Short response, Fast heating, drying and curing.
Customized length: from 100mm to 2200mm
Customized voltage: from 80V to 600V
Customized wattage: from 300W to 12000W
Coating options: Ceramic white/Gloden/NO
Cable length: 100-2500mm
Terminal type: O shape (4mm, 5mm), Y shape, U shape, I shape, etc.
Average Lifetime of Short wave transparent twin tube infrared lamps: 5,000 hours
Details of SWIR10227: 227mm OVL 127mm HL, 235V/500W
Applied Industry of Short wave transparent halogen infrared lamps:
IR Oven Infrared oven IR furnace Infrared furnace Infrared heating equipment Infrared drying
machine Shortwave infrared oven Medium wave IR oven tunnel oven Autoclave Oven Flat Press
machine PET blow machine Flat glass press machine Laminated glass Heating Oven
Screen printing glass Drying machine Auto glass printing drying equipment
Reflow soldering machine Wave soldering machine Plastic Thermoforming machine
Blister Molding machine Selective soldering machine String welding machine
Film stretching machine PECVD equipment LPCVD oven Firing furnace Sintering Machine
Leather stamping heating equipment Tunnel drying system for silver mirror coating
Infrared drying system for silver mirror line/aluminum mirror line Car paint curing
PCB printing drying process Solar cell firing furnace Solar PV Module string welding machine
Electronics panel preheating IR panel Conveyor zone IR tunnel Wood industry surface paint
drying Semi-conductor infrared drying oven Textile printing drying system
Plastic floor heating module Plastic bucket heating system Electric infrared curing systems
Comaprision of Shortwave (No.1), Medium wave (No.2), Carbon IR (No.3)
Lifetime 5000h 20000h 10000h
Wavelength 0.76-1.4um 2.8-4.0um 2.4-2.7um
Max Power density 100W/cm 35W/cm 60W/cm
Response time 1s 30s 2-10s
Technical instruction:
Max Power: 100W/cm
Actual power=W/cm* spring filament length (heated length)
Total length=Heated length + at least 6cm
Cable length=300mm (normal type), more than 300mm length will be extrally charged.
Special terminal:Y shape, U shape, O shape, I shape.
Shortwave IR heat lamps showed as following photos: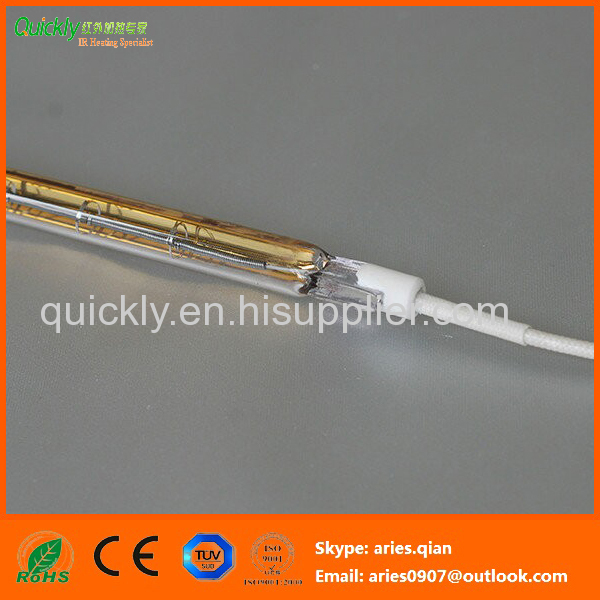 This is a single tube shortwave infrared heat lamps with gold coating on the back half tube.
Heating element is tungsten wire, and it's halogen type with short wavlength infrared light.
Features: High effiecent, fast response, high temperature and can be switch on and off within
one second.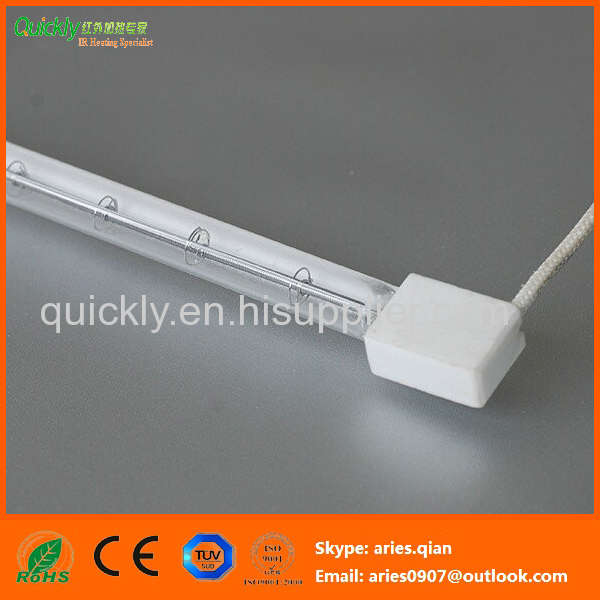 Single tube shortwave infrared heat lamps with white reflector
Terminal base: SK15 ceramic end cap
Cable length: 200-500mm, can be longer or shorter, based on your need.
SK15 Ceramic end cap as followed: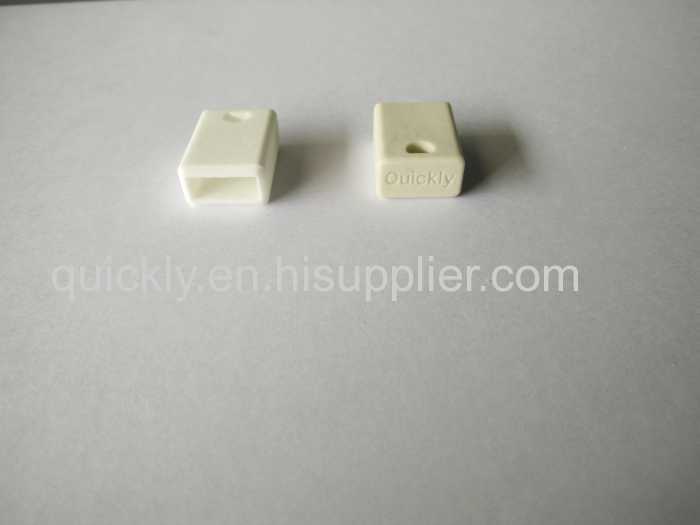 And also the drawig of the single tube shortwave infrared heat lamps with SK15 ceramic base
as followed: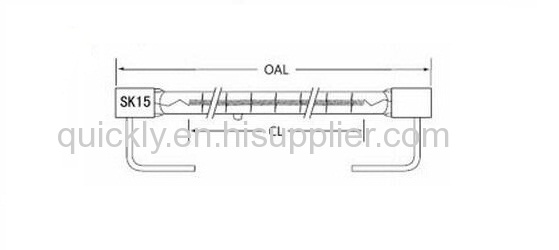 Overview of production process: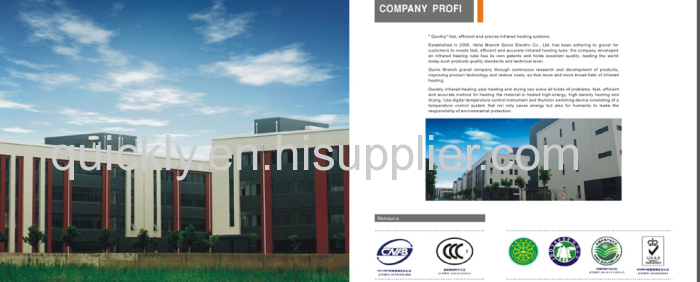 Contact us
Company Name: Hefei Quickly Electric Co., Ltd.
Company address: Jiahai Industrial Zone C-34, Xinbengbu Road,
Xinzhan District, Hefei, China
Contact sales person: Ares Qian
Technical support: quickly2(at)ir-heater.com
Skype: aries.qian
Whatsapp: 86_18605655617