Car parking chain for garage

Such chain is a garage chain specialized in matching the parking sprocket to drive or balance the car conveyor.

Features:
1.Re-punched chain link holes:OCM re-punching process can eliminate the inclined holes.Parallel sides of hole to realize better load between the pin shaft and hole. This process can increase the fatigue strength.

2.Shot blasting: it can increase the fatigue strength via shot blasting of rollers and chain plates.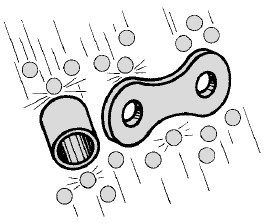 3.Orientation of oil port+seamless sleeve: oil holes are set inside the sleeve to avoid the loaded parts as an oil sump for refilling the lubricating oil. It can reduce the wears of chain and extend its service life.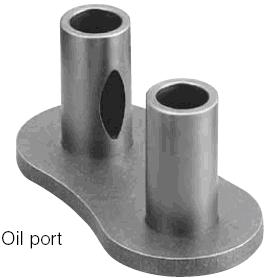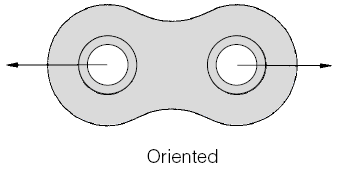 4.High-cylindricality seamless sleeve:wide loading face of high-cylindricality seamless sleeve, oil port used as an oil sump, which can increase the wear resistance of chain and reduce its initial elongation.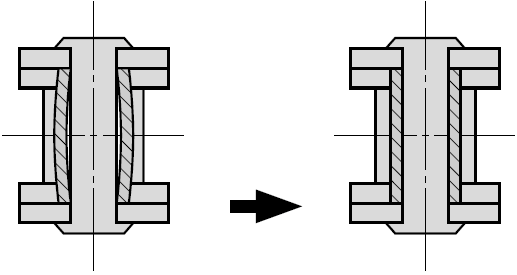 5.Pre-load: the automatic preload of OCM roller chain can reduce its initial elongation after its installation.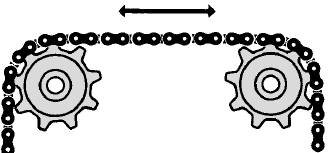 Technical parameters of chain:
60 standard series (pitch:19.05mm)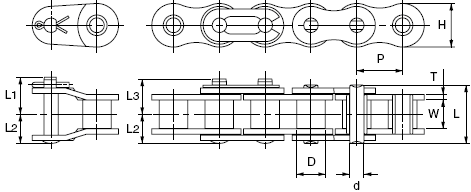 Chain No.

Pitch

Roller chain

Pitch width

Chain plate

Pin shaft

Row distance

Min.tensile load

Average tensile load

Weight

OCM

ISO/GB

P

D

W

H

T

d

L

L1

L2

L3

E

kN

kN

Kg/m

OCM60-1R

12A-1

19.05

11.91

12.57

18.0

2.42

5.96

25.4

15.2

12.7

14.7

----

37.76

44.12

1.6

OCM60-2R

12A-2

48.2

22.8

75.51

88.24

3.1
80 standard series (pitch:25.40mm)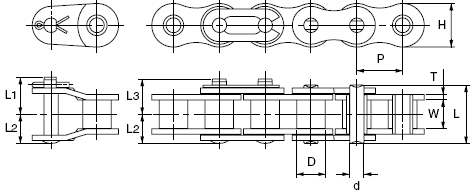 Chain No.

Pitch

Roller diameter

Pitch width

Chain plate

Pin shaft

Row distance

Min.tensile load

Average tensile load

Weight

OCM

ISO/GB

P

D

W

H

T

d

L

L1

L2

L3

L4

E

kN

kN

Kg/m

OCM80-1R

16A-1

25.40

15.88

15.75

24.1

3.25

7.94

32.7

19.7

18.0

18.8

16.3

----

70.61

78.43

2.8

OCM80-2R

16A-2

62.1

29.3

141.22

156.86

5.6
100 standard series (pitch:31.75mm)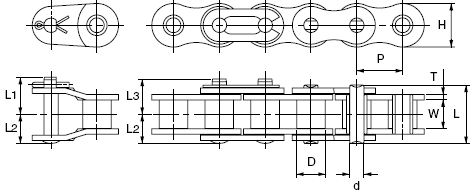 Chain No.

Pitch

Roller chain

Pitch width

Chain plate

Pin shaft

Row distance

Min.tensile load

Average tensile load

Weight

OCM

ISO/GB

P

D

W

H

T

d

L

L1

L2

L3

E

kN

kN

Kg/m

OCM100-1R

20A-1

31.75

19.05

18.90

30.1

4.00

9.54

39.9

23.5

21.5

20.0

----

105.84

117.65

4.2

OCM100-2R

20A-2

75.7

35.8

211.68

235.29

8.4