Twin Tube Infrared Heat Lamps

Short Wave IR lamps
Clear IR Lamp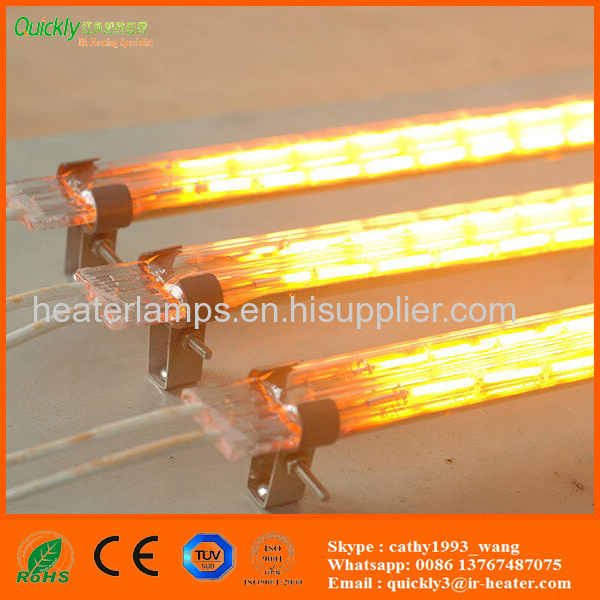 Gold Coating IR Lamp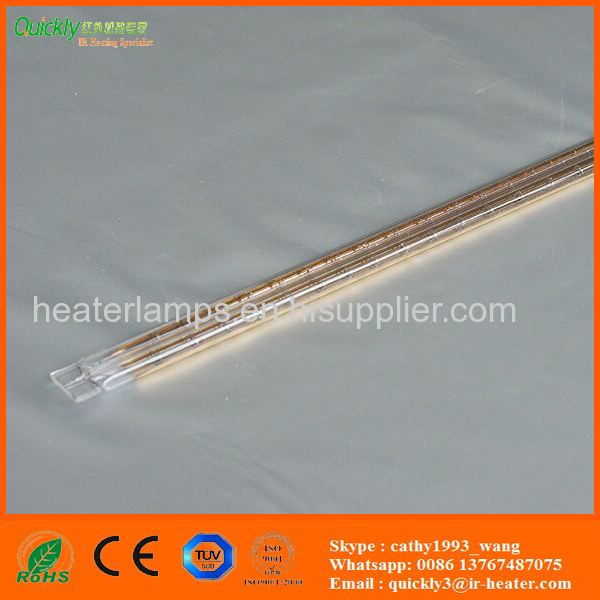 White plated IR Lamp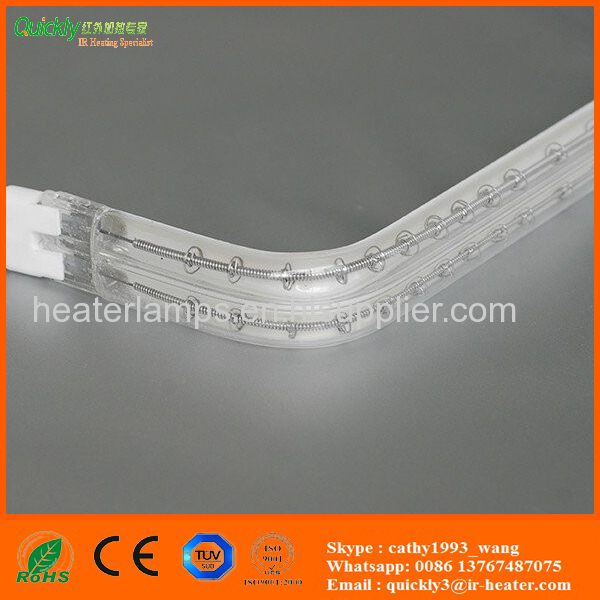 Medium Wave IR Lamps
Gold Coating IR Lamp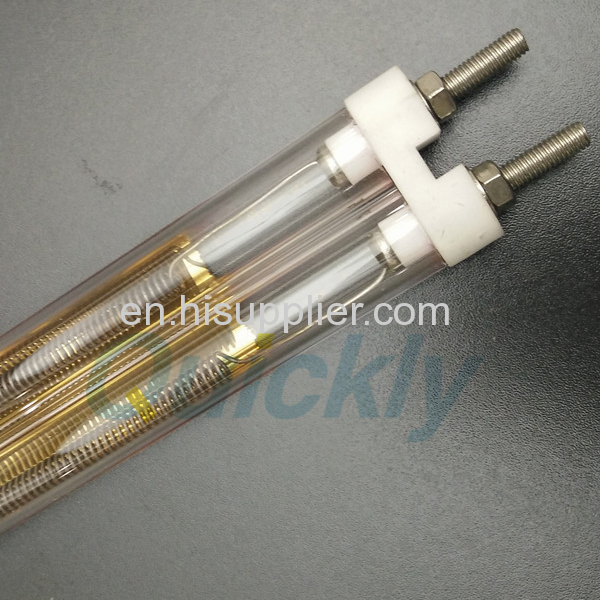 White Coating IR Lamp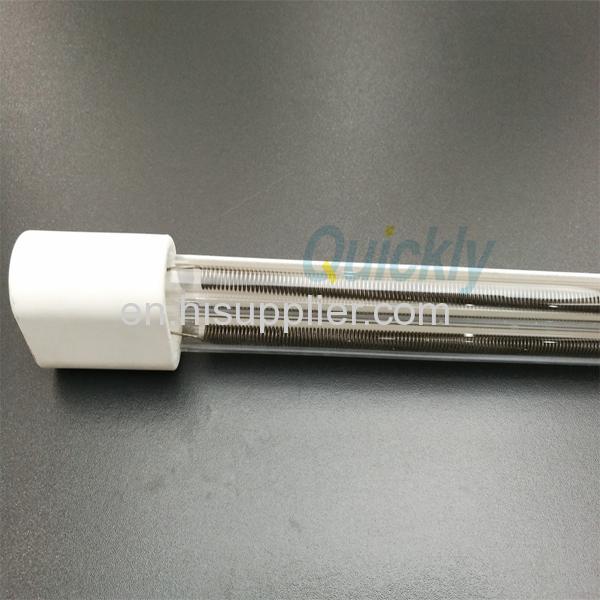 Clear IR Lamp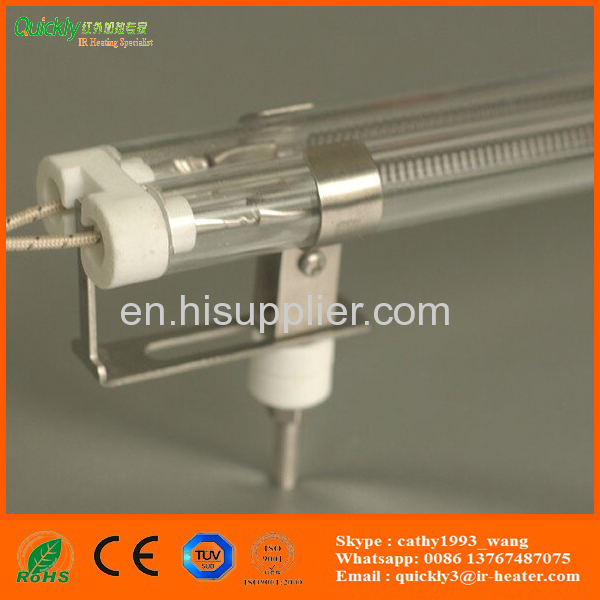 Short-wave infrared emitters utilize a low-mass tungsten filament that is incased in a special blend of inert gasses. This provides a very high energy source capable of responding instantly to voltage changes, allowing for precise temperature control for a variety of applications.
| | | |
| --- | --- | --- |
| 1 | Quartz Tube Cross Section | 10,11,12,13,15,18,20,23*11,33*15mm (customized) |
| 2 | Peak Wavelength | 0.75-1.4um |
| 3 | Total Length. | 880mm(customized) |
| 4 | Heated Length | 780mm(customized) |
| 5 | Power | 1500w(customized) |
| 6 | Voltage | 240v(customized) |
| 7 | Standard Lead Wire Length | 300mm (customized) |
| 8 | Response Time | 1-2s |
| 9 | Warranty Time | 5000 Hours (24Hs/Day) |
| 10 | color | Ceramic white/Gold/Clear(customized) |
| 11 | Filament | Tungsten |
| 12 | Installing Orientation | Horizontal / Vertical |
Construction Types of
Short Wave & Fast Medium Wave & Carbon IR Lamp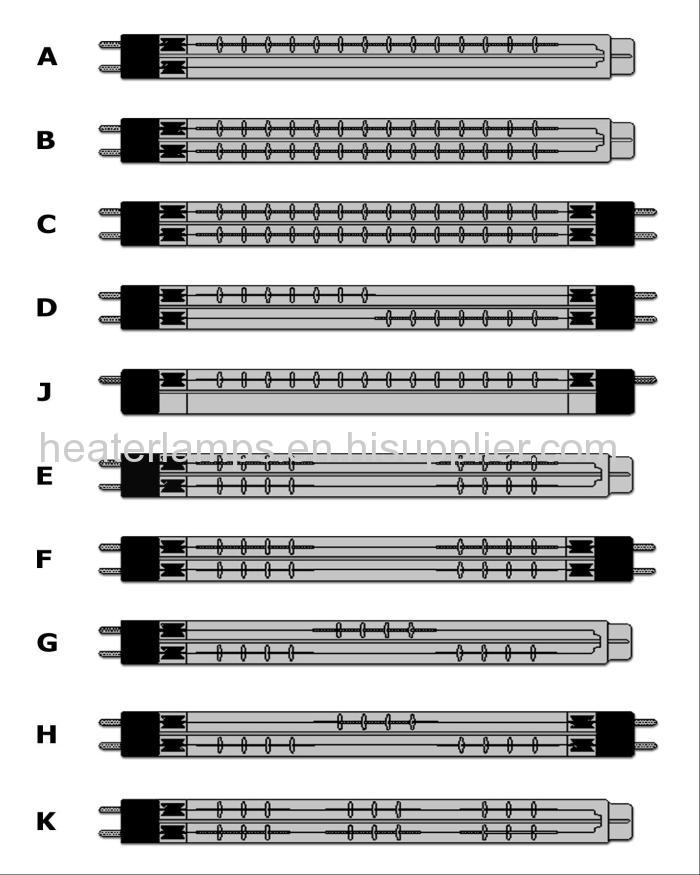 Medium Wave IR Lamp
Quickly Infrared heating product range
The IR Heater Range

Format
(mm)

Heated Length
from-to (mm)

Total Length
from-to (mm)

Max. Output
(Watt)

Short Wave IR

Halogen NIR

10/11/12 dia.

60-1000

110-1100

9000

Single-tube IR

13/15dia.

60-1200/1400

110-1300/1500

7500

Twin-tube IR

23x11

80-3000

200-3150

14,000

Twin-tube IR

33x15

80-3800

200-4050

16,000

Carbon IR

Round tube

12/15/18 dia.

120-1000/1680

130-1200/1750

7,200

Twin-tube IR

23x11

80-2500

200-2650

8,000

Twin tube

33 x 15

120-3000

130-3130

10,500

Fast Medium wave IR

Single tube

13/15dia.

60-1200/1400

110-1300/1500

6,200

Twin-tube IR

33x15

400-3000

600-3150

12,000

Medium Wave IR

Single tube

15/18dia

80-1400/1700

150-1500/1800

6,750

Twin-tube IR

18x8

80-1500

100-1600

2500

Twin-tube IR

23x11

100-2000

120-2200

4500

Twin-tube IR

33x15

500-5800

350-6000

12,000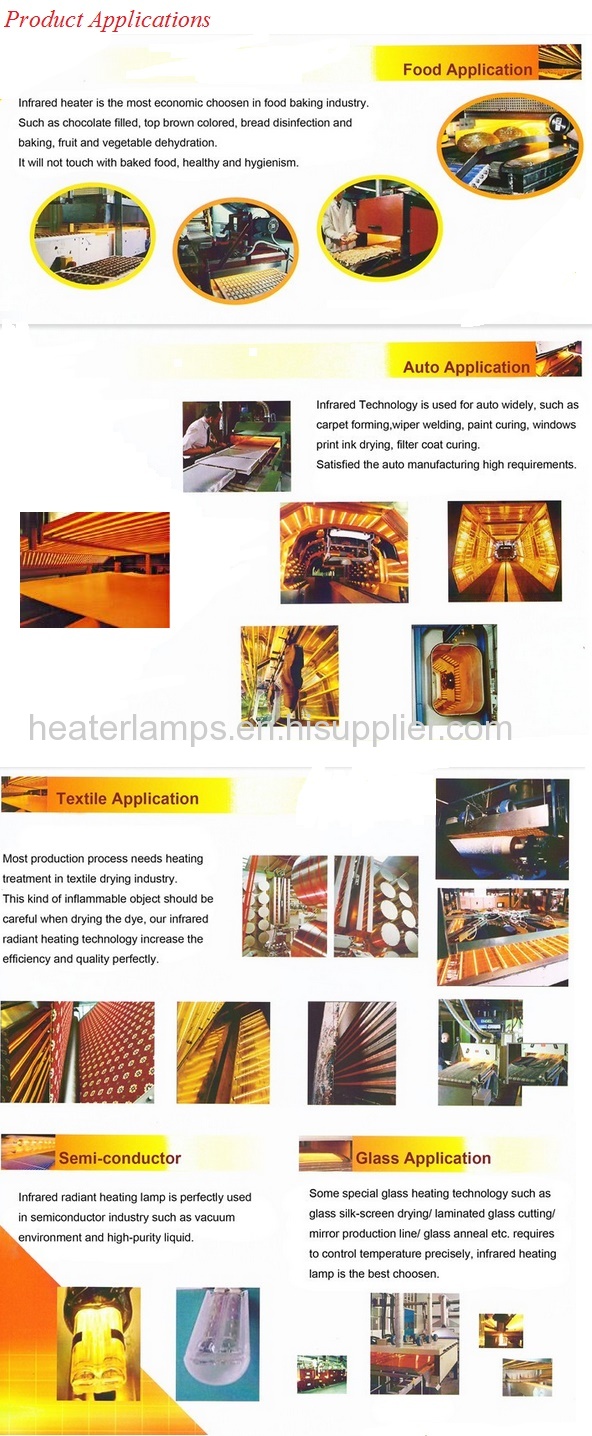 Details about Short Wave IR Heater Lamps
Description
Hefei Quickly Electric Co.,LTD specifies tungsten filament Infrared halogen lamps in most of its heaters. The Halogen Cycle increases the life of the lamp. Halogen gas is added to the inert gas in the lamp. As the heater operates, tungsten slowly evaporates from the filament and combines with the halogen to create a tungsten halide. As the tungsten halide touches the filament, the heat separates the halide into tungsten and halogen gas and re-deposits the tungsten back on the filament. The freed halogen gas then repeats the process.
Rapid Response
The lamps heat up and cool down instantly in response to changes in applied voltage. They radiate 90 percent of the available radiant energy in less than one second after being turned on. By comparison, long wave length infrared emitters must be energized for several minutes before they reach the same relative output. Similarly, the short-wavelength infrared emitter in the lamps cools down much faster than a long wave length infrared emitter. This is in part due to the greater thermal mass of long wave length emitters.
Tungsten Wire Filament
The high-density infrared energy is produced by a tungsten wire filament in the lamp. The filament is supported by tungsten wire ring anchors, tantalum disks, or through deflection winding of the filament to create the support from the filament itself. The supports prevent the filament from coming into contact with the quartz lamp envelope and causing the lamp to fail.
Atmosphere
The inert atmosphere in the quartz glass envelope protects the tungsten wire filament from oxidation.
Electrical Connections
In most cases, connections to supply electricity to the tungsten wire filament are made through flexible pigtail leads. Button contacts and screw bases are also used on some lamps to make this connection. Lamps with end leads should be installed so the leads have a small amount of slack to allow for thermal expansion during operation. This will eliminate lamp failure caused by rigid leads transferring this expansion to the quartz glass envelope
Reflector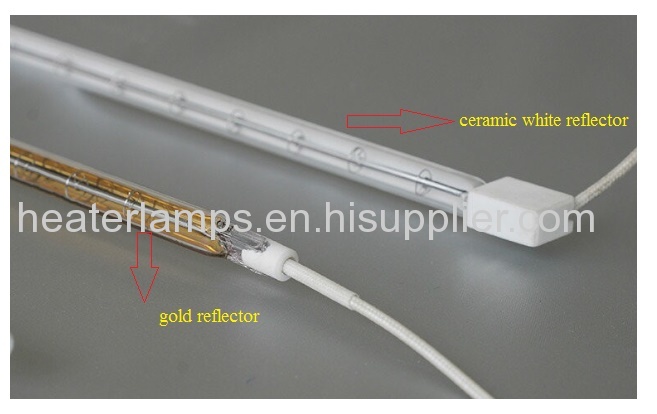 The gold/ ceramic coating can concentrate the heat, increasing the effectiveness of the heat output.
The emitters with coating are highly economical, converting practically all the consumed electrical power into heat.
For the emitters with high watt density or the surface temperature of the tube above 800°C , we suggest to use ceramic coating as reflector because the temperature resistance is up to 1000°C .
In addition to 180° (half-tube) coating, we also manufacture 270° coating or other customer specified degrees.
Advantages
Quartz glass infrared emitter frequently prove superior to conventional heating sources such as warm air,steam,ceramic,gas or metal emitters,because they transfer large amounts of energy very quickly and can be precisely matched to the product and the manufacturing step -the ideal heating process.
-Infrared radiation requires neither contact nor intermediate transfer medium
-Quartz glass infrared emitters are precisely matched to the materials to be heated
-Fast response times allow controllable heat
-Heat is applied precisely where and only for so long as it is required
Compared for example to warm air heating ,this often means less energy consumption,higher line speed,a smaller footprint and better result .
FAQ
1. What kind of IR lamp you manufacture
Short Wave Infrared Heater Lamps
Medium Wave Infrared Heater Lamps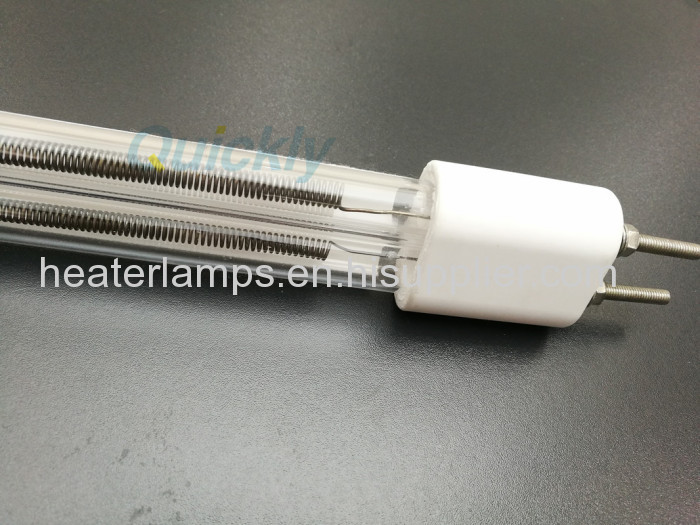 Carbon Medium Wave Infrared Heater Lamps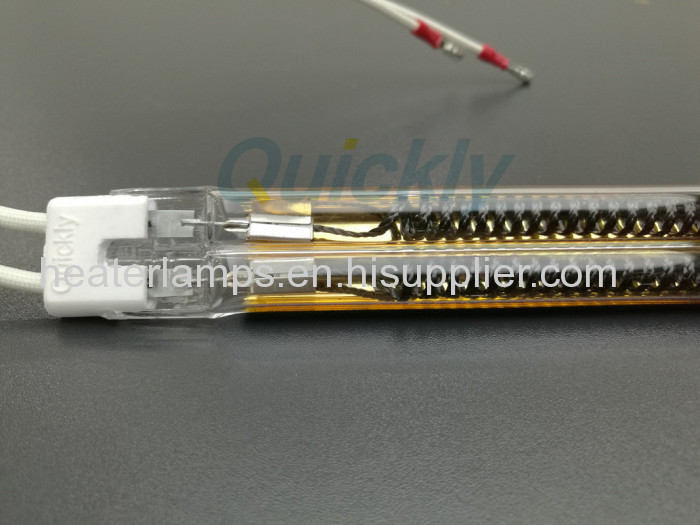 Fast Medium Wave Infrared Heater Lamps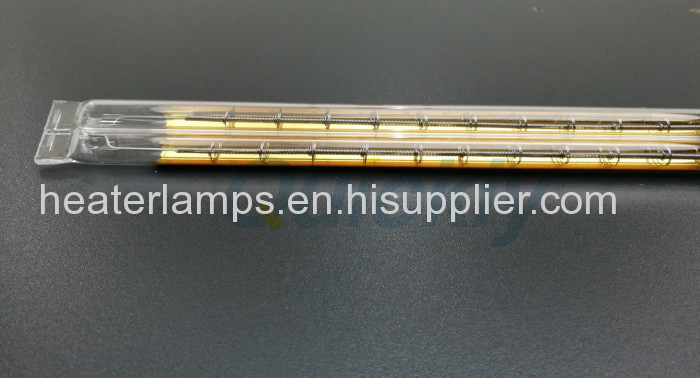 All of our product are customized according to your required diameter, length, power,voltage, reflector, shape...
2. What information i need to confirm before sending inquiry
Input Voltage, Wattage, Overall Length ( including ceramic base), Heated Length, Tube Diameter, Reflector Type, Lead wire length, Ceramic base type, Application, Quantity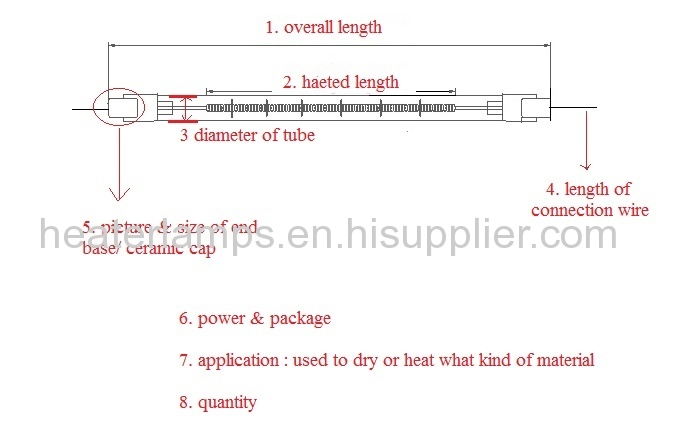 3. How does your factory do quality control
" quality is priority", we always and keep paying more attention to QC from the material purchasing to the lamps' packing. Our product have gained CE, ROHS, ISO9001.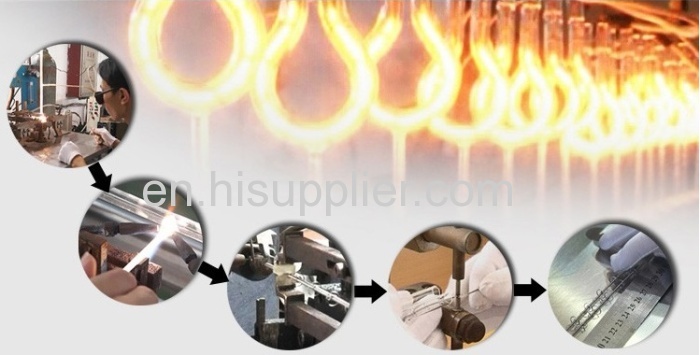 4.Where is your company located
Our company locates at Hefei City, Anhui Province, China; warmly welcome to visit us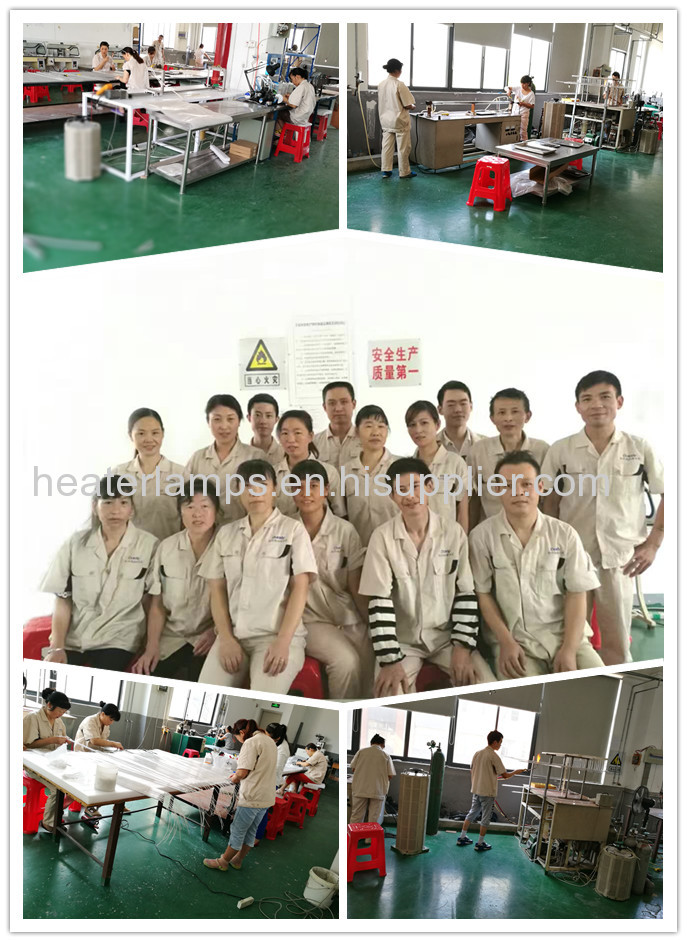 5. How you pack the lamps ?
6. How To make the shipping and payment?