Twin Tube Infrared Heat Lamps

Clear IR Lamp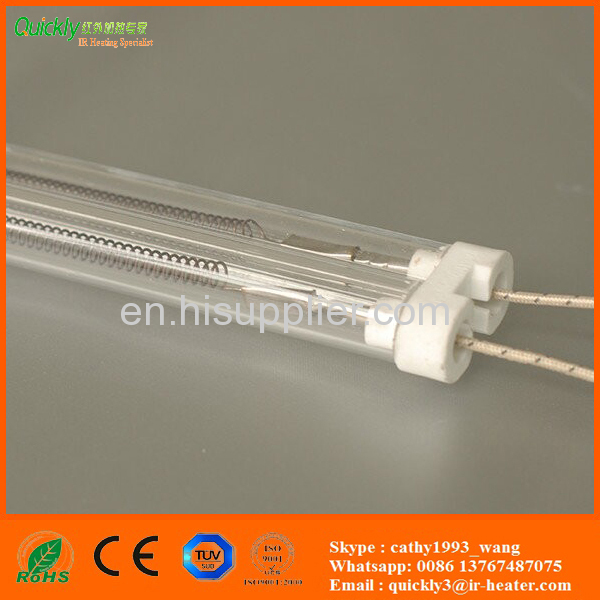 Gold Coating IR Lamp
White plated IR Lamp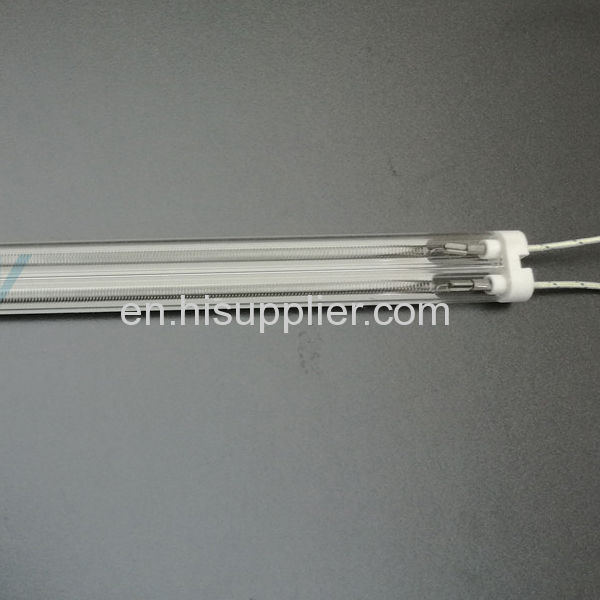 Specifications of Medium Wave IR Lamp
| | |
| --- | --- |
| power density | 18 20 25 W/CM |
| Light source | Alloy filament |
| Material | Quartz Tube |
| Lifetime | 20000 hrs |
| Input Voltage | AC 220V- 400V |
| Maximum heat length | 1500 2000 3500 mm |
| quartz tube format | 10,11,12,13,15,18,20,8×18 11×23 15×33mm |
| Peak wave length | 2.4-2.7um |
| Filament Temp | 800-950 Degree Celsius |
| Reflector | white / gold /clear |
| Construction | B C |
| max.power | 60kw/m2 |
| response time | 1-4mins |
Construction Types of Twin Tubes Medium Wave IR Lamp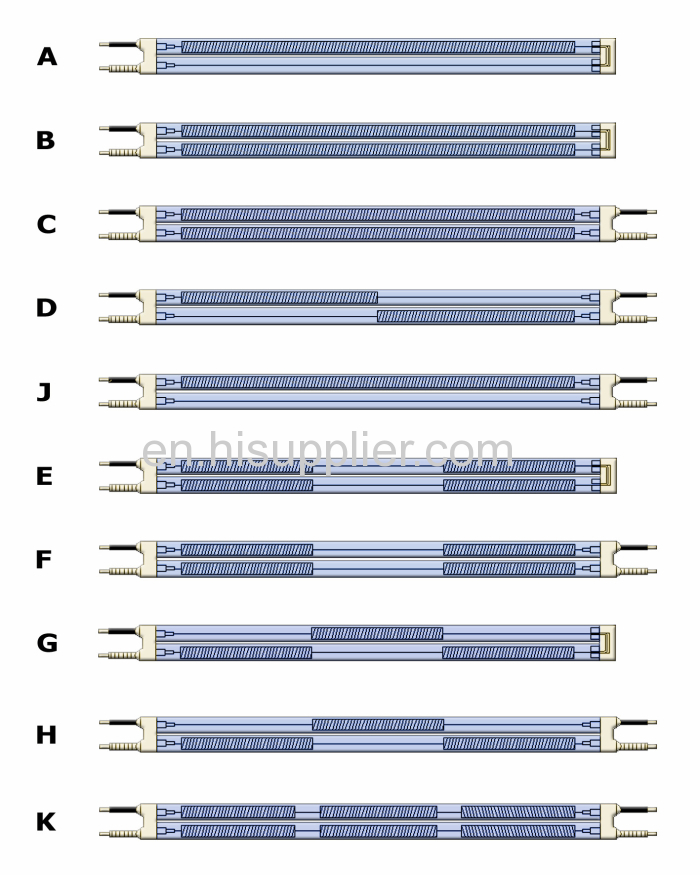 Type A: One side connection, one channel heating, another not heating, only one side with ceramic base;
Type B: One side connection, both two channels heating, only one side with cearmic base;
Type C: Two sides connection, both two channels heating, both two sides with ceramic base;
Type D: Two sides connection, both two channels heating, Up channel heating on the left, down channel
heating on the right, both two sides with ceramic base;
Type E: One side connection, both two channels heating but not constantly heating, both two channels
heating on two sides with a part in the middle not heating, only one side with ceramic base;
Type F: Two sides connection, both two channels heating but not constantly heating, both two channels
heating on two sides with a part in the middle not heating, both two sides with ceramic base;
Type G: One side connection, both two channels heating but up channel heating in the middle but down
channel heating on the two sides with the middle part not heating, only one side with ceramic base
Type H: Two sides connection, both two channels heating but also not constantly heating, up channel
heating in the middle and down channel heating on the two sides with middle part not heating, both
two sides with ceramic base;
Type K: One side connection, both two channels heating, but with three parts of not constantly heating
wire in both two channels, only one side with ceramic base.
Quickly Infrared Heating Lamp Reference Specifications List
The IR Heater Range

Format
(mm)

Heated Length
from-to (mm)

Total Length
from-to (mm)

Max. Output
(Watt)

Short Wave IR

Halogen NIR

10/11/12 dia.

60-1000

110-1100

9000

Single-tube IR

13/15dia.

60-1200/1400

110-1300/1500

7500

Twin-tube IR

23x11

80-3000

200-3150

14,000

Twin-tube IR

33x15

80-3800

200-4050

16,000

Carbon IR

Round tube

12/15/18 dia.

120-1000/1680

130-1200/1750

7,200

Twin-tube IR

23x11

80-2500

200-2650

8,000

Twin tube

33 x 15

120-3000

130-3130

10,500

Fast Medium wave IR

Single tube

13/15dia.

60-1200/1400

110-1300/1500

6,200

Twin-tube IR

33x15

400-3000

600-3150

12,000

Medium Wave IR

Single tube

15/18dia

80-1400/1700

150-1500/1800

6,750

Twin-tube IR

18x8

80-1500

100-1600

2500

Twin-tube IR

23x11

100-2000

120-2200

4500

Twin-tube IR

33x15

500-5800

350-6000

12,000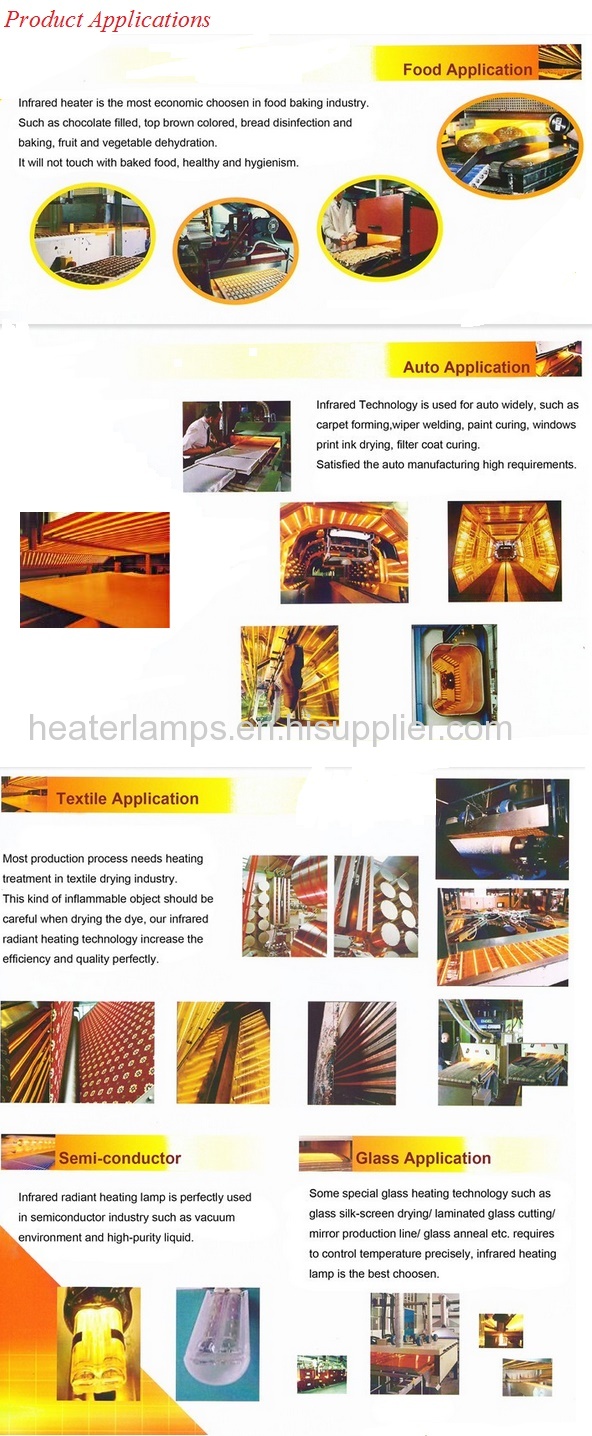 Reflector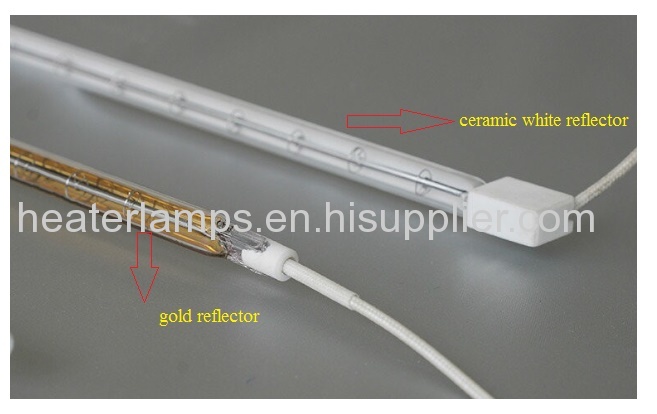 The gold/ ceramic coating can concentrate the heat, increasing the effectiveness of the heat output.
The emitters with coating are highly economical, converting practically all the consumed electrical power into heat.
For the emitters with high watt density or the surface temperature of the tube above 800°C , we suggest to use ceramic coating as reflector because the temperature resistance is up to 1000°C .
In addition to 180° (half-tube) coating, we also manufacture 270° coating or other customer specified degrees.
Advantages
Quartz glass infrared emitter frequently prove superior to conventional heating sources such as warm air,steam,ceramic,gas or metal emitters,because they transfer large amounts of energy very quickly and can be precisely matched to the product and the manufacturing step -the ideal heating process.
-Infrared radiation requires neither contact nor intermediate transfer medium
-Quartz glass infrared emitters are precisely matched to the materials to be heated
-Fast response times allow controllable heat
-Heat is applied precisely where and only for so long as it is required
Compared for example to warm air heating ,this often means less energy consumption,higher line speed,a smaller footprint and better result .
FAQ
1. What kind of IR lamp you manufacture
Short Wave Infrared Heater Lamps
Medium Wave Infrared Heater Lamps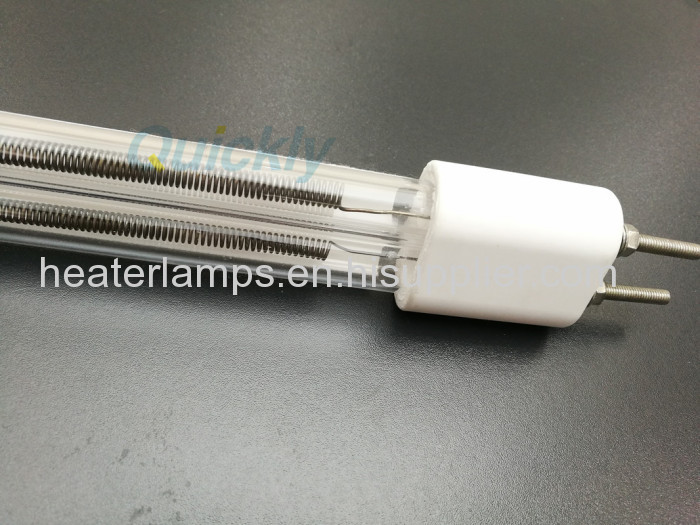 Carbon Medium Wave Infrared Heater Lamps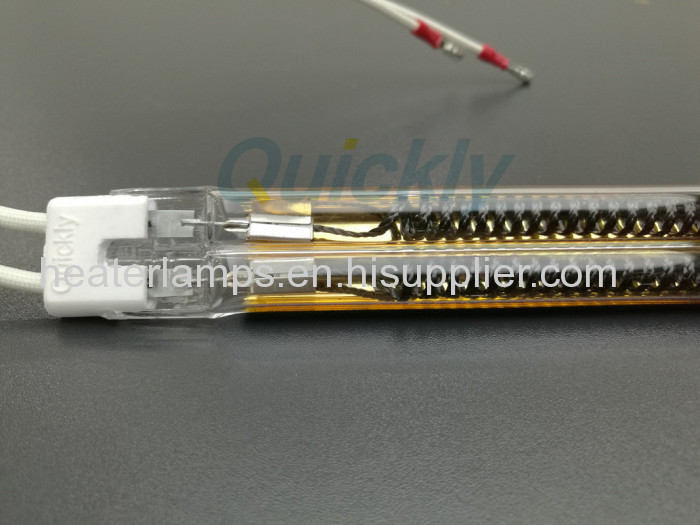 Fast Medium Wave Infrared Heater Lamps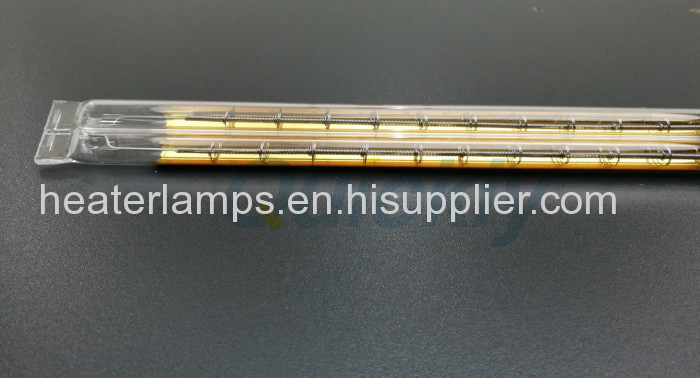 All of our product are customized according to your required diameter, length, power,voltage, reflector, shape...
2. What information i need to confirm before sending inquiry
Input Voltage, Wattage, Overall Length ( including ceramic base), Heated Length, Tube Diameter, Reflector Type, Lead wire length, Ceramic base type, Application, Quantity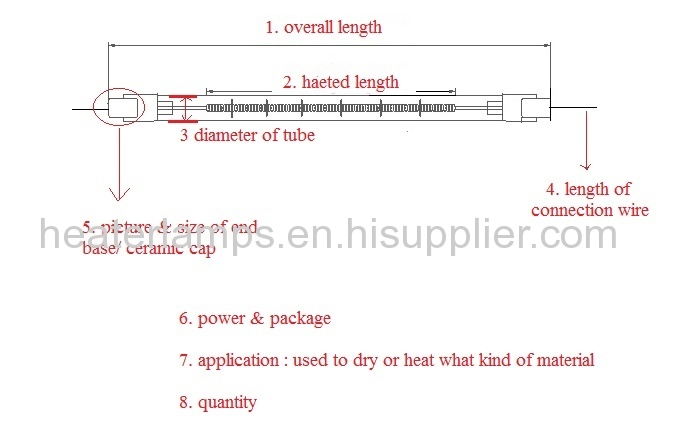 3. How does your factory do quality control
" quality is priority", we always and keep paying more attention to QC from the material purchasing to the lamps' packing. Our product have gained CE, ROHS, ISO9001.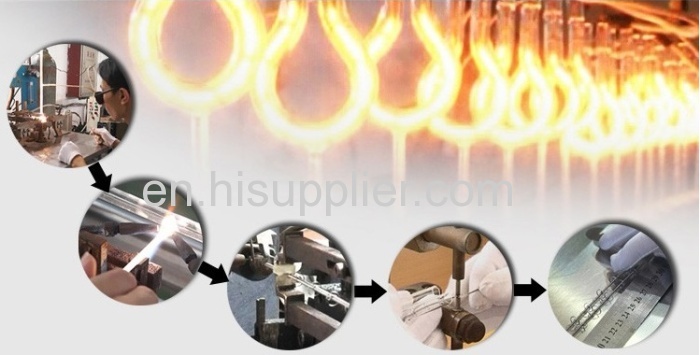 4.Where is your company located
Our company locates at Hefei City, Anhui Province, China; warmly welcome to visit us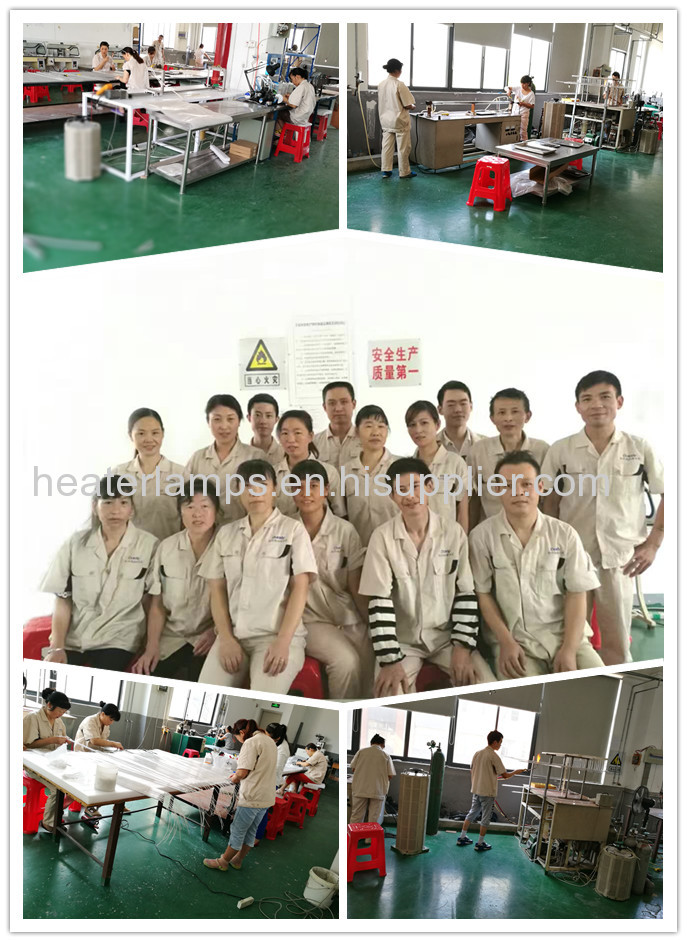 5. How you pack the lamps ?
6. How To make the shipping and payment?