Short Wave Infrared Lamp
Near infrared (NIR) or short-wave infrared heaters operate at high filament temperatures above 1800 °C and when arranged in a field reach high power densities of some hundreds of kW/m2. Their peak wavelength is well below the absorption spectrum for water, making them unsuitable for many drying applications. They are well suited for heating of silica where a deep penetration is needed.
Reference Size
Code

Heated Length HL

(mm)

Overall Length OL

(mm)

Wattage

(W)

Voltage

(V)

SW 500

127

212

500

240

SW 1000

254

348

1000

240

SW 1600

406

500

1600

240

SW 1600

406

500

1600

415

SW 2000G

508

626

2000

240

SW 2000

508

626

2000

415

SW 2500

635

728

2500

415

SW 3000

508

626

3000

240

SW 3000

765

875

3000

415

SW 2000W

1020

1120

2000

240



Features and Benefits

1.Highly Efficient Heat Source
Over 85% of the input energy is converted into infrared energy.
2.Ease of Control
As opposed to combustion heat energy, our light source based energy is easier to control and manipulate by use of lenses and reflectors.
3.Compact and Clean Energy
A non-polluting heat source from a light weight and compact footprint enables flexible design possibilities.
4.Instant On/Off
Due to the ability to reach maximum output upon ignition, a sophisticated heating programming can be applied.
5.Long Life and Consistent Output
By utilizing the halogen cycle, QUICKLY's lamps are designed up to 5000 hrs with almost no loss in infrared output.
6.Flexible Production Capability
QUICKLY supports customer specified custom design and OEM support.
End base types and drawing of lamp







IR Lamps Applications


Our Service
Custom designs
Elements can be designed to your specifications.
Need prototypes or samples?
We'll be glad to provide them for you and in some cases for free.
Do you have special end requirements?
We can accommodate your needs,in this case, we will have a requirement of min order quantity 100pcs at least.
Have an unusual design?
Send us a drawing, sketch, or sample and we'll be happy to quote it.
We specialize in small runs and custom designs, but can be highly competitive on large orders as well.
Engineering consulting
Not sure if quartz is right for your application? Contact me and we'll help you make the right choice. We can also assist you in picking the right infrared characteristics for your specific application. Please note, there are thousands of possible applications for quartz infrared tubes and numerous factors affecting which design works best. There is a limit to what we can help with, but we will try our hardest!
The corresponsing quantity mounting clamps for Infrared Heaters is free to supply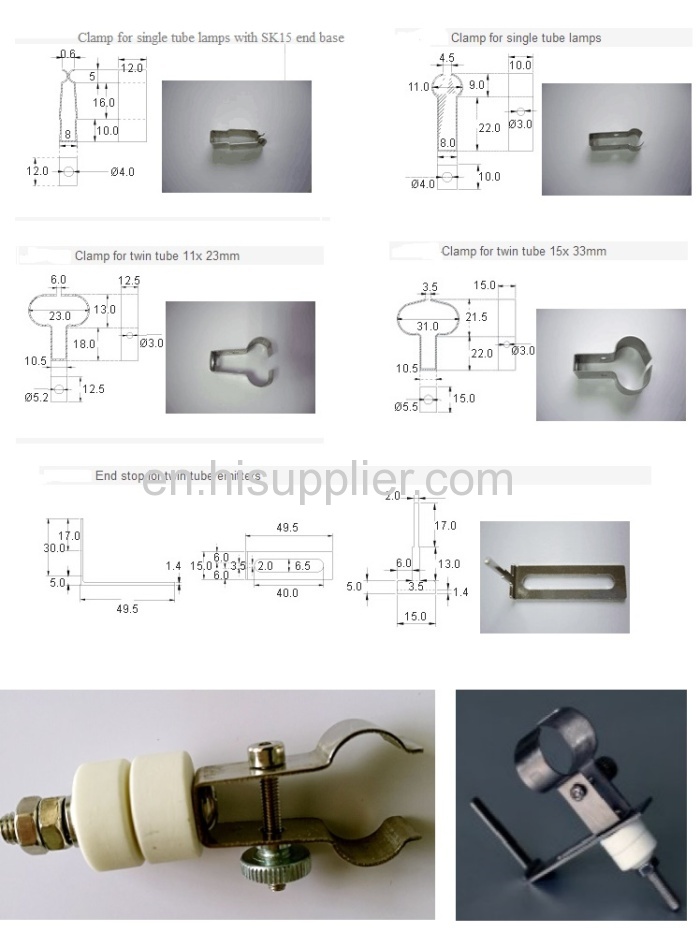 Details about Short Wave IR Heater Lamps
Description
Hefei Quickly Electric Co.,LTD specifies tungsten filament Infrared halogen lamps in most of its heaters. The Halogen Cycle increases the life of the lamp. Halogen gas is added to the inert gas in the lamp. As the heater operates, tungsten slowly evaporates from the filament and combines with the halogen to create a tungsten halide. As the tungsten halide touches the filament, the heat separates the halide into tungsten and halogen gas and re-deposits the tungsten back on the filament. The freed halogen gas then repeats the process.
Rapid Response
The lamps heat up and cool down instantly in response to changes in applied voltage. They radiate 90 percent of the available radiant energy in less than one second after being turned on. By comparison, long wave length infrared emitters must be energized for several minutes before they reach the same relative output. Similarly, the short-wavelength infrared emitter in the lamps cools down much faster than a long wave length infrared emitter. This is in part due to the greater thermal mass of long wave length emitters.
Tungsten Wire Filament
The high-density infrared energy is produced by a tungsten wire filament in the lamp. The filament is supported by tungsten wire ring anchors, tantalum disks, or through deflection winding of the filament to create the support from the filament itself. The supports prevent the filament from coming into contact with the quartz lamp envelope and causing the lamp to fail.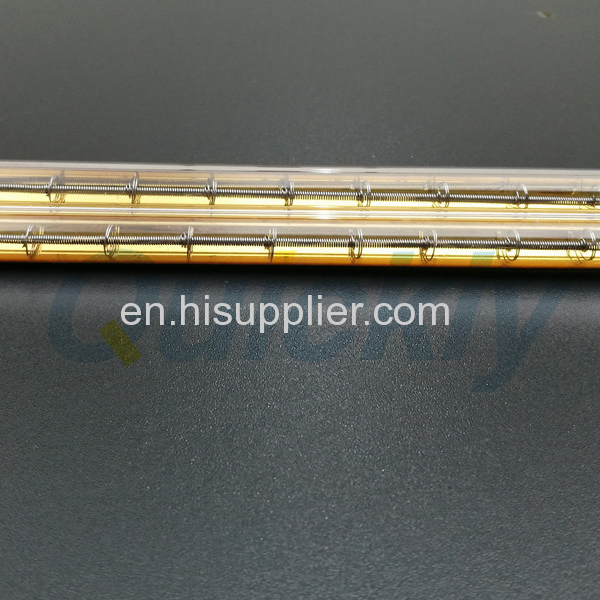 Atmosphere
The inert atmosphere in the quartz glass envelope protects the tungsten wire filament from oxidation.
Electrical Connections
In most cases, connections to supply electricity to the tungsten wire filament are made through flexible pigtail leads. Button contacts and screw bases are also used on some lamps to make this connection. Lamps with end leads should be installed so the leads have a small amount of slack to allow for thermal expansion during operation. This will eliminate lamp failure caused by rigid leads transferring this expansion to the quartz glass envelope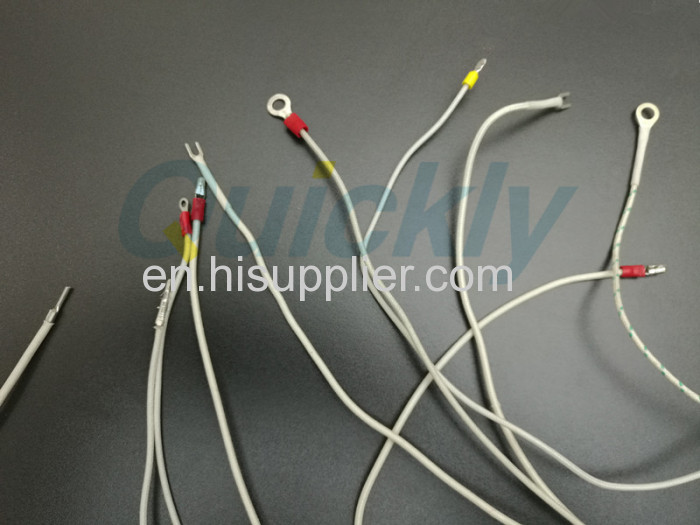 Reflector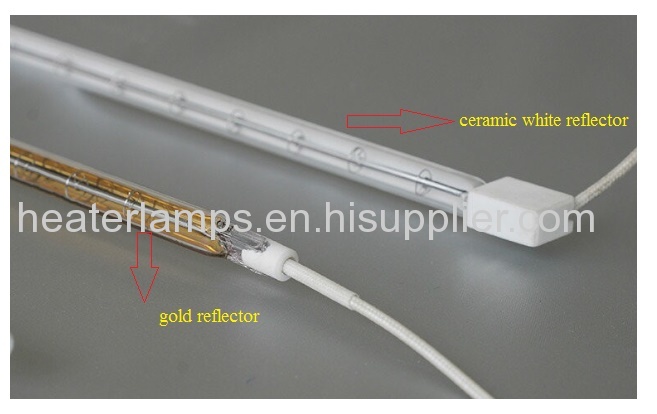 The gold/ ceramic coating can concentrate the heat, increasing the effectiveness of the heat output.
The emitters with coating are highly economical, converting practically all the consumed electrical power into heat.
For the emitters with high watt density or the surface temperature of the tube above 800°C , we suggest to use ceramic coating as reflector because the temperature resistance is up to 1000°C .
In addition to 180° (half-tube) coating, we also manufacture 270° coating or other customer specified degrees.
About Our Company
Hefei Quickly Electric Co.,ltd is a manufacturer of high quality Quartz electric heating elements. We proudly manufacture every elements we sell. Every element is manufactured from high quality materials sourced from both domestic and foreign suppliers. We make the finest quality elements in the market.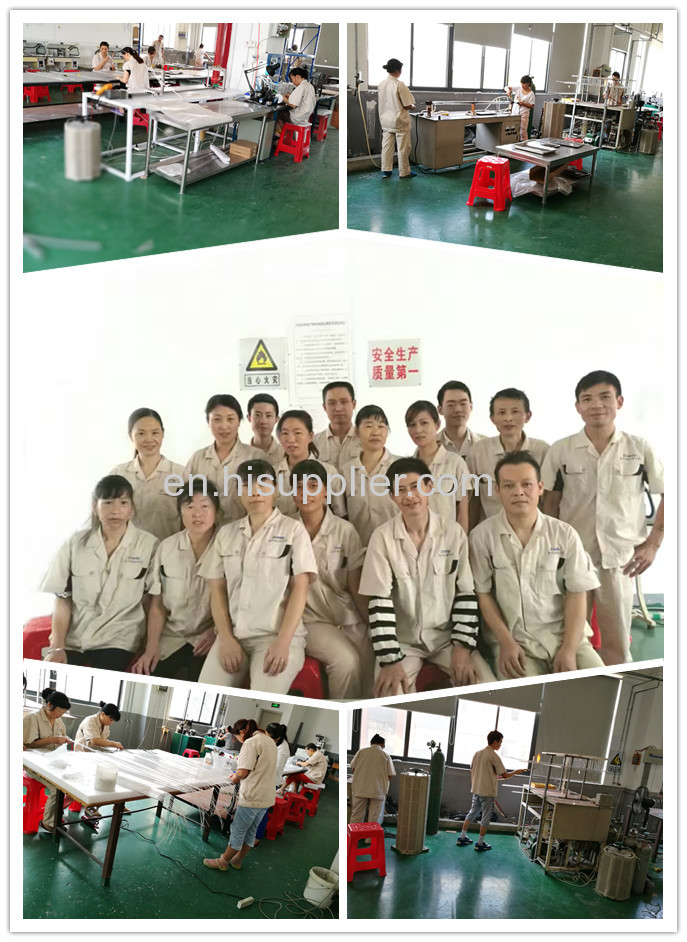 " quality is priority", we always and keep paying more attention to QC from the material purchasing to the lamps' packing. Our product have gained CE, ROHS, ISO9001