Twin Tube Short Wave IR Heater Lamp

Gold Coating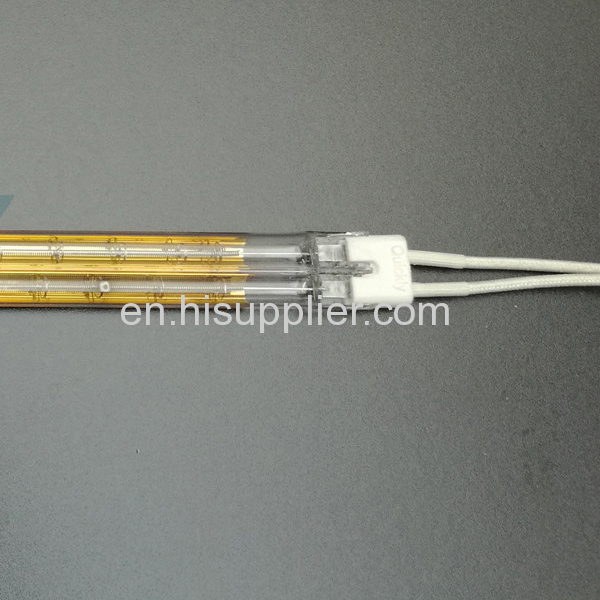 White Plating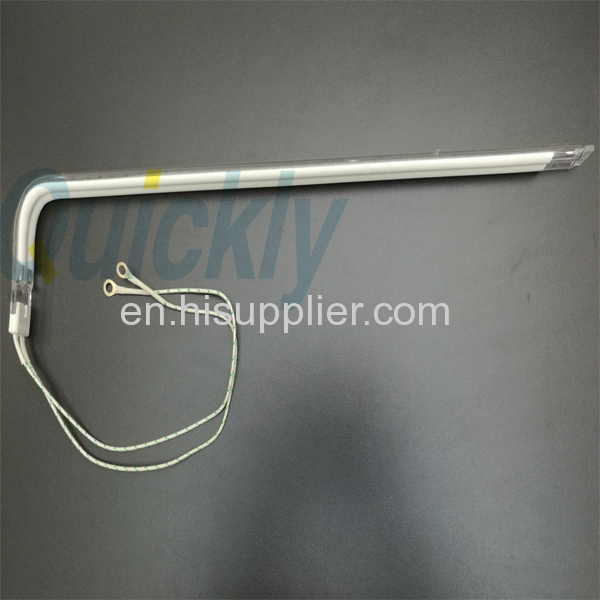 Clear without any coating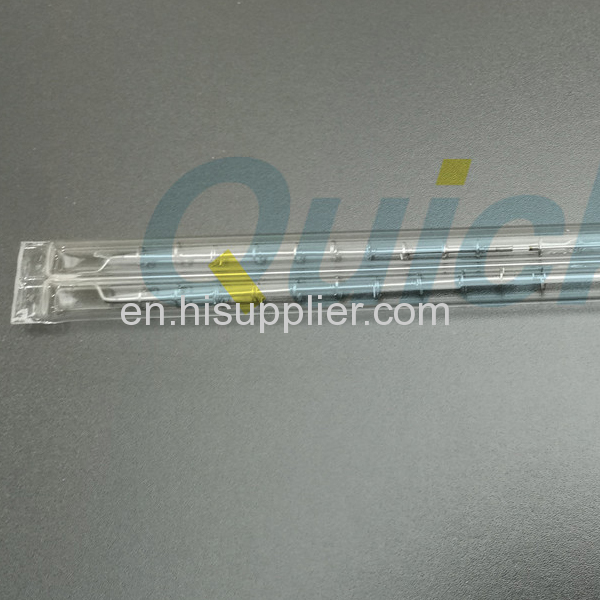 QUICKLY has a comprehensive range of Infrared twin tube emitters specifically designed to fulfil a wide range of industrial applications.
· High power with high quality
· High quality quartz
· Excellent mechanical stability
· Clear or coated
· Single or double ended connections
· Industry standard 'ABC...' lamp types (see as attached picture below)
Made of high quality quartz, our win tube lamps enable high radiation power as well as excellent mechanical stability.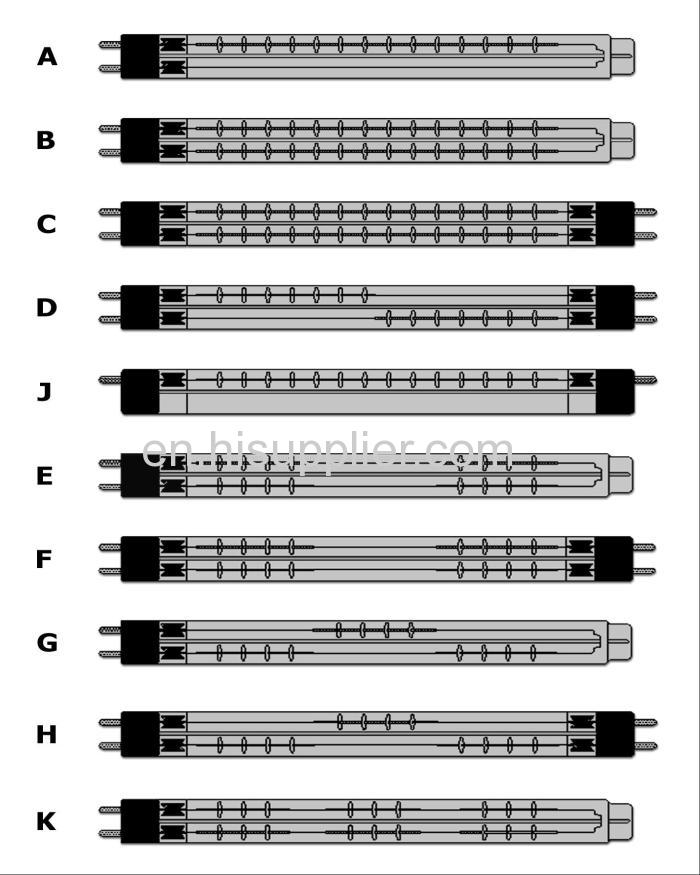 This is made up high-purity clear quartz twin tube, each tube has Heating Coil of Tungsten material which runs in U shape in the tube which is filled with halogen gas.
· Power Density up to 20KW/m2 is achieved. Heating up and cooling down time is approximately one second
· These heaters are available with gold reflector and without reflector
· Reflector is in the form of gold/ceramic white coating on outer rear side of the tube
· Due to reflector heat loss from backside is prevented and thus power saving is achieved
· This also results in making surrounding work area cooler
· This also increases the efficiency and directionality of the heater
· There are two standard sizes 11 mm x 23 mm and 15 mm x 33 mm in cross section. Maximum length available is 4600mm
Twin Tube IR Lamps Specifications List
The IR Heater Range

Format
(mm)

Heated Length
from-to (mm)

Total Length
from-to (mm)

Max. Output
(Watt)

Short Wave IR Heater

Halogen NIR

10/11/12 dia.

60-1000

110-1100

9000

Single-tube IR

13/15dia.

60-1200/1400

110-1300/1500

7500

Twin-tube IR

23x11

80-3000

200-3150

14,000

Twin-tube IR

33x15

80-3800

200-4050

16,000

Medium Wave

IR Heater

Single tube

15/18dia

80-1400/1700

150-1500/1800

6,750

Twin-tube IR

18x8

80-1500

100-1600

2500

Twin-tube IR

23x11

100-2000

120-2200

4500

Twin-tube IR

33x15

500-5800

350-6000

12,000

Carbon IR Heater

Round tube

12/15/18 dia.

120-1000/1680

130-1200/1750

7,200

Twin-tube IR

23x11

80-2500

200-2650

8,000

Twin tube

33 x 15

120-3000

130-3130

10,500

Fast Medium wave

IR Heater

Single tube

13/15dia.

60-1200/1400

110-1300/1500

6,200

Twin-tube IR

33x15

400-3000

600-3150

12,000



Information of Short Wave Infrared Emitter
1.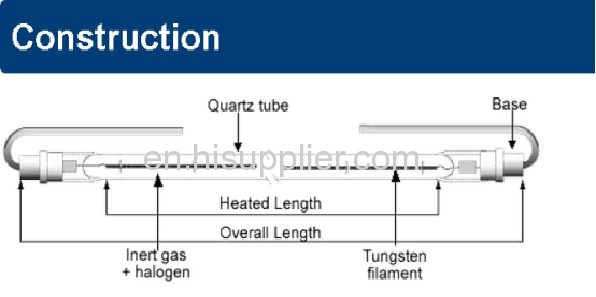 Short-wave infrared emitters utilize a low-mass tungsten filament that is incased in a special blend of inert gasses. This provides a very high energy source capable of responding instantly to voltage changes, allowing for precise temperature control for a variety of applications.
· Glass Tube:99.9% Pure Fused Silica Quartz Sealed
· Filament Material:Tungsten
· Filament Temperature:1800 - 2400C℃(3300 - 4400F)
· Peak Wavelength:1.0 - 1.4 Um
· Color temperature 2400~2500 K
· Response time around 1~2 seconds
· Average working life 5000 hours
· Vertical and horizontal emitters are available
2.FEATURES & BENEFITS of IR Heater Lamps
· Highly Efficient Heat Source
Over 85% of the input energy is converted into infrared energy.
· Ease of Control
As opposed to combustion heat energy, our light source based energy is easier to control and manipulate by use of lenses and reflectors.
· Compact and Clean Energy
A non-polluting heat source from a light weight and compact footprint enables flexible design possibilities.
· Instant On/Off
Due to the ability to reach maximum output upon ignition, a sophisticated heating programming can be applied.
· Long Life and Consistent Output
By utilizing the halogen cycle, QUICKLY's lamps are designed up to 5000 hrs with almost no loss in infrared output.
· Flexible Production Capability
QUICKLY supports customer specified custom design and OEM support.
3. Applications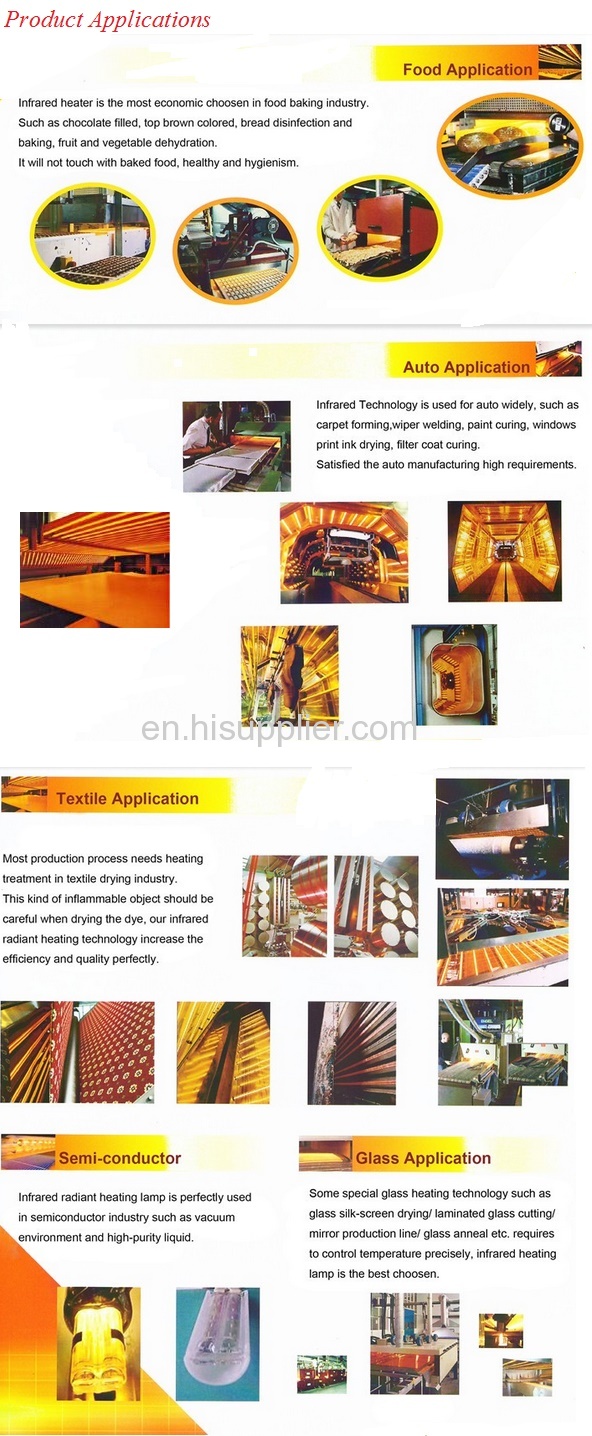 RFQ
1.Why Quartz Glass as the one main of material?
The choice of quartz glass is not a coincidence: this extraordinary material is totally transparent at IR radiation, can withstand constant working temperatures of more than 1000°C and it is resistant to chemical corrosion.
2.Typs of Quartz tubes
Quartz uses two kinds of quartz tubes: single tube and twin tube. The twin tube provides the best mechanical resistance, thanks to its reverse "H" shape, and it allows to manufacture emitters up to 6,5 meters in length.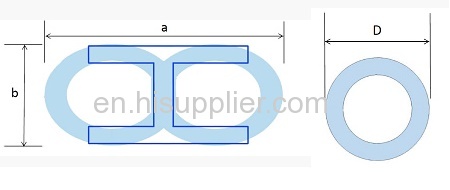 3.Why Reflector
Industrial infrared heaters sometimes use a gold/white/ruby coating on the quartz tube that reflects the infrared radiation and directs it towards the product to be heated. Consequently, the infrared radiation impinging on the product is virtually doubled. Gold is used because of its oxidation resistance and very high IR reflectivity of approximately 95%
4.could you supply clamps for lamp installing ?
Yes, we will provide mounting clamps for clients, and the corresponding clamps quantity with purchased lamps are supplied freely bu us.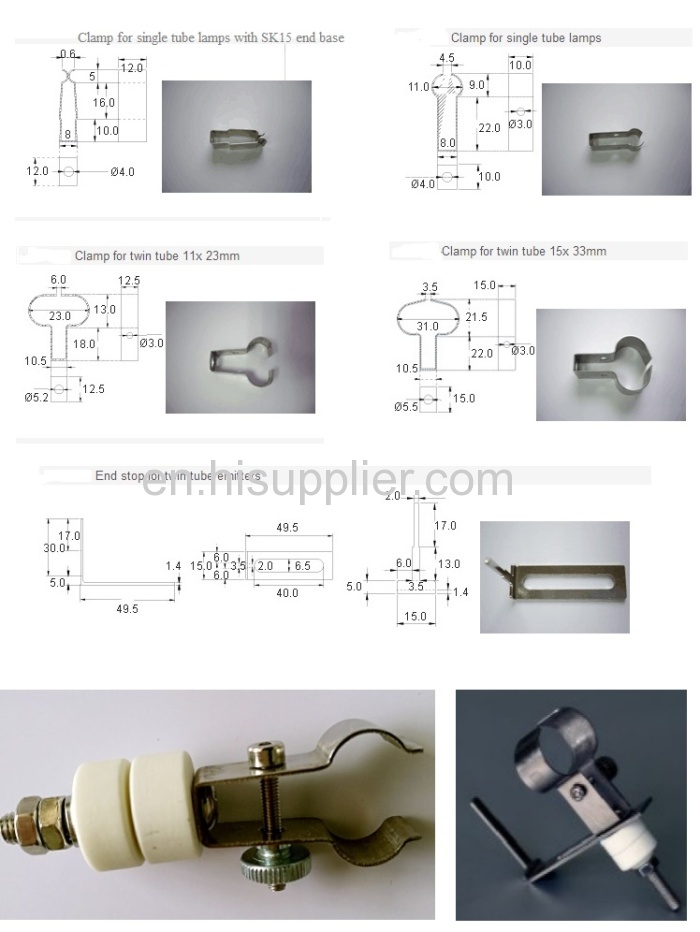 5.Have an unusual design?
Send us a drawing, sketch, or sample and we'll be happy to quote it.
We specialize in small runs and custom designs, but can be highly competitive on large orders as well.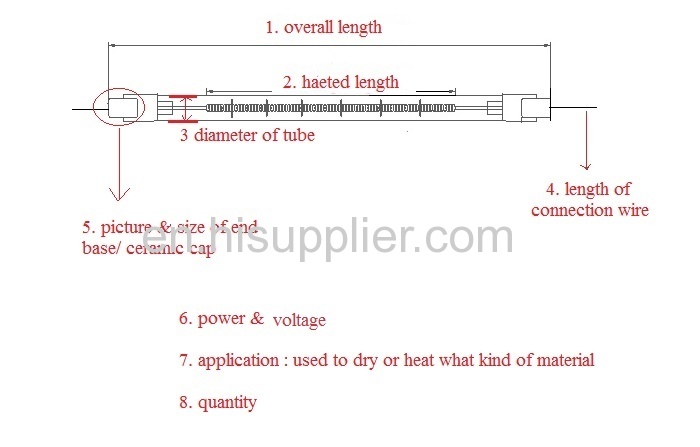 6. How you pack the lamps ?
7. How To make the shipping and payment?