Twin Tube Medium Wave Infrared Heater
· Operating temperature 900° C
· Using Ni-Cr or Fe-Cr-A1 resistance wire as filaments
· Response time around 1 minute
· IR wavelength between 2-4 M
· Average working life up to 20000 hours
· Gold or ceramic coating at rear side as a reflectors
· Dimensions 11 x 23mm and 15 x 33mm
· Max. overall length up to 6000mm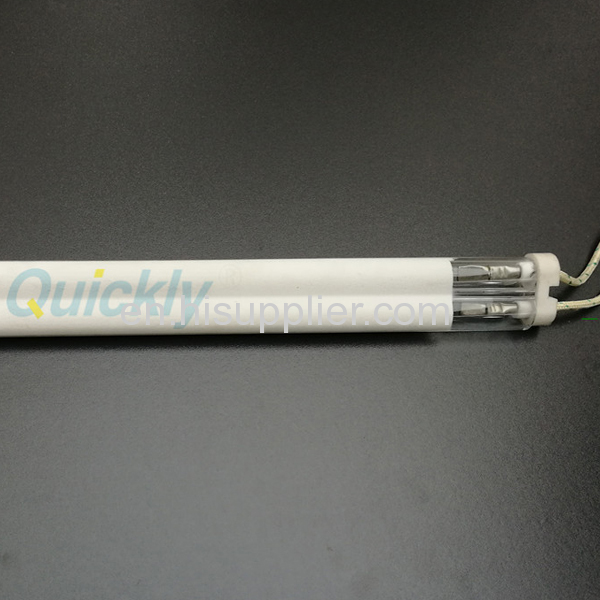 | | |
| --- | --- |
| Product name | Medium Wave IR Lamp |
| Lamp No. | MWIR-GT006 |
| Tube diameter | 8*18mm/11*23mm/15*33mm |
| Total length/Heated length | 420mm/350mm |
| Cable length/Connection | 600mm/two sides connection |
| Power/Voltage | 1000W/380V |
| Terminal required/Base Type | No/Base Type B |
| Color temperature/Life time | 2250K/20000 hours |
| Max Temperature Performance | Up to 750 Degree C |
| Warranty Time | 20000 hours |
| Wavelength range | 2.6-4.2um |
Filament Designs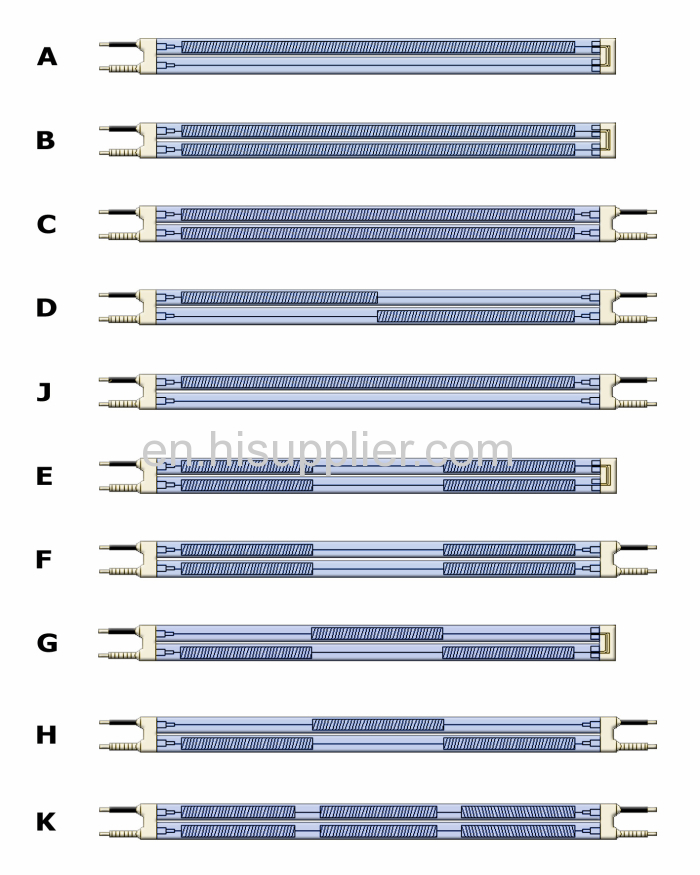 Technical Specificatiosn Of Twin Tube IR Lamp
| | | | | |
| --- | --- | --- | --- | --- |
| Ref No. | Voltage | Wattage | Twin tube | Total length |
| | v | w | mm | mm |
| 1 | 220 | 1700 | 15*33 | 1280 |
| 2 | 230 | 500 | 11*23 | 400 |
| 3 | 230 | 1000 | 11*23 | 600 |
| 4 | 230 | 2000 | 15*33 | 900 |
| 5 | 230 | 2500 | 15*33 | 1100 |
| 6 | 230 | 2500 | 15*33 | 1300 |
| 7 | 230 | 3250 | 15*33 | 1420 |
| 8 | 230 | 3750 | 15*33 | 1600 |
| 9 | 380 | 4800 | 15*33 | 2135 |
| 10 | 400 | 4100 | 15*33 | 1800 |
| 11 | 400 | 4500 | 15*33 | 1920 |
| 12 | 400 | 5250 | 15*33 | 2200 |
| 13 | 400 | 5750 | 15*33 | 2400 |
| 14 | 400 | 6250 | 15*33 | 2600 |
| 15 | 415 | 1250 | 15*33 | 1100 |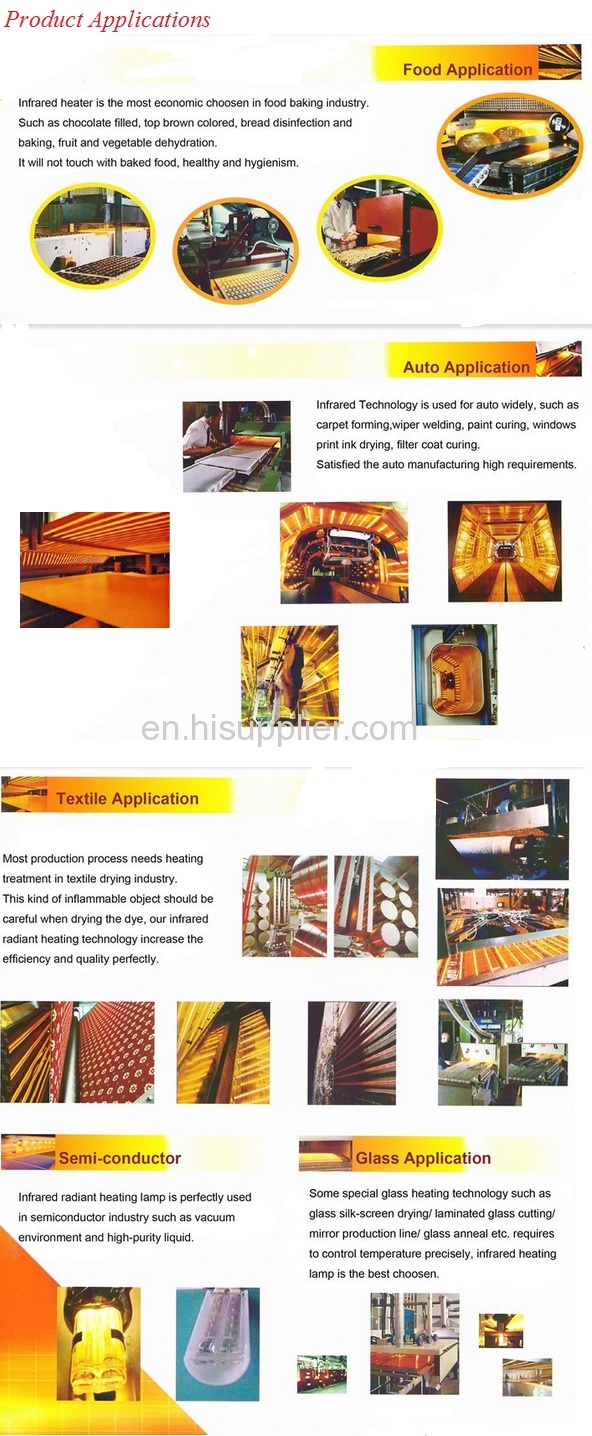 Features and Benefits of IR Radiation
1.Highly Efficient Heat Source

Over 85% of the input energy is converted into infrared energy.
2.Ease of Control
As opposed to combustion heat energy, our light source based energy is easier to control and manipulate by use of lenses and reflectors.
3.Compact and Clean Energy
A non-polluting heat source from a light weight and compact footprint enables flexible design possibilities.
4.Instant On/Off
Due to the ability to reach maximum output upon ignition, a sophisticated heating programming can be applied.
5.Long Life and Consistent Output
By utilizing the halogen cycle, QUICKLY's lamps are designed up to 5000 hrs with almost no loss in infrared output.
6.Flexible Production Capability
QUICKLY supports customer specified custom design and OEM support.
For practical applications, the efficiency of the infrared heater depends on matching the emitted wavelength and the absorption spectrum of the material to be heated. For example, the absorption spectrum for water has its peak at around 3000 nm. This means that emission from medium-wave or carbon infrared heaters is much better absorbed by water and water-based coatings than NIR or short-wave infrared radiation. The same is true for many plastics like PVC or polyethylene. Their peak absorption is around 3500 nm. On the other hand, some metals absorb only in the short-wave range and show a strong reflectivity in the medium and far infrared. This makes a careful selection of the right infrared heater type important for energy efficiency in the heating process

About Our Company

Hefei Quickly Electric Co.,ltd is a manufacturer of high quality Quartz electric heating elements. We proudly manufacture every elements we sell. Every element is manufactured from high quality materials sourced from both domestic and foreign suppliers. We make the finest quality elements in the market.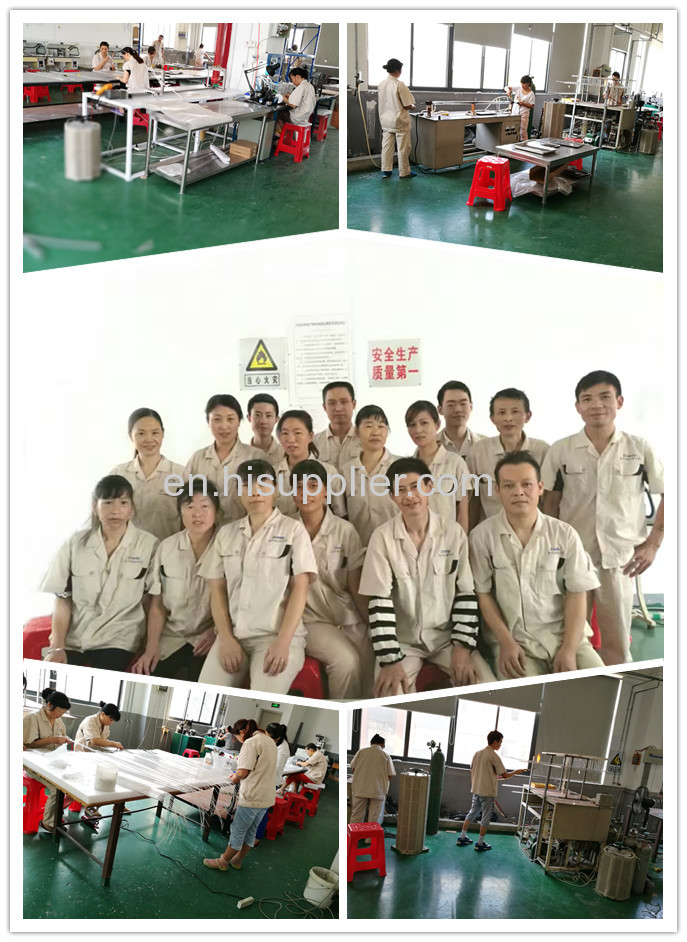 Engineering consulting
Not sure if quartz is right for your application? Contact me and we'll help you make the right choice. We can also assist you in picking the right infrared characteristics for your specific application. Please note, there are thousands of possible applications for quartz infrared tubes and numerous factors affecting which design works best. There is a limit to what we can help with, but we will try our hardest!
Our oven for coating/reflector on quartz tube drying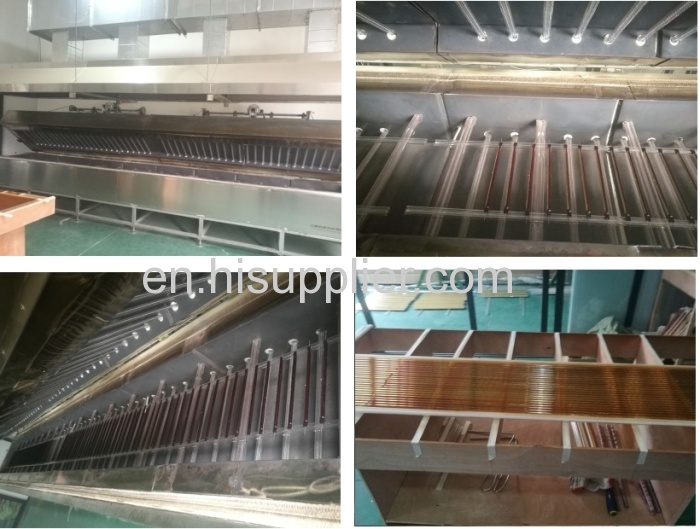 RFQ

1.Why Quartz Glass as the one main of material?
The choice of quartz glass is not a coincidence: this extraordinary material is totally transparent at IR radiation, can withstand constant working temperatures of more than 1000°C and it is resistant to chemical corrosion.
2.Typs of Quartz tubes
Quartz uses two kinds of quartz tubes: single tube and twin tube. The twin tube provides the best mechanical resistance, thanks to its reverse "H" shape, and it allows to manufacture emitters up to 6,5 meters in length.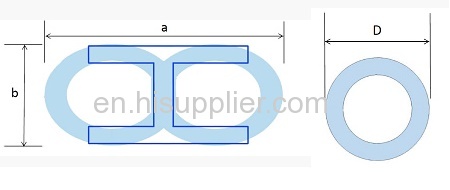 3.Why Reflector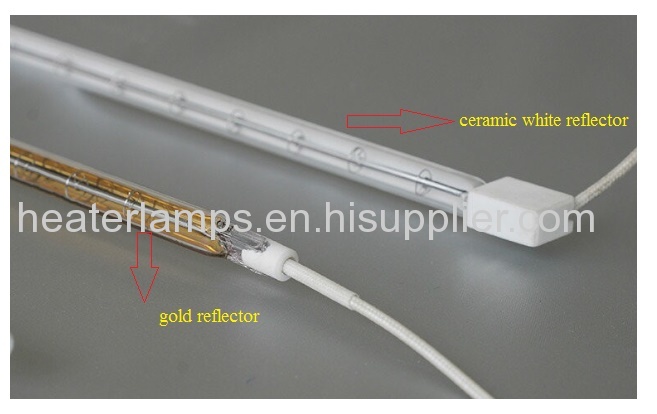 All of our emitters can be coated with a layer of gold or ceramic as reflectors. The gold/ ceramic coating can concentrate the heat, increasing the effectiveness of the heat output.
The emitters with coating are highly economical, converting practically all the consumed electrical power into heat
For the emitters with high watt density or the surface temperature of the tube above 800°C , we suggest to use ceramic coating as reflector because the temperature resistance is up to 1000°C
In addition to 180° (half-tube) coating, we also manufacture 270° coating or other customer specified degrees.
4.could you supply clamps for lamp installing ?
Yes, we will provide mounting clamps for clients, and the corresponding clamps quantity with purchased lamps are supplied freely bu us.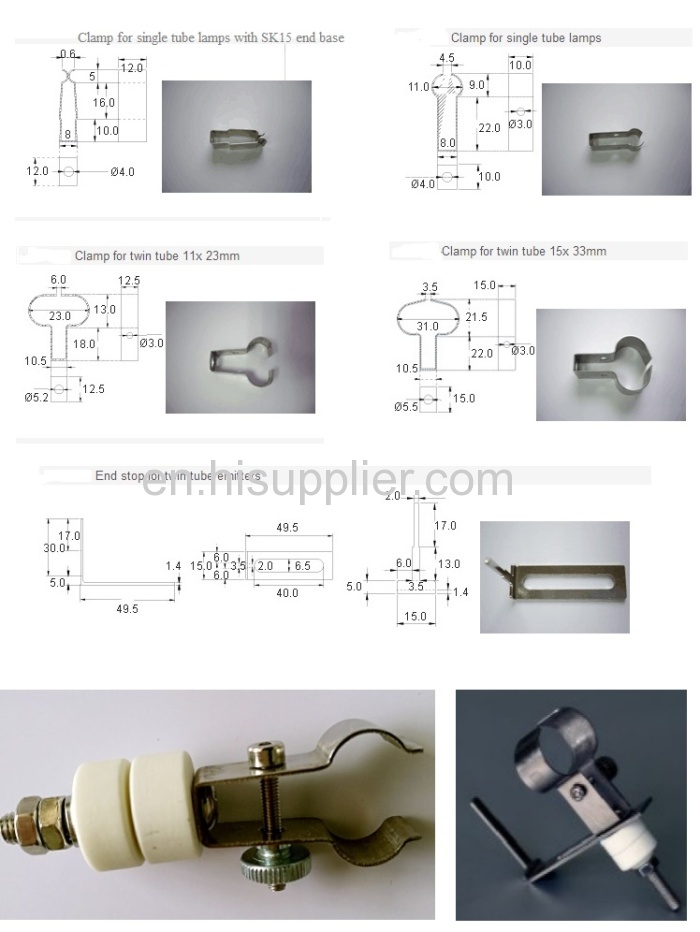 5. Have an unusual design?
Send us a drawing, sketch, or sample and we'll be happy to quote it.
We specialize in small runs and custom designs, but can be highly competitive on large orders as well.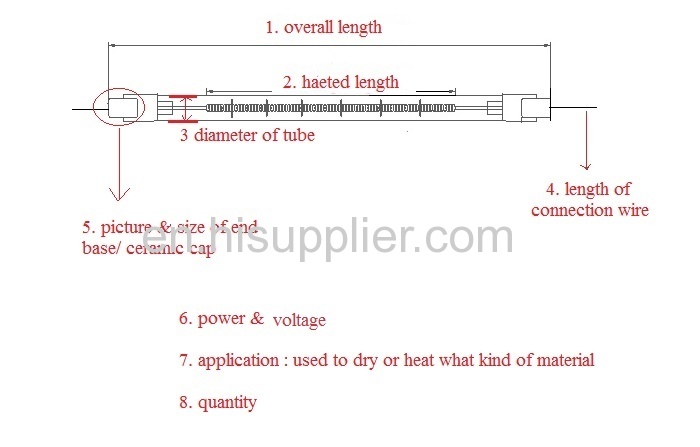 6. How does your factory do quality control
" quality is priority", we always and keep paying more attention to QC from the material purchasing to the lamps' packing. Our product have gained CE, ROHS, ISO9001.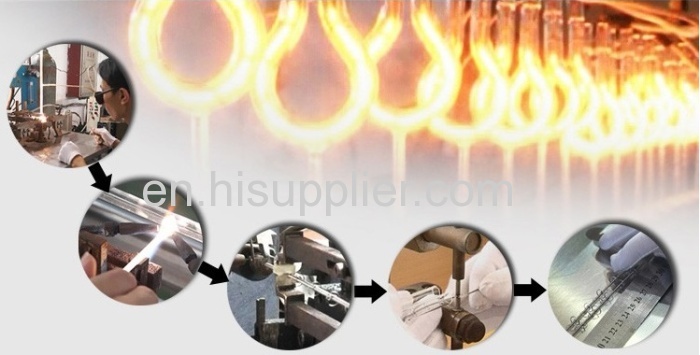 7. How you do lamps package?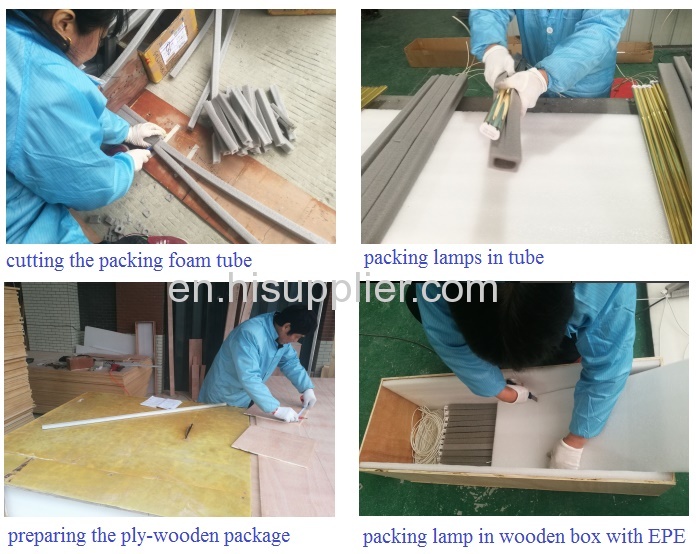 8. How To make the shipping and payment?