CREDIT OCEAN auto cold cutting machine for belt
Cutting machine with a variety of functions, adopt synchronous belt device with more stable tape loading, more accurate tape cutting. Automatic and efficient, this machine is equipped with receving device so that it's easy for customer to pack. When cutting tapes, this machine can make holes with different diameters. So this is the machine that has multifunctions to meet customer's diverse needs.

Product Detail

Cutting automatically, Operation easily, Application range widely, cutting edge smoothly without burr.
Special features:
High Speed: It can cut 50-100 pcs per minute.(e.p. 100 mm long, it indude collecting device)
Accurate: Cut-length is accurate owing to a stepping motor.A sensor makes cut-length accurate by automatic sensing at set-position.
Collecting Function: Setting the quantity, it will be collecting automatically, so that clients can be easily packed.
Punching Device: According to the needs of user, it can punching different size of the diameter of the holes.
Cutting Type: The knife is made of high quality steel. Hot cutter can cuttter ribbon, thin woven belt and the hot knife melts the end of the tape, cutting is sealed neatly, smoothly without fraying, but except the thick materials.
Automatic Operation: It works automatically only by setting length and quantity.
Computerised: Automatic work, stop. The special fault self-diagnosis. direct show the fault problem on the screen, it will easy for you to find clear way to repair.
Automatic Stopper: It stops auto matically if materials run out during operation.
Memory: Set-length, set quantity&set speed are not erased even if power off&on.
Apllication
All kinds of wovean belt, hook and loop, shoelace, plastic soft tuble, computer cablel, label etc.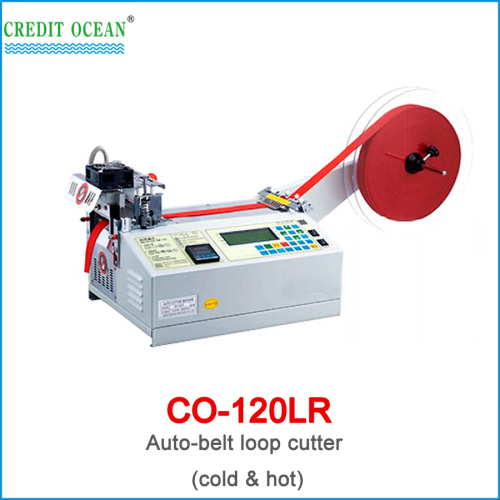 Why choose us
Credit Ocean is started in 2004 year and the centre of expertise and capacity. And we provide of needle loom, crochet machines, warping machines, electronic jacquard needle loom machines, shoelace and bag lace tipping machines, high speed braiding machine and high speed cord knitting machine etc.
Credit ocean supply of a wide range of machinery for many applications
Credit Ocean provide high quality machines
Credit ocean service quality
Credit Ocean have well experienced team
Credit ocean persist in the principle of "credit-keep promising,quality-keep upgrading,service-keep improving".
Services
1. We offer best after-sales service for customers.
2. Engineers available to solve any problem in need.
3. We help order spare parts quickly and correctly.
Don't hesitate to send us inquiry; we'll give you feedback within 24 hours!