Medium wave Infrared emitters for industry heating and drying process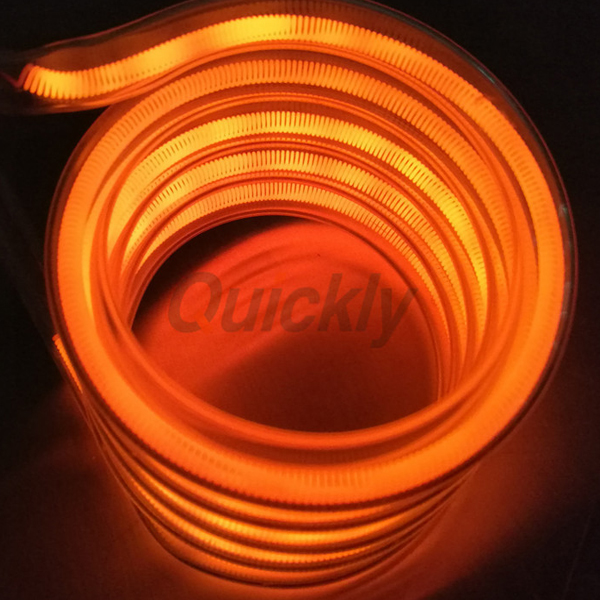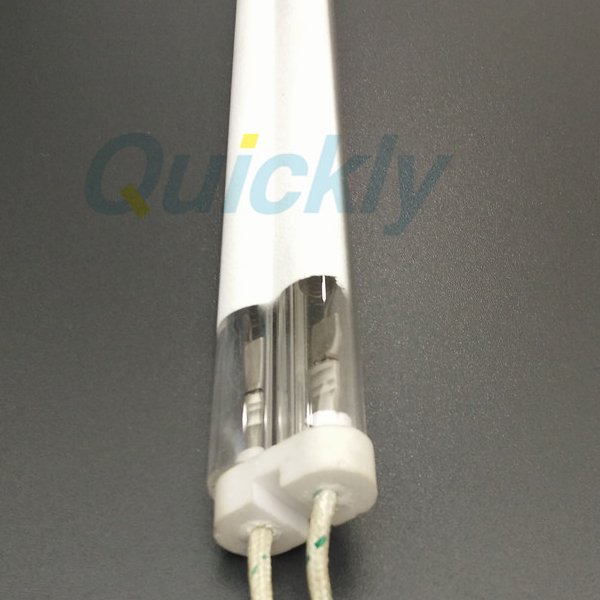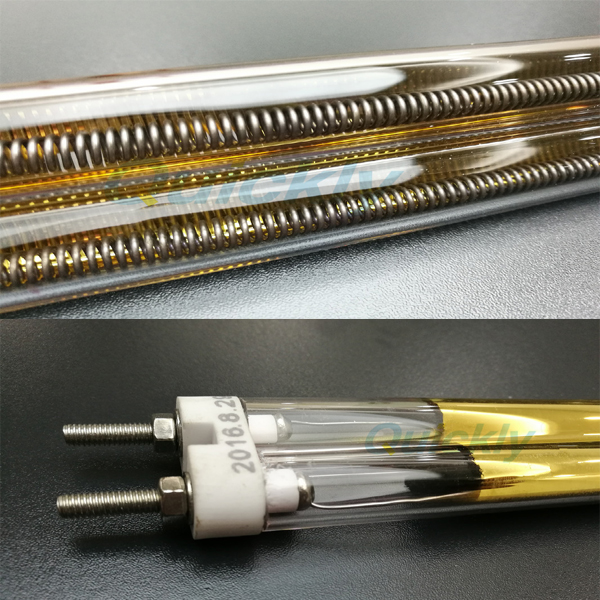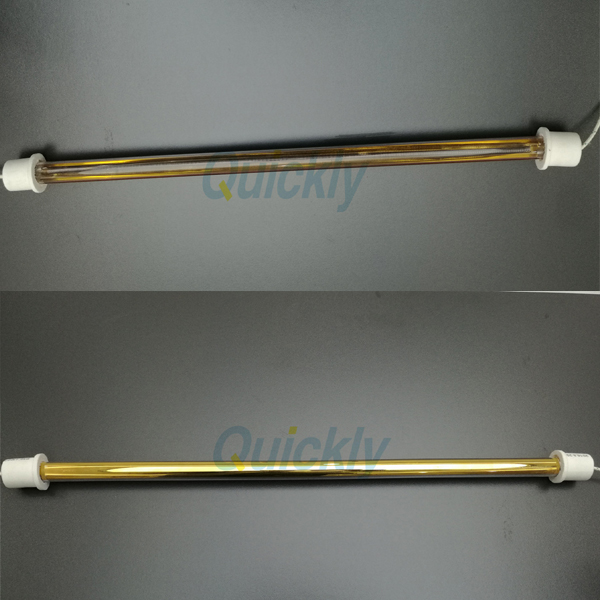 Medium wave Infrared lamps fob price features:
Product name

Medium wave Infrared lamps fob price

Cross Section

33*15mm

Tube diameter

twin tube each 15mm

MAX Total length/Heated length

6000mm/5800mm

Cable length/Connection

Standard 300mm/one side connection

Power/Voltage

2500W/230V, can be customized

Terminal required/Base Type

No/Base Type C

Color temperature/Life time

1800-2400K/20000 hours

Max Temperature Performance

Up to 750 Degree C as maximun value
Various of Connection way for Medium wave IR heaters
Peak wavelength range of Medium wave IR emitter: 2.6-4.2 um.
Applied industry of Medium wave IR emitter with golden reflector:
IR Oven Infrared oven IR furnace Infrared furnace Infrared heating equipment Infrared drying
machine Shortwave infrared oven Medium wave IR oven tunnel oven Autoclave Oven Flat Press
machine PET blow machine Flat glass press machine
Laminated glass Heating Oven Screen printing glass Drying machine Shortwave infrared furnace
Auto glass printing drying equipment IR module SWIR5002 Solar industry oven
Quick reaction Medium wave heating element
Max Heated length 3800-5600mm;
Max Total length 3600-6000mm;
Max Power Output: 6000-13000W;
Max Voltage: 600V;
Average Lifetime of Quick reaction medium wave heating element: 20,000 hours
Part No.

Voltage

Wattage

Twin tube

Total length

Model No.




v

w

mm

mm

Gold

White

None

1

220

1700

15*33

780

MWIR33780G

MWIR33780W

MWIR33780

2

415

1250

15*33

1100

MWIR331100G

MWIR331100W

MWIR331100

3

230

1000

11*23

600

MWIR23600G

MWIR23600W

MWIR23600

4

230

2000

15*33

900

MWIR33900G

MWIR33900W

MWIR33900

5

230

2500

15*33

1100

MWIR331100G

MWIR331100G

MWIR331100

6

230

2500

15*33

1300

MWIR331300G

MWIR331300W

MWIR331300

7

230

3250

15*33

1420

MWIR331420G

MWIR331420W

MWIR331420

8

230

3750

15*33

1600

MWIR331600G

MWIR331600W

MWIR331600

9

380

4800

15*33

2135

MWIR332135G

MWIR332135W

MWIR332135

10

400

4100

15*33

1800

MWIR331800G

MWIR331800W

MWIR331800

11

400

4500

15*33

1920

MWIR331920G

MWIR331920W

MWIR331920

12

400

5250

15*33

2200

MWIR332200G

MWIR332200W

MWIR332200

13

400

5750

15*33

2400

MWIR332400G

MWIR332400W

MWIR332400

14

400

6250

15*33

2600

MWIR332600G

MWIR332600W

MWIR332600
Our Company Core Competence:
1. Over 12 years' manufacturing experience;
2. 3 mechanical engineers and 2 electrial engineers consisting of the technical team;
3. Secure QC department and requirements for a quality guarantee;
4. Certifacte of CE, ROHS, ISO9001, etc.
Application Picture on machine for different industries: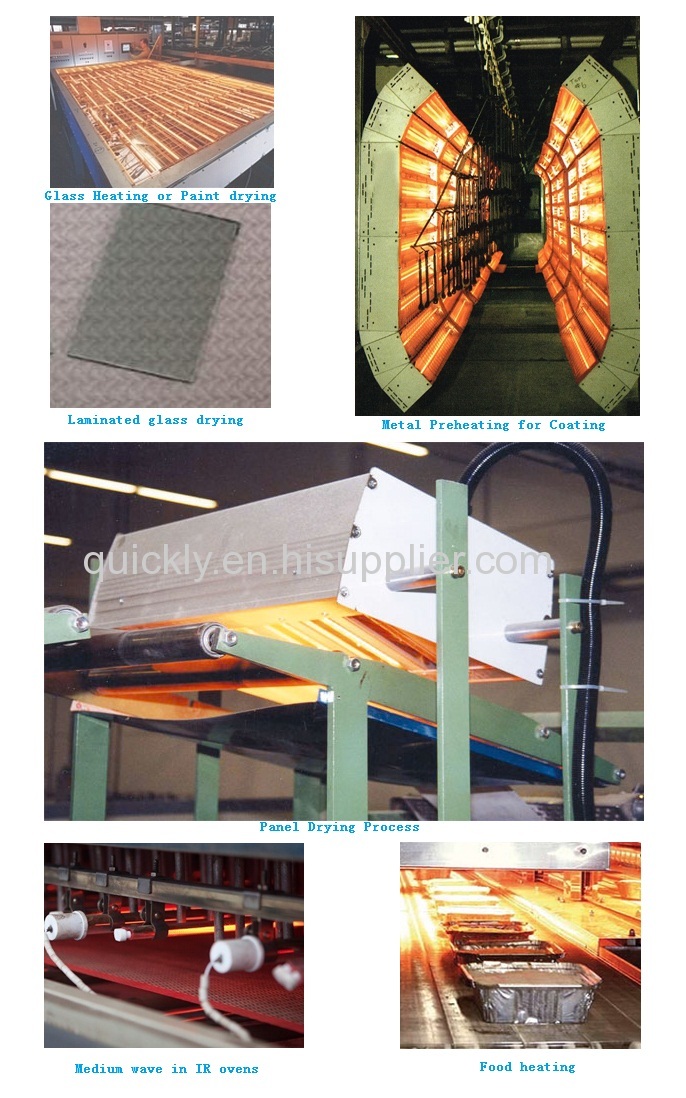 Production, Packing and Delivery Process:
Dust-resistance Workshop: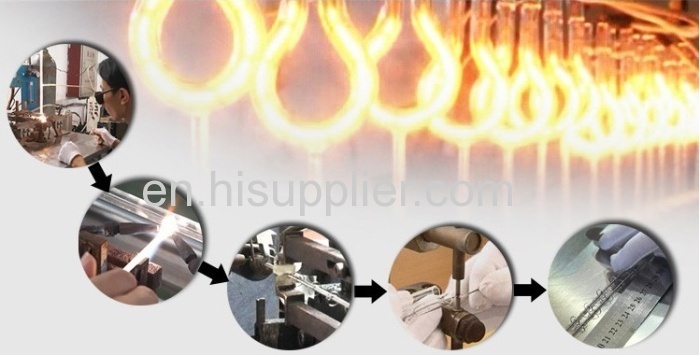 Wood crate photo-shoot and packing and Shipping: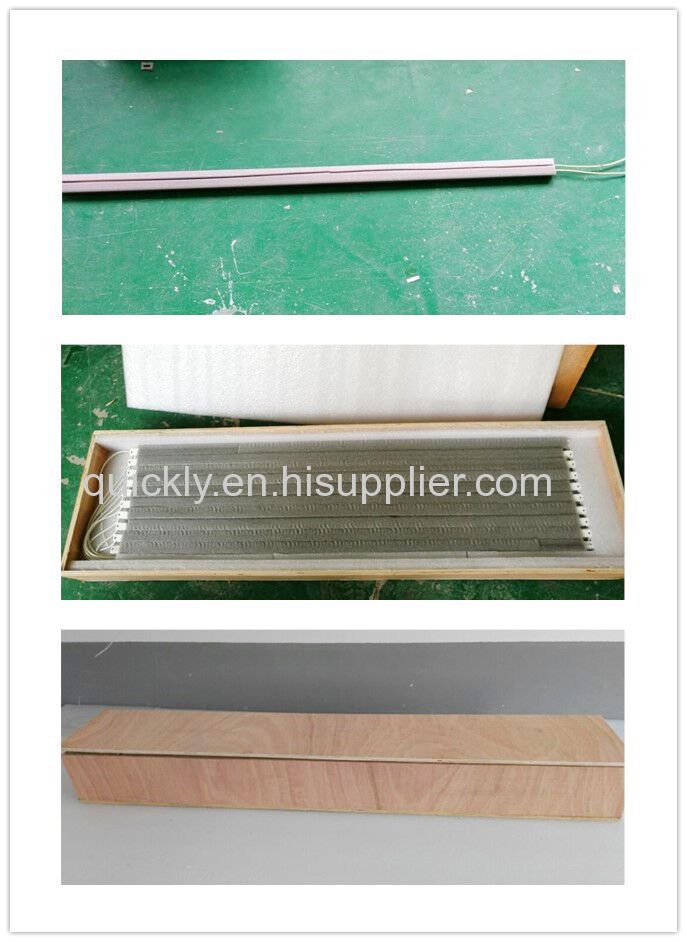 Delivery time and Way of Delivery:
Delivery time: 3-5 workdays for general production of order of 20-50 pieces, MOQ is 20pieces.
Sample order need longer time and big quantity orders also need about 6-12 workdays.
If there is need for new parts, then it will need time for opening new models.

Quickly infrared heating development history:
Since 1999, the infrared heating has been spread to the whole world, Quickly leaders notice
that it will be a heating method which can replace most of the heating method in the crrent
situation, such as the stainless heaters, panel heating elements, heating resistance, hot oil
heating method, gas heating, convention heating, and so on.
After we start the first type of infrared heating element-the medium wave heaters production
and then we gain a good reputation in the glass industry, then we start the shortwave IR
heaters lamp's production, and the carbon infrared heater, now we develop many other
industries to exchange their traditional heaters or original supplier, help to improve them
20% energy.
With more customers' trusting and co-efforts, we now build several production line with a
secure QC process.
As for the technical improvement, now we achieve to make a shortwave heater with
100-140W/cm power density for the single tube, and it also have a lifetime of 1000 hours.
As for the maximum length of the medium wave infrared heaters, we now can make 6000mm
long for the 33*15 twin tube type.
With years' development and study, we now have more accurate data for the wavelength for
the shortwave, medium wave and carbon medium wave IR heaters.
And we believe we will do better as so many customers trust in us and help us to get progresses
together. Quickly will have a more strong service team for the world's infrared heating.
Contact us
Company Name: Hefei Quickly Electric Co., Ltd.
Company address: Jiahai Industrial Zone C-34, Xinbengbu Road,
Xinzhan District, Hefei, China
Contact person: aries.qian
Email: quickly2(at) ir-heater.com
Skype ID: aries.qian
Whatsapp: +86-18605655617