Pharmaceutical Filling Machine
We are professional manufacturer and supplier of all kinds of pharmaceutical filling machines, including IV solution filling machines(PP plastic bottle/glass bottle/non-PVC soft bag), vial & ampoule filling machines, dry powder filling machine, syringes pre-filling machine, syrup filling machines, eye drop filling machines, tube filling machine, etc.
PP Bottle IV Infusions Filling Machine
BWFSC2/10blowing, washing, filling and sealing monoblock machine including washing, filling and sealing. Washing can depend on customer's requirements to choose traditional water washing mode or ion air washing mode , when ion air washing, ion air gun insert into bottle, and its depth can be adjusted by producing sizes, exhaust air after washing will be set off by special device. Filling part adopts Gemue pneumatic diaphragm valve control, guarantee filling accuracy, with function of no bottle no filling. Sealing adopts heating board heat bottleneck and cap at the same time. When heating, it adopts cam sealing, ensure qualified rate.
| | | | |
| --- | --- | --- | --- |
| Name | Unit | Name | Unit |
| Theoretical capacity | 1500-2000 b/h | Suitable material | PP |
| Cavity No. | 2(cavity) | Washing head | 12(head) |
| Filling head | 10 (head) | Sealing head | 12(head) |
| Max.height of bottle body | 270mm | Max. diameter of bottle body | 110mm |
| Operating air preesure | 0.6-0.8 Mpa | Operating air consumption | 2600L/min |
| Blowing air pressure | 1.2-2.0 Mpa | Blowing air consumption | 2000L/min |
| Freezing water temperature | 5-14℃ | Freezing water consumption | 30L/min |
| Cooling water temperature | 20-30℃ | Cooling water consumption | 60L/min |
| Freezing water pressure | 0.3-0.6 Mpa | Cooling water pressure | 0.3-0.6 Mpa |
| Power source | 380V/50Hz/3P | Max. power | 100 Kw |
| Overall dimension | 11000*4800*3500 | Gross weight | 13000 Kg |
Glass bottle IV Infusion Filling Machine
Model 600 series high speed glass bottle I.V. infusion production Line is consisted of ultrasonic bottle washer, filling stoppering machine and capping machine. Other machines can also be configured according to customer's needs, such as bottle machine, unloading bottles machine, lamp inspection machine, linear labeling machine, heat shrink film packaging machine, sealing machine and other auxiliary units.
The line can automatically finish processes like bottle unscrambling, bottle convey, heavy washing the inner and outer surface of bottles, filling, stoppering, cap managing and capping. Auxiliary equipment can complete bottle loading, bottle unloading, light inspection, labeling, packaging, etc.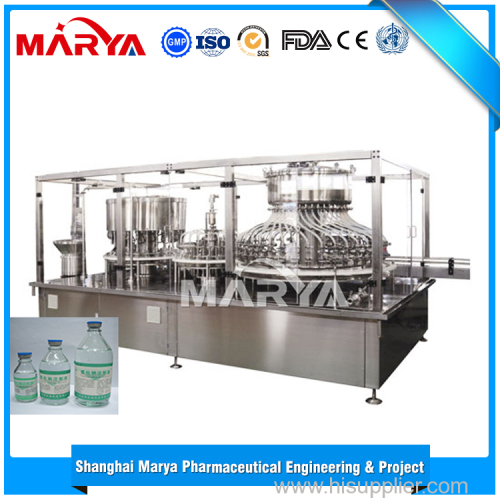 Technical parameters
Suitable material: Glass bottle
Production Capacity: 36000bottle/hour
Water consumption / pressure: commonly used in water 200 ml / bottle
Deionized water 260 ml / bottle
Distilled water and 125 ml / bottle / 0.2 MPa
Steam consumption: 200 kg / h
Electricity consumption: 37KW 380V 50Hz
Machine weight: 20,000 kg (bottle washing machine, filling sealing machine, capping machine)
This filling machine uses the patented constant-pressure continuous filling technology with highly precise filling, large production capacity. And the machine can realize no bottle no filling, cleaning-in-place and sterilization-in-place function. Comply with the GMP requirements.
Non-PVC soft bag IV infusion filling machine
1. The structure is compact, covers an area of small, reduce the clean workshop area, reduce the energy consumption of the air clean.
2. The continuous tension membrane technology, reduce bag location take time, bag making high efficiency.
3. Bag width can be adjusted, reduce the convenient with film quantity, save costs and bag type is more beautiful.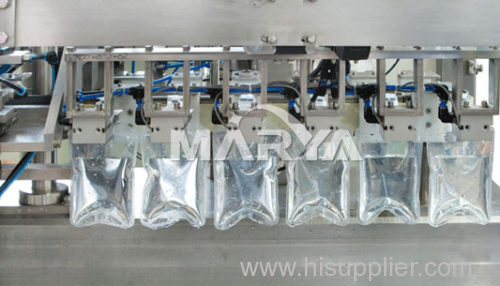 4. Main transmission motor and long stroke cylinder servo institutions, smooth operation, good reliability, small impact improve production ability.
5. In front of a group of forming an excuse, preheat preheat institutions interface, it is suitable for the full thermal bonding different manufacturer film and the interface between the welding forming, ensure that leak bag rate is extremely low.
6. Forming institution is approved by the optimization design improve the welding stations speed.
7. Bag relay in surface of the interface are no longer with parts contact, to eliminate the visible foreign matter production.
8. The overall design of the desktop machine, be in place convenient, debugging time is short, easy to clean.
Model Item

SRD2500

SRD3800

SRD5000

SRD7500

SRD10000

Max Production Capacity(b/h)

2500

3800

5000

7500

10000

Bag-making number each time

2

3

4

6

8

Filling and sealing number each time

2

3

4

6

16

Electric capacity(kw/v/Hz)

25/380/50

28/380/50

32/380/50

43/380/50

60/380/50

(0.6Mpa)dry,oil-free compressed air consumption(L/min)

2000

3000

4000

5000

5500

(0.4Mpa)clean air consumption(L/min)

800

1200

1500

2000

2000

Cooling water consumption

15-20℃300L/h

Filling drug solution

T≤50℃0.1-0.2Mpa

Bag making film

Non-PVC double layer flat film Film thickness:190±20um

Film canister size

Inner diameter:Ø150; outer diameter of film canister≤Ø600

Bag making shape

Single tube, heat welding sealing

Printing Method

Heat transferring printing or intelligent foil printing, bar-code printing

Heat transferring printing

The inner diameter for ribbon canister

Ø76

Noise

<75dB

Main mater

304 stainless steel.The contact part with drug solution is 316L,

which conforms to required material of GMP

Specification

50ml,100ml,250ml,500ml,1000ml

100ml,250ml,500ml

50ml, 100ml, 250ml

Weight

5000kg

6000kg

7000kg

8000kg

8000kg

Overall dimension(L×W×H)

7650×2335

×2500

6100×2880

×2140

9600×2250

×2400

8400×2880

×2140

3200×2880

×2140
Vial Filling Machine
The line is made up of model KCQ vertical ultrasonic washing machine. Model GMS sterilizing& Drying machine, Model KBG Filling and stoppering machine, Model KGL capping machine. This line is mainly suitable for vial with water injectable and lyophilized type. Each machine can be used singly and can be combined with other machine. It can complete the following procedures when it is combined with other machine: bottle-infeeding with net belt, water spraying, ultrasonic washing, clamping bottle with manipulator, bottle turning, flushing,air charging, preheating, drying &sterilizing, cooling(nitrogen charging before filling), filling, (Nitrogen charging after filling), stopper-handing, stopper-infeeding, cap-handing, capping. This machine is character by reasonable structure, advanced design, high automation, stable running, reliability, high efficiency and can be realized integration of machine with electricity. The design manufacturing conforms to GMP standard requirement.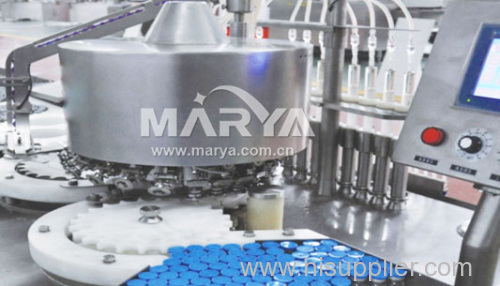 The filling machine adopts the horizontal synchronous belt bottle conveying mode ,featured by high speed ,accurate bottle distribution and convenient replacement of parts
The filling machine can be equipped with the ceramic pump,stainless steel pump and peristaltic pump.
The filling machine is provided with the functions of no filling in case of no bottle and no stoppling in case of no bottle
The filling machine can be equipped with the servo filling system (Delta,Mitsubishi,Schneider)
Dry Powder Filling Machine
The machine is suitable for Powder filling and capping in pharma and food industry
it adopts advanced matured screw filling technology,with nitrogen feeding and capping to finish production and meet production requirements ,This machine is the preferred equipment for large and medium pharmaceutical enterprise to produce antibiotic products
Ampoule Filling Machine
The Ampoule Filling compact line including Ultrasonic Washing ,drying&Sterilization tunnel,filling and sealing machine.
The whole line adopts PLC main Control ,frequency converter and touch screen control technology with stable and reliable running ,the touch screen can display running dynamics of each single machine,water pressure ,Air pressure ,wind pressure and temperature at each control point ,the display of each on-off status and faults ,fault self -diagnosis ,fault analysis and eliminating ways realizes automatic control during the whole production process.The production line is provided with the three-machine automatic control and balancing device to ensure balanced and reliable production
According to customer requirements ,it can also be equipped with the following;
Control system of such brands as Siemens,Schneider,Mitsubishi,Delta,etc.
Syringes pre-filling machine
MAIN CHARACTERISTICS:
* The filling needles enter the syringe barrels without any contact with the container
* Automatic extraction and re-insertion of nest from and into the tub
* Nitrogen Gas Purging Unit
* Vacuum filling system for viscous products to avoid air bubbles
* CIP-SIP systems
* LAF and RABS integration
* Pre-arranged for isolator
* 21 CFR Part 11 compliance
Technical parameters:
Filling Volume:0.1-0.5ml,0.5-3ml,3-10ml,10-30ml
Number of Filling Nozzle:5 sets
X travel Distance :900mm
Printer:Hot-sensible printing paper,width 56mm,max 20 alphabets per line.
Machine Vision system Resolution(Option) 752*480dpi
Vacuum:0- -98Kpa(0--- -750mm Hg)
Nitrogen 1Kg/cm³,0.1m³/min 0.25u
Compressed Air:6Kg/m³,0.35m³/min
Power Supply(Including vacuum pump): 3P 380V/220V 50-60Hz 5.5 KW
Dimensions:3050*1600*1900mm (L*W*H)
Net Weight 950kg
Syrup filling machine
This Oral liquid filling machine is suitable for pharmaceutical large dosage liquid or syrup filling ,stoppering and capping
This machine adopts chain plate conveying ,cylinder positioning filling ,multi-heads capping or screwing ,it is well-adapted with high filling precision,can change components easily ,meet new GMP requirements.
Eye drop filling machine
The production capacity of this line is 100bts/min(10ml bottle as example) it is suitable for eye drop production of high capacity.
This line is developed by our technical personnel with imported advanced technology and material .Its structure is more reasonable and practical. It integrates gmp requirements into the designing of the machinery so that the machines are without contamination and easy to clean. It can ensure producing qualified drugs.
Machine consist of:
Bottle arranger (LP-LP1)
Washing machine (XG-KCQ20)
Tunnel oven (H-GMS-A)
Eye drop filling machine (YG-DSG2)
Light inspection machine (DG-DJ100)
Labeling machine (TG-KTN-A)
Optional configuration:
Touch panel:SIEMENS, Japan HAKKA
Filling pump:Belgium NEOCERAM, UK WATSON
Glass hood for laminar flow:Acrylic glass or tempered glass
HEPA filter: Sweden CAMFIL, USA AAF
Bearing:SKF, Japan SEKIO
Motor:ABB, Japan Oriental
Filling dosage feature: no dripping, no forming, and no spitting
Capacity:(10ml as standard) 5800-6000(bts/Hr)
Tube Filling Machine
Maximum tube diameter: aluminium tube and metal tube: 35mm
The maximum volume: 1-150ml
Produce speed:30-80pcs/min
Filling precision:≤+/-1%
The power of machine:2.2kw
Air pressure:0.4—0.6 Mpa
It can accomplish the operation of two-edge folds,three-edge folds and saddle-shaped folds for aluminium tubes and metal tubes.