round welding making machine
Features
1. Cross sea longitudinal seam and horizontal and vertical seam.
2. The speed of welding is quick and the efficiency of welding is high.
3. According to the clients' demand, set the function of continuous weld and pulse weld.
4. Equipped with a high reliability control box
5. The welding speed can be regulated continuously.
6. Suitable for the site for welding airproof vesse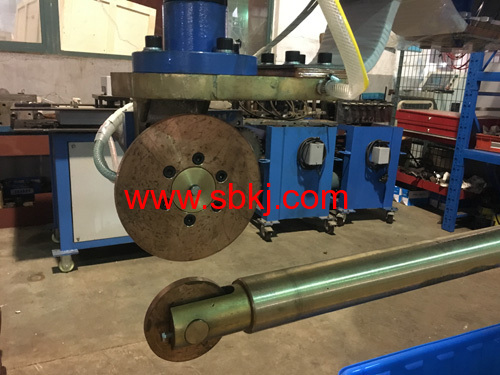 Technical Data
| | | | | |
| --- | --- | --- | --- | --- |
| Type | SBFN-35 | SBFN-55 | SBFN-75 | SBFN-100 |
| Thickness | 0.4-1.0mm | 0.4-1.2mm | 0.4-1.5mm | 0.4-2.0mm |
| Max. input capacity | 45KVA | 55KVA | 75KVA | 110KVA |
| Max. short circuit current | 6200A | 11000A | 16000A | 26000A |
| Max. pressure of electrode | 400KGF | 600KGF | 1000KGF | 1000KGF |
| The flow of cooling water | 6L/min | 6L/min | 8L/min | 8L/min |
| Arm length | 600mm | 600mm | 600mm | 600mm |
| Electrode journey | 80mm | 80mm | 80mm | 80mm |
| Working speed | 0.5-3m/min | 0.5-3m/min | 0.5-3m/min | 0.5-3m/min |
| Weight | 328Kg | 378Kg | 428Kg | 478Kg |
| Dimension | 1800×610×1930mm | 1800×610×1930mm | 1800×610×1930mm | 1800×610×1930mm |