SIEMENS 6ES5312-3AB31 INTERFACE MODULE W/CABLE
Lead time: 2-3 working days
Minimum order quantity: 1 piece
Quantity available: 24
Courier partners: DHL, UPS, TNT, FedEx and EMS
Type of payment: 100% Payment in Advance
Warranty: one year
Technical specification, manuals and data sheets: Available on request
To get our best price & fast quotation, pls send us e-mail now.
Contact:Jessica

Skype:jessica01235483
Email:sales*mvme.cn (please chang * to @)
TEL:86-592-5856209 86-18030235311
Q Q:2851195444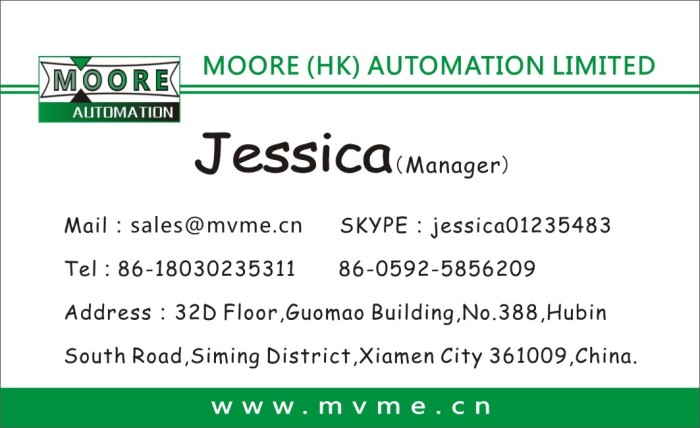 MOORE AUTOMATION LIMITED focuse on control systems, from legacy to leading edge.
We have a large inventory of high quality, surplus control system parts. We also distribute many new hardware and software products to help supporting your existing control systems or utilize the latest control technology. We have experienced staff, extensive test facilities and we can provide 1-year warranty for all of our surplus parts.
Advantage brands:
TRICONEX(3008,3625,3805E.3721,3700A 4351B...)
BENTLY NEVADA(3500/42M ,3500/22M,3500/95.3500/05...)
HIMA(F3330,F3236 ,F6217,F7126,F8621A...)
FOXBORO(FBM203,FBM204,FBM217,FMB231...)
Allan-Bradley (1756,1785,1771,1746,1769...)
ABB(OCS,DCS,BAILEY,H&B Freelance 2000,DSQC...)
GE(IC693,IC697,IC695,IS200,DS200...)
BACHMANN(CM202,DI232,MPC240,NT255,AIO288...)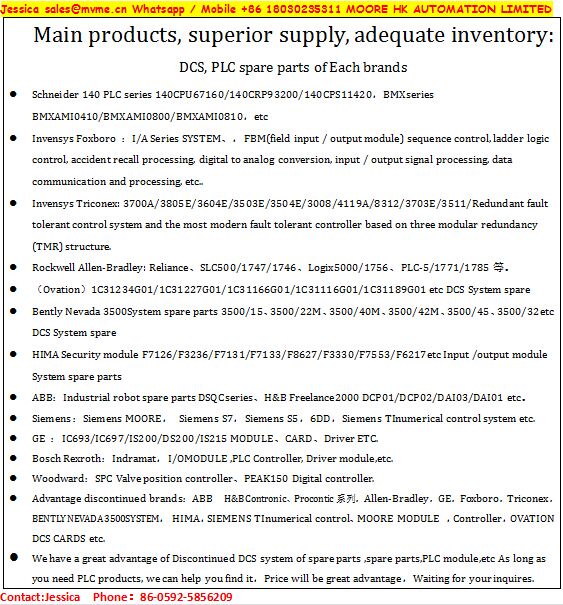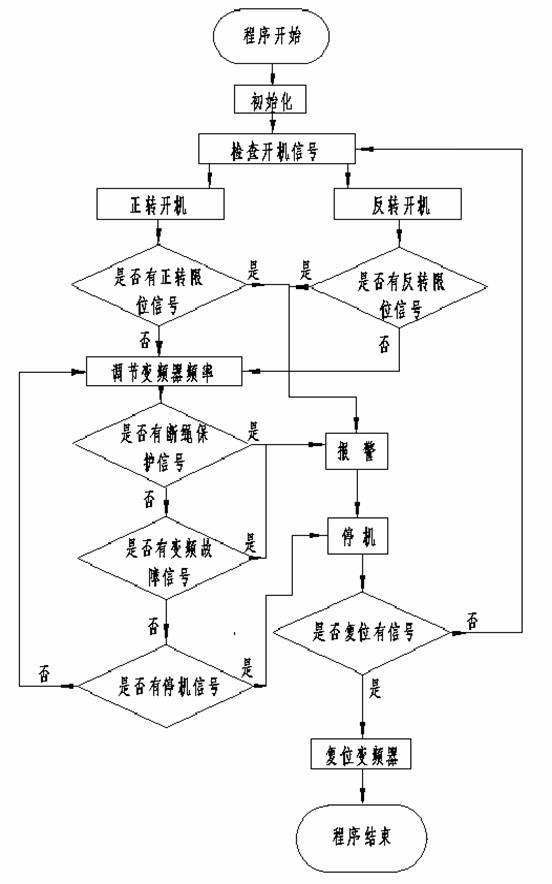 6DD1660-0AB0 SIEMENS Simatic TDC 6DD16600AB0 SIMADYN
Ort: Niederlande
6DD1681-0AF2-Z1 SIEMENS Simatic TDC 6DD16810AF2Z1
Ort: Niederlande
Siemens Simadyn D 6DD1600-0AF0 PM16 Prozessmodul + RAM
Siemens Simadyn D 6DD1600-0AC0 PM1 Prozessmodul
Siemens Simadyn D Baugruppe 6DD1648-0AB0 ES1 (Nr.2)
Siemens Simadyn D Prozessormodul 6DD1600-0AF0 + Programmspeicher 6DD1610-0AG1
6DD1670-0AF0 Simadyn D Operator Panel OP1 Gebraucht / Used
Ort: Niederlande
Siemens Simadyn D 6DD1600-0AE2 PM12 + 6DD1610-0AF1
6DD1660-0AC0 SIEMENS Simatic TDC 6DD16600AC0 SIMADYN
Ort: Niederlande
Siemens Simadyn D Interfacemodul 6DD1681-0EK1
Siemens 6DD1607-0AA1 S7-400, FM458-1 DP APPLICATION MODULE NEU NEW
Ort: Tschechische Republik
6DD1642-0BC0 SIEMENS Simatic TDC 6DD16420BC0 SIMADYN
Ort: Niederlande
6DD1682-0AB1 SIEMENS Simatic TDC 6DD16820AB1 RACK SMADYN
Ort: Niederlande
Siemens Simadyn D Prozessmodule 6DD1600-0AH0 + 6DD1606-4AB0 neuwertig !!
6DD1610-0AG0 SIEMENS Simatic TDC 6DD16100AG0
Ort: Niederlande
6DD1681-0AF1, SIEMENS, Simatic TDC, SIMADYN, 6DD16810AF1
Ort: Niederlande
16107-103R/5 QLIDM115ACBBN
16107-181/04 39IDM115ACCAN
16107-182/1 39IDM115ACCBN
16107-182/3 39IDM115ACCBN
16110-71/03 39HFM2CAN
16114-1/04
16114-1/05
16114-102/01 39PSR2ANCN 16114-182/2
16114-105/3 39PSR4ANAN
16114-171/4
16114-171/6
16114-171/9
16114-180/02 39PSR4ANCN
16114-201 39PSR4ANDN 16114-201R
16133-101-02
16133-71/01 39SAMCAN
16133-71/04 39SAMCAN
16133-71/10 39SAMCAN
16133-71/13 39SAMCAN
16133-71/3 39SAMCAN 16133-71/03
16133-71/8 39SAMCAN
16133-71/9 39SAMCAN
16133-71R/04 39SAMCAN
16133-71R/08 39SAMCAN
16133-79/4 QLSAMBAN
16133-79/6
16137-1
16137-10
16137-100
16137-114
★Invensys Foxboro:I/A Series system,FBM(input / output modules) Sequence control, ladder logic control , Recalling accident treatment, The digital-to-analog converter input / output signal processing, Data communication and processing and so on.

★Invensys Triconex: Redundancy fault tolerant control system, Based on the three module redundancy (TMR) structure of the most modern fault-tolerant controller.
★Westinghouse:OVATIONN system,WDPF system,WESStation system card.
★Schneider Modicon:Quantum 140 Series processor, control card, Power module and so on.
★Rockwell Allen-Bradley:Reliance,SLC500/1747/1746/MicroLogix/1761/1763/1762/1766/1764,CompactLogix/1769/1768,Logix5000/1756/1789/1794/1760/1788/PLC-5/1771/1785 and so on.
★ABB: Industrial robot parts of DSQC series,Bailey INFI90and so on.
★Siemens:Siemens MOORE,Siemens Simatic C1,Siemensnumerical control system and so on.
★Motorola:MVME162,MVME167,MVME1772,MVME177 series.
★XYCOM:I/O,VME Plate and processor an so on .
★GE FANUC: Module, card, drive various kinds of spare partsand so on .
★Yaskawa: Servo controller, servo motor, servo driver and so on .
★Bosch Rexroth:Indramat, I/O module, PLC controller, drive module.
★Woodward: SPC valve position controller, PEAK15 digital controller.
★BENTLY NEVADA 3500 series
Achieve the opposite bank of the dream !!!
We are a quality distributor of the Allen Bradley 22AB017N104 AC Drive and can offer you great prices. We can also help you source other hard to find or obsolete parts by Allen Bradley and other industrial component manufacturers. You will not beat our customer service. We are an unauthorized dealer of Allen Bradley and can provide you quantity discounts on this item.