Clean Room Pass Box Static & Dynamic Type
Static Type
The clean room static pass box adopts SUS304 stainless steel as the material for interior, and cold rolled steel or SUS304 for exterior product body and the two doors. The thickness of the stainless steel is 1.0mm. Meanwhile, the product is equipped with the Taihu ultraviolet lamp with the power of 10W and the wavelength of 254nm. It can get the ideal sterilization effect. In addition, the embedded type installation of ultraviolet lamp can reduce the contact possibility of delivered articles and ultraviolet lamp tube to ensure safe use.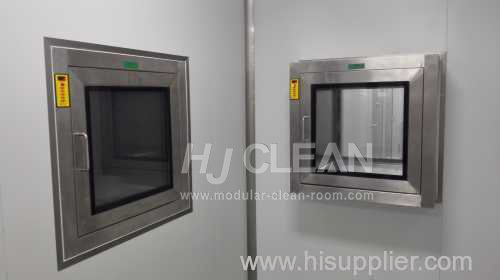 Technical Specifications
Type

Outside Dimension (W×D×H) (mm)

Inside Dimension (W×D×H) (mm)

Remark

1

500×380×460

300×300×300

Electronic Interlock

2

600×480×560

400×400×400

3

700×580×660

500×500×500

4

800×680×760

600×600×600

5

900×780×860

700×700×700

6

1000×880×960

800×800×800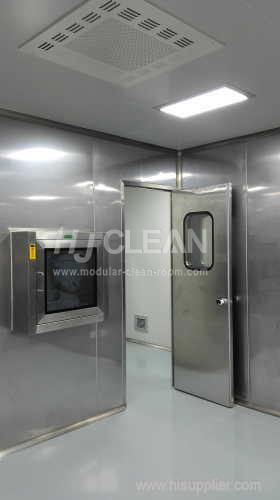 Dynamic Type
1. Material: Stainless steel SUS304
2. Door Control Method: Mechanical/electronic interlock, stable and durable
3. High-pressure centrifugal fan specialized for purification is installed on the top of pass box.
4. Supply/return air system with stainless steel air shower nozzles on the top, 0.45-0.65m/s of air velocity.
5. Tertiary filtration with pre-filter, medium filter, and non-clapboard HEPA filter.Efficiency: H14, ≥99.995% @ 0.3 micron particles.
6. Air supply on the top and air return on the bottom, cleaning off dust and dirt particles from material transfer. It enables materials to be moved between the clean room and other parts without damaging the cleanliness level of the products or materials, and also protect the surrounding area clean.
7. Soft switch control of UV lamp, fan, power, door open, and setting.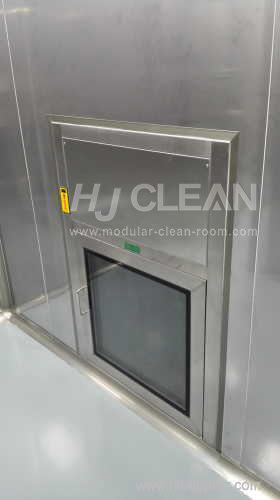 8. Perspective windows on both sides of door, excellent surface flatness and smoothness without welding spot. Power supply: 220V/50Hz; Whole Power: 0.35KW
9. Arc shaped inner bottom which is to avoid forming dust, ensures the beautifulness and easy maintenance.
10. This air shower pass box contains one differential pressure gauge.
Technical Specifications
Type

Outside Dimension (W*D*H) (mm)

Inside Dimension (W*D*H) (mm)

Remark

1

500×380×860

300×300×300

Electronic Interlocking and Full Stainless Steel

2

600*480*960

400*400*400

3

700*580*1060

500*500*500

4

800*680*1160

600*600*600

5

900*780*1260

700*700*700

6

1000*880*1360

800*800*800