1.High quality steel..
2.Environmental friendly brake lining.
3.Friction coefficient-stable.
4.No noice.
5.Durable.
6.Offer different models.


Description:

Rear drum brake is made of good quality steel which is high intensity and plasticity,the brake lining we produced has passed the tests and awarded the national industrial production licence,the surface of disc plate will be dealed with automatical painting production line so that it can be more beautiful.We will make tests regularly to keep products follow the national and international standard.

Performance:
1.The friction coefficient and wear rate is stable.
A.The brake lining was made of 13 kinds of raw materials,the formula was R&D by the advanced engineer,the friction coefficient and wear rate is stable,which can match the national and international standard.
B.We will test the friction coefficient and wear rate regularly in our lab with friction testing machine to keep it matching the standard.
2.We will make the cold lining test,hot lining test,fade test,recovery test etc regularly to keep our goods matching the standard.
3.The flatness of the brake lining is good,the friction acreage of brake lining can reach about 90%,so that it can work well when braking.
4.The steel table lining is made from good quality steel,the carbon content is modest,the intensity and plasticity is good,which make the welding performance good.
5.The aluminum table lining is made by our factory,the technology is strict,the tolerance is small,the performance is stable and reliable.
6.The brake lining and table lining stick firmly to avoid of detachment in any condition.
A.The glue is designed by advanced engineer,which prove they can stick firmly within certain temperature.
B.After stick together,put them into the electric furnace machine,heating them many times,so that they can stick firmly enough.
C.We will test whether they stick firmly with professional machine regularly to keep it match the standard.
7.We use mix gas when welding,there isn't welding spatter,it can be more beautiful and firm.
8.The brake shoe,front drum brake and rear drum brake should be processed by digital controlled latch to prove the tolerance in different parts can match the standard.
Manufacturing technology of rear drum brake:
Table lining:Punching-drilling-carving-shot blasting-welding-restriking-grinding-shot blasting-semi-finished production's inspection-rust prevention coating
Brake lining:Mixing-moulding-grinding-sweeping-adhesive coating-clamping the table lining and brake lining and baking-scraping-riveting-final grinding-inspection-packing
Certification:
ISO 9001:2008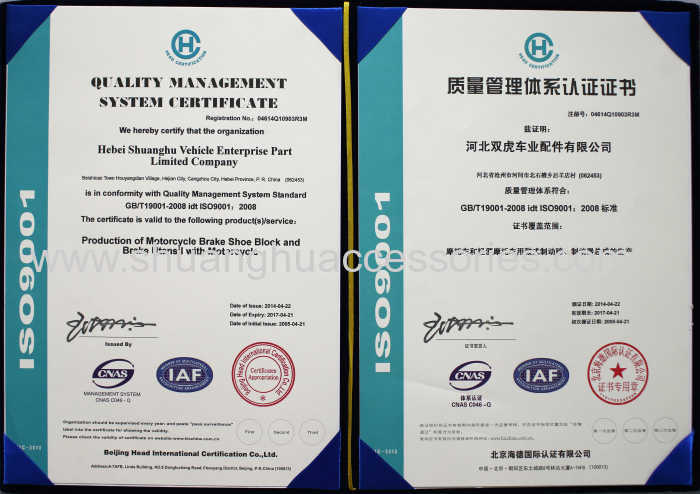 Quality control :
There is quality control system to keep the quality under controll.
Quality control team:
1)Raw material's inspection
2)Products on line inspection
3)Finished products inpection
4)Products with packaging inspection
Workers inspection:
The workers on the production line should inspect firstly,when it comes to the next line,if find problem by this line's worker,will return back to improve.
Special inspectors in each workshop will inspect the final products,if no problem,then enter to next work shop.
Competitive edge:
1.The capacity per year is about 6million.
2.We have 10 workshops like rear drum brake workshop,front drum brake workshop,electric tricycle drum brake workshop, electrophoresis workshop,die-casting workshop etc.
3.We have 5 production lines like automatic painting and spraying production line,clamping and baking production line with many advanced modern equipments like die-casting machine-15,digital controlled lathe-25,automatic welder-25,punch-20,grinder-10.
4.We have text center with complete test machine like Rockwell hardness tester,machine for shearing tester,salt spraying tester, analytical balance,sample oven,PH detector,vulcanizing tester,viscometer etc to keep the products' quality can match the standard.Besides making tests in our lab,we will make test in professional institute annually and have test reports to show the friction coefficient,wear rate,fade and recovery test etc match the national and internation standard.
5.Our fty are nominated manufacturer of Foton/Zongshen,and 90% of our products are their nominated products.Our market covers about 50 citys around China and the Korea,Vietnam,Malaysia etc,and customers feel statisfied with our products and services.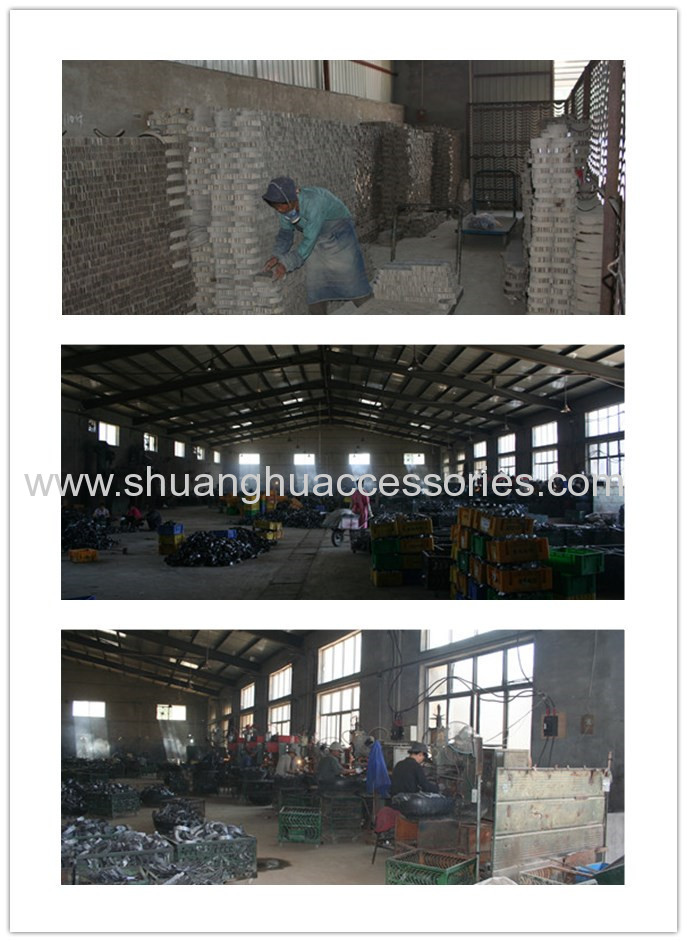 FAQ:
1.Can you accept customization?
Yes,we can make products according to your designs.
2.Do you provide service of OEM?
Yes,we can.
3.What's your MOQ?
Our MOQ is 2000sets.
4.What's your payment items?
Our payment items is 30%T/T before mass production,70% balance before shipping.
5.What is your main advantage?
We are leading manufacturer with 27years experience,and are nominated manufacturer of Foton/Zongshen.
We will do our best to provide you good price and quality products,hope we have have chance to cooperate.