AT6000 Dynamic ECG Systems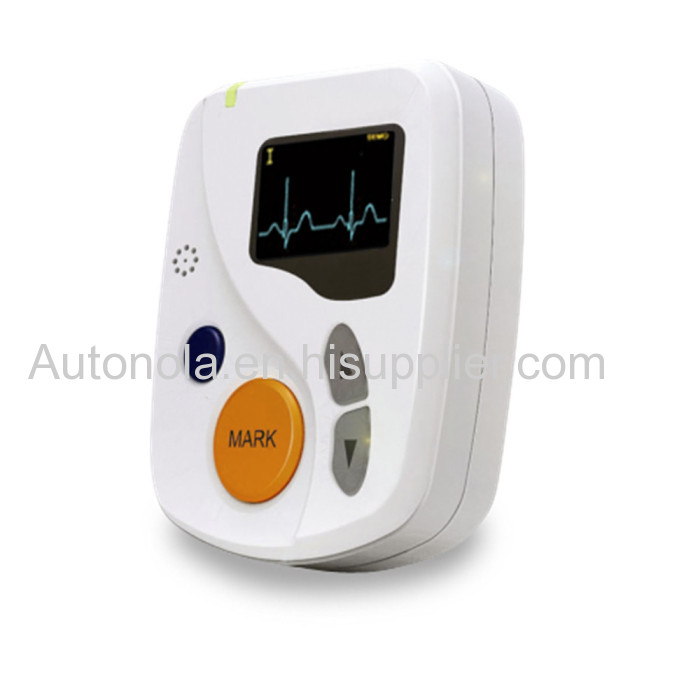 Main Features:
Adopt 12-lead system of international standard, continuously record ECG waveform up to 48-hour.
Sync analysis for 12-lead, and any channels can be selected as the main analysis channel, which ensures that QRS waveform can be found accurately, and no distortion.
With more than 10 templates(such as atrial premature beat, ventricular premature beat, long interval, atrial fibrillation, etc.) and many user-defined modules, which can almost distinguish any kind of pathologic waveforms.
Flexible atrial fibrillation analysis, which ensures that physicians can use the whole or segmented AUTO/manual analysis, more accurate in atrial fibrillation analysis.
All pacemakers(such as AAI, VVI, DDD etc.) can be analyzed by the powerful pacemaker analysis function.
Single or full-lead ECG in any time bucket can be reviewed by the fast review analysis function.
With analysis functions for 5-minute, 1-hour and whole heart rate variability.
One-key print, convenient and fast to print the reports.
The death risk in patients with myocardial infarction can be predicted by the "HRT" analysis function.
"T-Wave alternation" is an important index to predict the malignant arrhythmia and sudden cardiac death.
With QTD(QT dispersion), VCG(vector cardiogram), VLP(ventricular late potential) and TVCG(time vector cardiogram) analysis modules, more valuable in analysis report.
Main Performance:
Lead mode: standard 12-lead
Sampling accuracy: 12bit
Recording time: 48h
Scale voltage: 1mV±5%
Standard Sensitivity: 10mm/mV±5%
Noise level: ≤30μV
CMRR: ≥60dB
Low-frequency characteristics: Time constant≥3.2s
Enduring polarization voltage:±300mV DC polarization voltage,sensitivity shift≤±10%
Least measure signal: 50 µV p-p
Product safety type: Type B applied part(Internally powered equipment)
Dimension: 80.5mm(L) *59.5mm(W) *22mm (H)
Weight: 61.5g (Without battery) Packed Weight: about 530.00G
Accessories:
ECG lead wires(12-Lead)
ECG electrode(20 per bag)
Micro sd Card Reader(1)
Disk(1)
Host bag(1)
User manual(1)
2 year warranty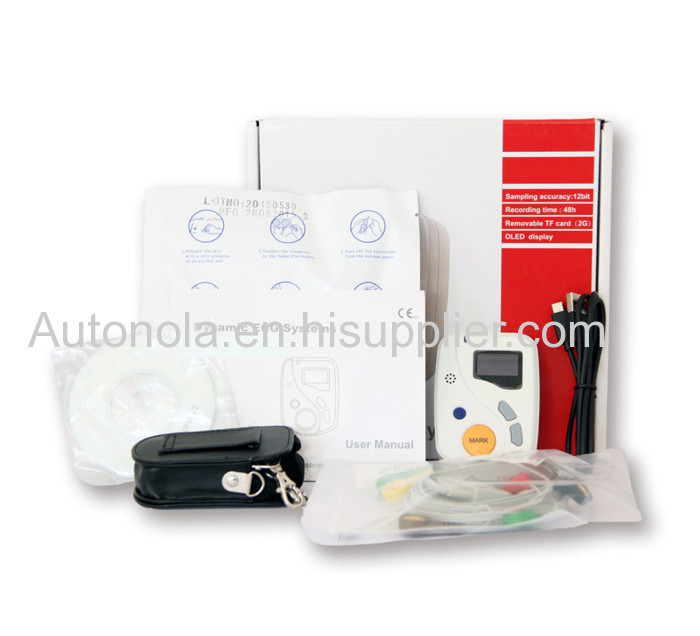 Shipping Terms:

We will delivery the goods within 2-3 days after get your payment.

If you need to change the other shipping ways please contact to us by message firstly to confirm .

Quality Control :

We have a strict quality control procedures before the delivery to expressly warrants that the goods are free from all defects

Package:

The package of our goods fully meets the international transportation safety

Customer Clearance:

We will show a low value on the package bill to avoid produce tariffs. Every country has different tariffs policy, So we will not be responsible for the customer local clearance, Please note it!

If you have any requirements for the customer please contact to us by message firstly

After-Sales Service:

We will supply a good and professional after-service to you as a professional supplier .

Feedback :

Your satisfaction and positive feedback is very important to us. If you have any problems, please feel free to contact us firstly before open a dispute. We will do our best to solve any problems and provide you with the best after-sale service.

Thanks.