Motor driven shearing machine
Q11 mechanical shearing machine has simple structure, easy operation, elegant design, attractive appearance and low energy consumption. Mechanical shears Uses resist key structural form and open gear clutch transmission, and more advanced Electric operation (foot switch, manual switch) with low noise operation and easy maintenance. It is widely used in metallurgy, light industry, machinery, hardware, electrical, electronics, automotive repair, metal fabrication and other sheet metal processing industry.
1) This machine is used for the shear sheet metal in line, metal materials should be tensile strength of less than 450 N/mm2, non-metallic material including rubber, plastics,when cut hot plate temperature should below 50 °C, The machine can make only intermittent shear in full load, if tensile strength is higher , shear thickness should be reduced.
2) The machine is applicable to uncoiling, leveling, shearing,workshop of production line for plate processing
3) The machine base is steel- welding , the structure is compact, good rigidity.
4) Track of blade movement is precision casting copper,less friction
5) Upper guide can adjust until achieve a good shear section, below blade can adjust via welding screw make the cutting mouth smooth
6) Feeding devices use spring pressure , the clamps have mat piece, pressure force is big, and not easy to damage the sheet metal surface.
7) The machine iuse completely independent closed gear box transmission system, move directly connection with main axil, compact structure, gear have good lubrication, low noise and long life.
8) The machine equipped with pneumatic clutch device, high friction, long service life, clutch speed is high so that improve the shearing speed.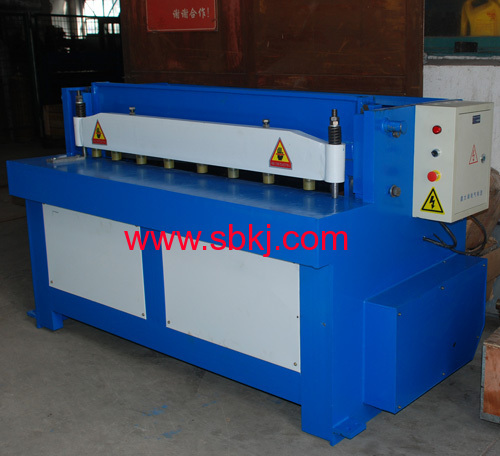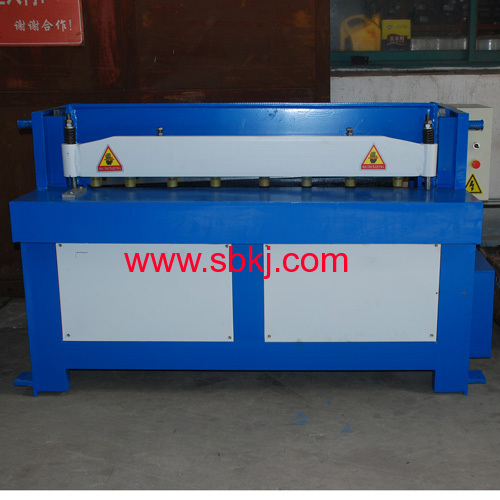 Technical Data
| | | | | |
| --- | --- | --- | --- | --- |
| Type | SBQ11-2×1300 | SBQ11-3×1300 | SBQ11-3×1500 | SBQ11-4×2000 |
| Thickness | 2 mm | 3 mm | 3 mm | 4 mm |
| Width | 1300 mm | 1300 mm | 1500 mm | 2000 mm |
| Cutting Angle | 2°25′ | 2°25′ | 2°25′ | 1°30′ |
| Stroke No | 20 | 20 | 20 | 20 |
| Area | 350 mm | 350 mm | 350 mm | 500 mm |
| Power | 3 kw | 3 kw | 3 kw | 5.5 kw |
| Weight | 794 kg | 1150 kg | 1800 kg | 2300 kg |
| Dimension | 1920×960×1120 mm | 1990×1010×1120 mm | 2515×1500×1300 mm | 2650×880×1140 mm |