1.Application:
HY0173A Yarn Hairiness Tester is a high precision textile testing machine for determining the hairiness distributional pattern of yarn. It mainly used in the textile enterprise for the detection of finished fiber yarn and sized yarn.
2.Features:
★ It's suitable for various yarns, such as cotton, wool, flax, silk spinning, blending, etc.
★ Adopt the internationally accepted measuring method: the counting method of projection;
★ Multiple-point measuring with the capability of measuring eight hairiness indexes at the same time;
★ Adopt an invisible-light source, a high-sensibility photo-sensor and a high-stability detection circuit; so it can be kept away from the outside light's interference
★ Adopt the method of positioning the yarn paths from the inside and outside at the same time. In this way, it can overcome the effect caused by the yarn's thickness to the length of its hairiness and avoid that caused by the hairiness's compression deformation;
★ Two measuring models: Single tube with multiple tests and many tubes with multiple tests. Namely, it can measure the yarn in a single tube for many times and also measure the yarns of the same specification in different tubes for many times separately;
★ The yarn moves from down to up. In the move mode, the hairiness can spread freely;
★ Adopt the control processor of PC with the WINDOWS interface. The data is displayed intuitively, with flexible parameter settings, abundant information display and easy to operate;
★ With a powerful function of the database, the data can be saved automatically and the historical data can be retrieved. The meter also provides the user with the function of printing and comparing the data
3.Technical Specification:
Model

HY0173A

Measuring range

4 ~ 160tex

Test speed

30, 60m/min

Hairiness range

1,2,3,4,5,7,10,12mm, 8 setting length

Sample length

10 ~ 100m settable

Precision of hairiness setting length

<0.02mm

Resolution ratio

<0.5mm

Continuous testing times

1 ~ 99

Power supply

AC220V±10% 50Hz

Dimensions

Detector units

430*480*350

Controller

510*440*190

Monitor

440*460*160

Yarn spun frame

240*180*340

Weight

60kg
4.Standard Configuration:
| | | |
| --- | --- | --- |
| No. | Item | Quantity |
| 1. | Main machine | 1set |
| 2. | Pressley clamp and spacer | 1set |
| 3. | Torque vice | 1pc |
| 4. | Cutter | 1pc |
| 5. | Comb | 1pc |
| 6. | Tweezers | 1pc |
| 7. | Packing list | 1pc |
| 8. | Quality certificate | 1pc |
| 9. | User manual | 1pc |
5.Company Overview:

Factory profile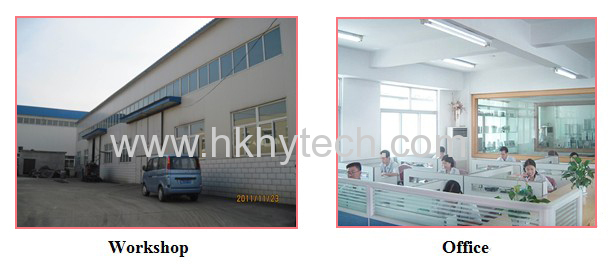 6.Better Quality
a. Our Yarn Hairiness Tester adopt top quality material including imported parts, most of the critical component are adopting top class supplier inthe world, such as adopt Mitsubishi MCU and converter from Japan, Panasonic servo motor, Jingcai LCD/LED panel, Taikang compressor from French etc.
b. Most of our machine use stainless steel control panel and also some machine body are adopting stainless steel.
c. We have skilled technician, most of our worker has more than three years working experience.
d. Strict quality control,we have a thorough QC system and we also have top class calibrate machine.
7.Considerate service
We provide different countries' plugs, power voltage 110V and 220V, 380V and other type can be customized, and also we will stick danger tips for our machines.
8.Excellent after-sales service
a. 6*24H available
You can contact us by phone or send you email any time.
b.12 months warranty
9.Technical support
a. Installation and training service.
Customer can select installation and training service from us (optional) or accept service from our agent.
b. User manual.
Illustrated user manual of Full Automatic Single Yarn Strength Tester can help you operate our machine easily.
c. Operation video
For some of our machines, we can provide you operation video
d. If you meet any problem during operation, you can call us or email us, we will back to you in 12 hours.