Small motor coil winding machine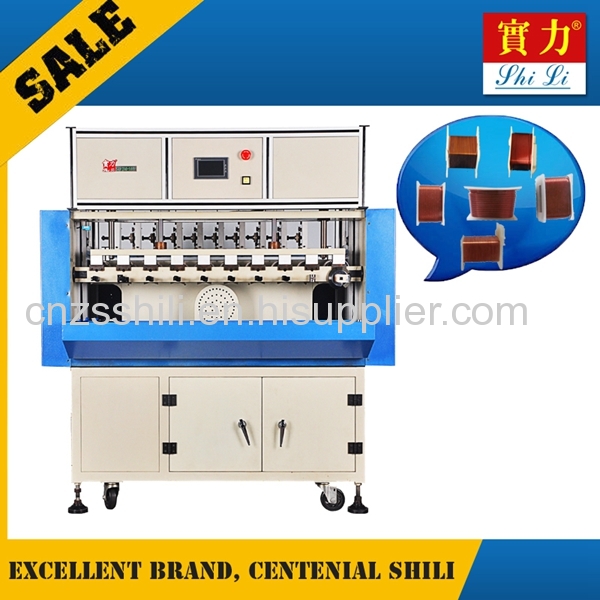 This machine adopts PLC touch screen imported from Taiwan, Taiwan (TBI) ball screw and guide rail ,Japan bearings (NSK), Japan BANDO belt. Machine with thick cast iron box, with high-power three-phase AC motor torque at low speeds greater, with full English and Chinese display, operation and set parameters is more simple and convenient, high speed, accurate positioning, so that customers in the course of truly experience the saving time, labor, and high efficiency.
Function and feature:
①The installation of disconnection detection, front and rear machine limit device.
②The special winding fixture design, to prevent loosening.
③Using of high-precision magnetic tension device, the winding effective more better.
④Winding 10 products at the same time , realize the real efficient.
⑤With auto flip function,to achieve change bobbin and winding at the same time.
Application range: 
Small transformers, relays, small motors coils,shaded pole motor and so on.
Specifications:
Spindle number

10

Wire size range

 A:0.1-0.55(24 - 38AWG)    B:0.1-0.6mm(22 - 24AWG)(Overrun diameter can be customized)




Loop diameter

Φ75mm




The max wire spacing

9.99mm




Winder width

75mm




Max speed

0-4500 turn/min




Spindle motor

1.5KWAC motors




Winder motor

Stepping motor




Control mode

PLC and stepper motor drive system




Winder direction

Adjustable at both ends




Input power

220V,60/50Hz




Machine size

1480×900×1580mm




Weight

219kg