IC-TP spraying degreasing agent
IC-TP spraying degreasing agent is a kind of advanced degreaser with strong capability of decontamination, dispersion, penetration. The product was made by a variety of surfactants and additives.
It is be suitable to the degreasing cleaning of fitness equipment, electrical household appliances, automobiles, and other steel products in phosphating, electroplating, blacking and other pre-treatment process. Degreasing effect is outstanding.
There are many advantages, such as low-temperature using, saving energy, decontamination capability, easy to operate and manage, short time of degreasing, and so on.
1.Physical and chemical properties
Appearance: white powder

Natural densit: 0.8
2. Using methods
The degreasing agent can be used to clean workpieces surface by spraying.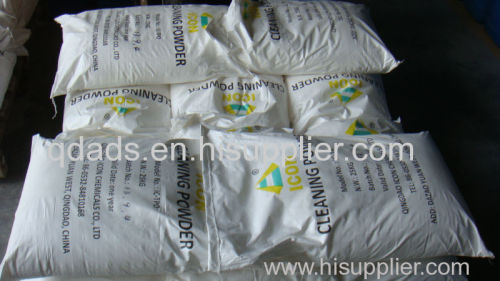 3. Preparation methods (1 ton)
3.1 Adding water to sink with 90 % of the capacity of sink.
3.2 IC-TP of 40 to 60 kg is dissolved in a small amount of water, and then pour it slowly to sink and stirring.
3.3 Add water to 1 ton, and stir evenly.
3.4 Heat to the temperature required, and confirm free alkalinity of working liquid.
3.5 The quantity of IC-TP degreasing agent can be improved properly for the parts with heavier oil stain.
4. Treating conditions
Temperature: 50~55 degree
Treatment time: 2~5 min(can be determined by steel degreasing situation)
Concentration: 40~60kg/Ton(According to material grease condition)
Free alkalinity: 25~30 PT(5% aqueous solution)
5. Additions and adjustments (1 ton)
When free alkalinity is below 25, add IC-TP degreasing agent.
Generally, IC-TP of 2 kg /ton can improve about one free alkalinity.
6. Packaging
White power, 25 kg / woven bag.