Mineral Water Filling Machine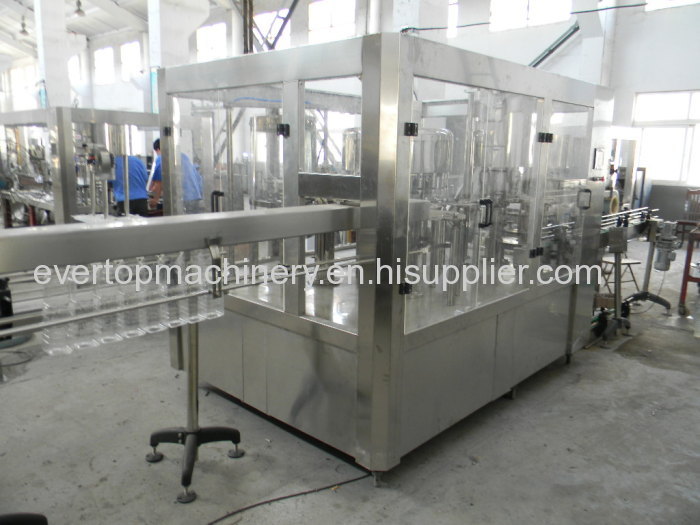 Products introduction:
This plastic bottle water filling machine is washing-filling-capping 3-in-1unit. It is used to produce plastic bottled mineral water, purified water, alcoholic beverage and other non-gas beverages. The machine can finish all the process such as washing bottle, filling and sealing, it can reduce the materials with outside touch time, improve the sanitary conditions, production capacity and economic efficiency. It is a good option for the bottled drinking water factory.
Characteristics:
All the machine part which contact with liquid is high quality stainless steel 304. The relative fittings are from international famous brand.
The water filling machine was equipped with air conveyor and frequency control of motor speed.
This machine is comprised of rinsing, filling and capping system.
Rinsing: grip the bottle neck, rotate filling plate, inverse bottle; internal rinsing and external spraying make bottles be cleaned completely.
Filling: gravity filling with holding bottle neck; the special backflow type of the filling valve can avoid leakage after filling and also control liquid level accurately.
Capping: magnetic torque bottle holding type can minimize the cap damage rate and make the capping performance the best.
This machine owns the reasonable, stable and safe design. Under the condition that the bottle neck size is the same, only the output star wheel needs to be changed if bottles are different.
Technical Parameter:
Model
XGF16-12-6
XGF18-18-6
XGF24-24-8
XGF32-32-10
XGF40-40-12
XGF50-50-15
XGF60-60-15
Production capacity (b/h)
2000-4000
5000-6000
6000-10000
10000-13000
13000-15000
15000-20000
20000-24000
Bottle size (mm)
φ=50-110mm, H=170-310mm (Volume: 200-2000ml)
Main Motor power
4.0kw
4.2kw
5.2kw
6.2kw
7.5kw
8.2kw
9.5kw
Dimension
(m, L x W x H)
2.23×1.63×2.25
2.6×1.965×2.25
2.9×2.2×2.25
3.88×2.2×2.25
3.7×3.0×2.35
4.5×3.5×2.35
5.5×4.5×2.35
Weight (Kg)
2500
3500
4200
6000
7000
7600
9800

Technological Flow Sheet (Drinking Water Production Line):
1. PET Preform Injection Molding System
PET material→ Dehumidify→ Load material→ Injection machine→ Preform
2. PE/PP Cap Compression Molding System
PE material→ Dehumidify→ Load material→ Compression machine→ Cap
3. PET Bottle Blowing System
PET Preforms→ heat preform→ stretch→ blowing→ bottles
4. Water Purifying System
Raw water→ Multistage centrifugal stainless pump→ Quartz sand filter→ Active carbon filter→ Water softner→ Micro filter→ Reverse osmosis→ Ozone generator→ Water tank→ Pump
5. Water Filling, Labeling and Packing System
Air conveyor→ Rinsing, Filling& Capping Mono-Block→ Lamp checker→ Conveyor→ Auto labeling machine→ Date printer→Auto packing machine→ Stock

Service:
1. The plant layout
To provide customers with pre-project workshop planning, design.
2. Commissioning services
Send experienced engineers and technicians to be responsible for equipment installation and commissioning, to ensure customers' factory normal production.
3. Spare parts
With one year of wearing parts when the device is shipped. In addition, we prepare adequate equipment spare parts in stock. Customers ever need spare parts to repair and maintain quipment, we can supply to them quickly.
4. Technical training
To ensure that your technical staff to become familiar with the performance of the equipment, to master the equipment proper operation and maintenance procedures, we provide on-site technical training, in order to facilitate customers faster and more comprehensive access to technology.

Company Introduction:
Zhangjiagang Evertop Machinery Co., Ltd., which has the function of research, development and manufacture, is specialized in beverage packaging machinery.
We are providing the following products: liquid filling machine (bottle water, juice/tea, carbonated drink, oil, milk, wine etc.), 3 to 5 gallons water filling production line, water treatment machine, labeling and packing machine, automatic/semi-automatic bottle blow molding machine, injection molding machine and automatic batching, mixing system, a variety of sterilization equipment etc.
Since foundation, we devote all the strength to the new field of beverage packaging machine technology and absorb the advanced technology from German and Italy. Company insists the management ideas of market-oriented, technology-first, quality of life, faith-based, service paramount, and has established perfect quality assurance system.