Air Duct Making Machine
Line III consists of two electrical feeding metal frame , leveler grooving roller, hydraulic notch and punch square machine, hydraulic shearer and folder. The electrical control system uses a computer with a closed-loop servo-system to increase the precision and reliability of the line . The maximum working speed is 18 m/min . The length tolerance if 0.5 mm . The diagonal line tolerance is 0.8 mm . The capacity of the manufacturing process will produce 1000 m2 of square duct .
Main Features
1) It can cut fixed sized metal , also can be used with a plasma cutting machine .
2) A: Punch "C" , "S" inserted cleat notch . It can be used with "C" cleat and "S" inserted flange machines .
B: Due to different connecting methods for notch cutting , it can be used with TDF flange machine and TDF connecting machines .
C: It's able to punch all kinds of notches which are used by angle iron flange or "Z" shape flange machine . It can fold "L" , "■" shape , and can be used with combined seaming machine to produce complete set of duct .
3) It can punch TDC notch and fold metal for inserted flange , to produce "■" shaped duct , for example . It can be used with both combined seaming machine and inserted flange to manufacture a complete set of duct .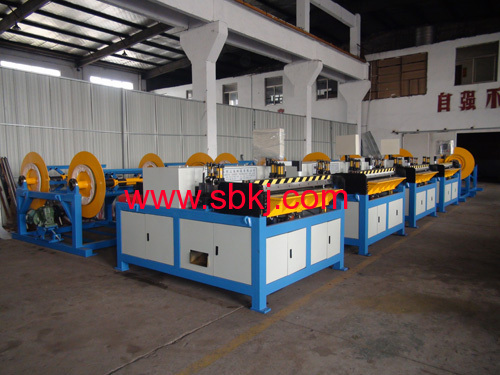 Technical Data
| | | |
| --- | --- | --- |
| Type | SBAL-III-1250 | SBAL-III-1550 |
| Thickness | 0.5-1.2mm | 0.5-1.2mm |
| Width | 1250mm | 1550mm |
| Working speed | 18 m/min | 18 m/min |
| Coiler Max-weight | 8000kg | 8000kg |
| Power | 9.5kw | 9.5kw |
| Weight | 3250kg | 4000kg |
| Dimension | 2300×1800×1400mm | 2300×2100×1400mm |