expanded metal mesh lath is one type of wire mesh products,the material can be the carbon steel sheet,aluminum sheet,stainless steel sheet,after the process of expansion, can become several times its original size.
In the process of expansion, the metal sheet material is given a full use with less or zero loss of material compared with metal mesh of other processing method.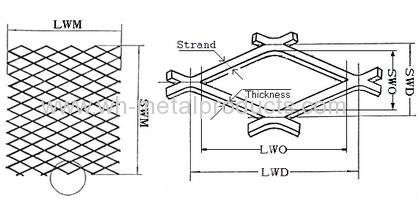 To increase the rigidity and corrosion resistance, the expanded metal can be powder coated.
expanded metal mesh surface can be coated by the green colore,white color,black colre,sky bule,etc.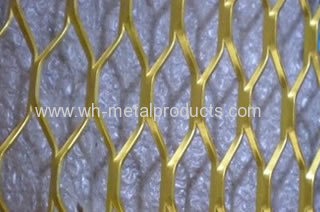 Because of the structure, expanded metal sheets have great uses as well as the sectors of applications.
Easy for cutting and bending, expanded metal in fine and medium thickness, can be processed in small workshops or even on the spot of application.
specially designed expanded metal mesh for use in architectural and decorative applications. These designs can be used to provide privacy and to control light and air while allowing visibility. Sun screens, room dividers, and building facades are only a few of the possible design possibilities.
Decorative expanded metal mesh patterns:
Expanded Metal mesh can be supplied in different openings, typically standard diamond shape; heavy type Tortoise-shaped or hexagonal shape; flattened diamond or hexagonal shape; and some special shapes or designs.
Standard Diamond:
Rhombic Shape is the standard expanded metal products, also named diamond shaped. Can be made from a wide range of metal materials.
Heavy Type Hexagon Shape:
Also known as Tortoise-shaped expanded metal mesh. A kind of heavy-type expanded metal, reinforced compared with the regular diamond shaped expanded sheets.
Flattened:
This kind of expanded mesh finds similar application as perforated metals as fences, construction or building decoration.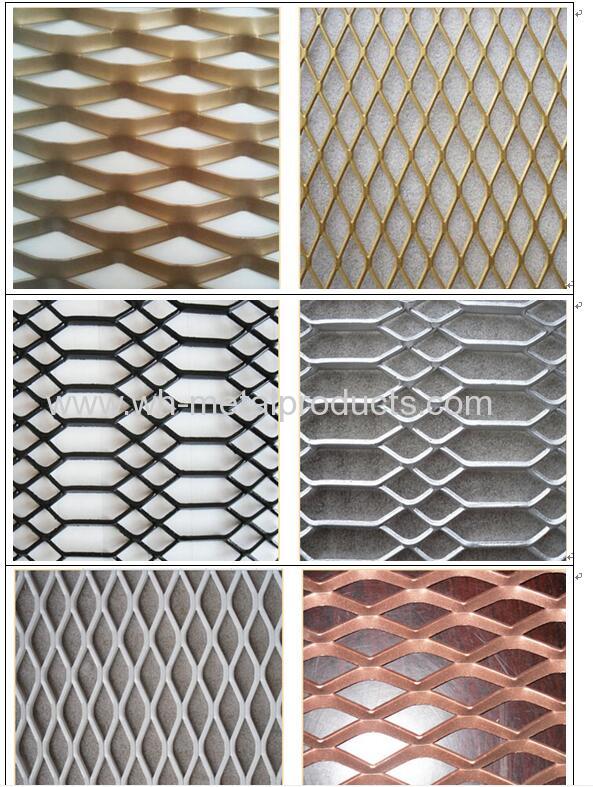 Decorative expanded metal is available in carbon steel, aluminum and other alloys in a wide range of patterns and gauges. Most of these patterns are produced on a special order basis only.
the powder coated flattened expanded metal surface can be coated by the green colore,white color,black colre,sky bule.
decorative expanded metal mesh used as screens for dining hall,isolation screen in hotels,Furniture door screen,decorative ceiling,wall, isolation screen, door screen.It is beautiful generous,luxurious.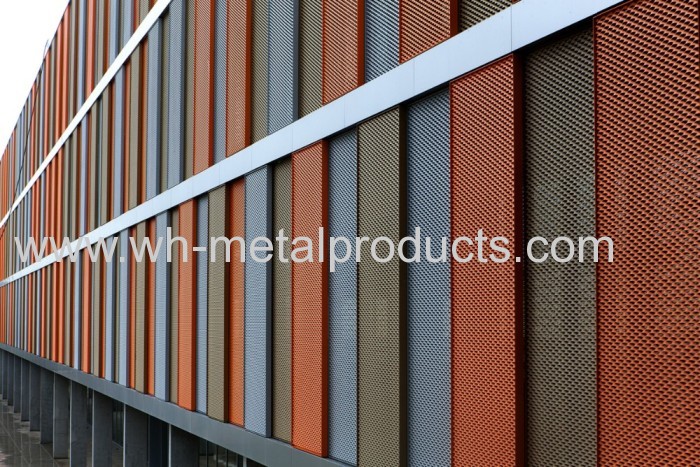 expanded metal metal Specifications

Tickness(mm)

SWD(mm)

LWD(mm)

Wire stems width(mm)

Width(m)

Length(m)

Weight(kg/m2)

0.5

2.5

4.5

0.5

0.5

1

1.8

0.5

10

25

0.5

0.6

2

0.73

0.6

10

25

1

0.6

2

1

0.8

10

25

1

0.6

2

1.25

1

10

25

1.1

0.6

2

1.77

1

15

40

1.5

2

4

1.85

1.2

10

25

1.1

2

4

2.21

1.2

15

40

1.5

2

4

2.3

1.5

15

40

1.5

1.8

4

2.77

1.5

23

60

2.6

2

3.6

2.77

2

18

50

2.1

2

4

3.69

2

22

60

2.6

2

4

3.69

3

40

80

3.8

2

4

5.00

4

50

100

4

2

2

11.15

4

60

120

4

2

7.5

4.0

4

80

180

4

2

10

3.0

4

100

200

4

2

12

2.5

4.5

50

100

5

2

2.7

11.15

5

50

100

5

1.4

2.6

12.39

5

75

150

5

2

10

3.0

6

50

100

6

2

2.5

17.35

8

50

100

8

2

2.1

28.26