Smart Home Automation RF Remote Two way US Touch Wall Switch
Product features:
1-Sensitive touch control feeling like iPhone touch.
2-Toughened glass, it's easy to clean. Non-discoloring, always look as new.
3-Waterproof, it's available to operate touch water any time.
4-Fireproof, strengthen protection for the short circuit of power line.
5-Single live wire & L&N wires for selection, easy to install, replace the old switch directly.
6-Wireless RF remote control, make the operation more convenient, and our life easier.
7-With red&blue LED indicator, distinguished in the darkness. Red is light on, blue is light off.
8- Applicable to common lamps, such as incandescent, fluorescent lamps, led lamps and so on.
9-Easy control lighting in one-remote!Including All on,all off function.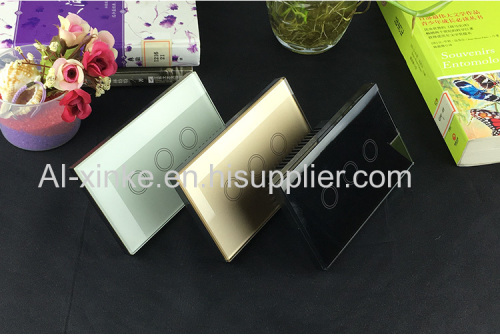 Technical Parameters:
Power Supply: Single Live wire & Live+Neutral wire for option
Shell Material: PC retardant material
Panel Material: Toughen glass
Rated Voltage: 110V-240VAC 50/60Hz
Powerload: 3-600W/Gang
Stanby Power: <0.02W
Lifetime: >100000touch times
Temperature: -20℃~+70℃
Size: 120*72*36mm
RF Distance: 30m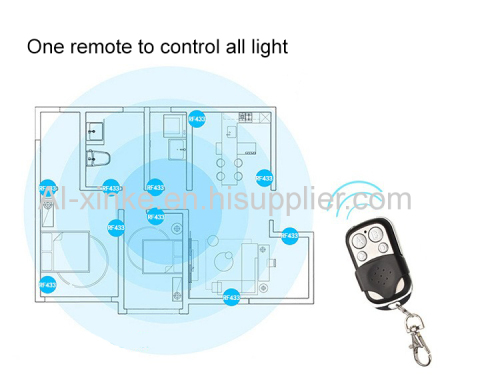 US/Australia Standard Switch Housing: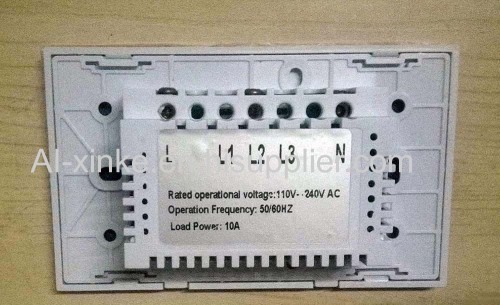 Our Service:
1.100% Original quality
2.Top supplier in Shenzhen,China.
3.Low Prices Direct From Factory Suppliers.
4.Fast Delivery Around The Globe.
5.High Quality With Global Standards.
6.Goods must be passed QC and test before shipping out.
7.2 year factory warranty.
8.Safe shipping way and payment.
9.Convenient & Friendly Customer Service.
10.Latest information and latest prices regularly info. (pls contact our saler if you need this service).