Auto cooling pump seals Main Characteristics
Mostly Use: internal-combustion engine cooling pump
piping pump, oil and other low corrosion mediums.
Pressure in the sealed chamber: <= 0.3Mpa
Temperature in the sealed chamber: -20oC~100oC
Linear Velocity: <= 10m / sec
| | | | | | |
| --- | --- | --- | --- | --- | --- |
| TYPE\SIZE | d | D | D1 | L | L1 |
| TSSBc-10 | 10 | 23.5 | 30 | 13.7 | 8.5 |
| TSSBc-12 | 12 | 25 | 30 | 17.7 | 8 |
| TSSBc-12A | 12 | 25 | 33.3 | 17.7 | 6 |
| TSSBc-12B | 12 | 25 | 28.55 | 17.7 | 8 |
| TSSBc-12C | 12 | 28.5 | 30 | 14.7 | 7 |
| TSSBc-1/2 | 12.7 | 28.5 | 30 | 14.7 | 7 |
| TSSBc-13 | 13 | 25 | 30 | 18.2 | 8.5 |
| TSSBc-15 | 15 | 32.5 | 36.45 | 19.4 | 8.2 |
| TSSBc-5/8 | 15.875 | 30 | 34.2 | 17.85 | 5.6 |
| TSSBc-5/8A | 15.875 | 30 | 36.45 | 19.2 | 8 |
| TSSBc-5/8B | 15.875 | 30 | 38.1 | 19.2 | 8 |
| TSSBc-16 | 16 | 32.5 | 36.45 | 19.4 | 8.2 |
| TSSBc-16A | 16 | 32.5 | 38.1 | 19.7 | 8.2 |
| TSSBc-17 | 17 | 29.5 | 35 | 22.5 | 9 |
| TSSBc-20A | 20 | 37 | 38/40 | 22 | 9.5 |
| TSSBc-20B | 20 | 37 | 52 | 28.5 | 9.5 |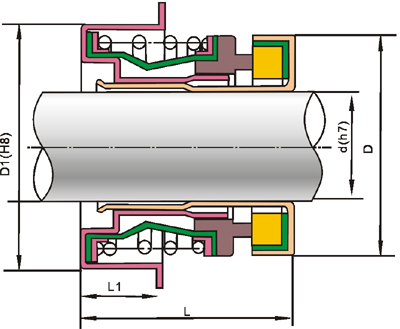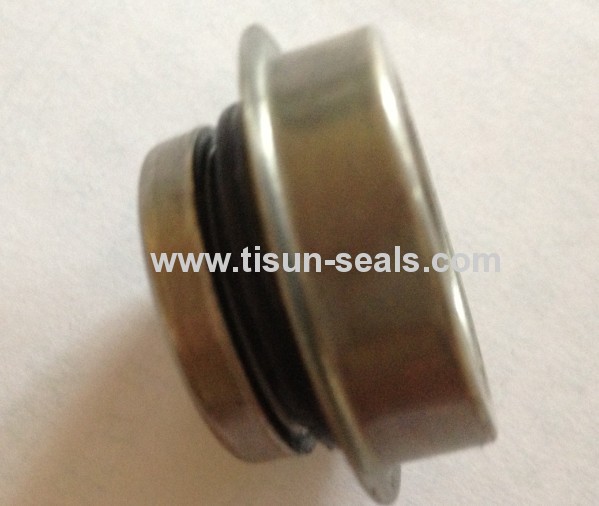 Seal failure reason analysis
1. Lead to seal failure, flushing pressure fluctuatesthe flushing pressure must be higher than the seal chamber pressure, enable the solenoid valve installed in front of the pump and delay switch can ensure flushing the remnants of rinse after pump start or stop, such as using the quenching method to control the temperature of the cold, must maintain the seal chamber pressure.
2. If the cooling on the spacer deposits a layer of scale, we can be in a sealed cavity at the bottom of the pack a graphite sleeve, using its thermal barrier effect to solve these problems.
3. Leakage of heat exchanger, often is the cooling surface fouling hinders the heat transfer and fluid flow velocity in the cooler is speeding up, or the wrong direction of the heat exchanger.