2017 Hot Products Digital Laptop Human Ultrasound machine ATNL/51353A LCD
Main Features:

Powerful measurement & calculation software packages

8-Segment TGC ABD Trackball adjustment

12 inch LCD monitor

Permanent function of image store: 32 images

Back-lit keyboard

OB measurements: BPD, GS, CRL, FL, AC, HC, etc

2 probe connectors

Probe automatic identification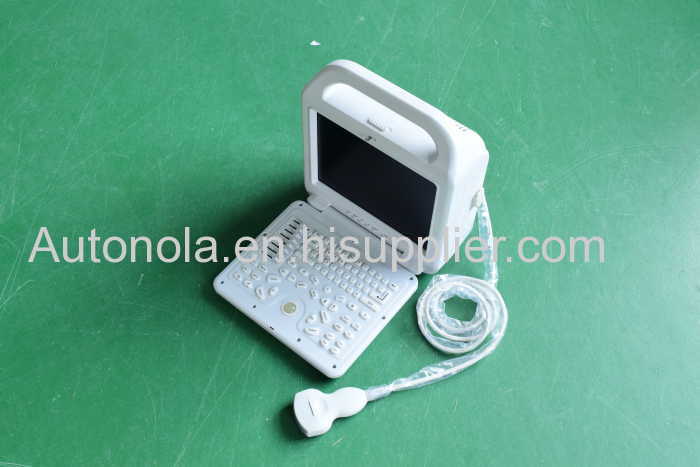 Main Technical Specification:

Scanning mode: Convex/Linear/Micro-convex/Trans-rectal;

Display modes: B, B+B, B+M, M, 4B;

Scanning depth: 240mm;

Gray scales: 256;

Function of image magnification: image zoom (real-time status under B mode), up to 5 times (area); local amplification function which can be enlarged under the real-time and froze;

Image conversion: up/down, left/right, black/white;

Function of puncture guide;

Max dynamic range>=100db;

Detecting depth>=190mm, scanning depth>=240mm;

The geometric location accuracy: vertical<=5%; lateral<=5%; blind spot: <=4mm;

Vertical resolution: <=1mm (depth<=130mm) < =2mm (130mm<depth<170mm);

Lateral resolution: <=1mm (depth<=130mm) < =2mm (130mm<depth<160mm);

Gamma: 4 gray scale γ transform function;

Variety of focus selection and multi-stage dynamic focusing with 4 transmit focus; support to launch multi-focus combination;

Built-in pseudo color processor, Pal-D and VGA video output, can connect external screen monitors, color monitors, VCRs, video image printer and other equipment.

Fixed characters and real-time clock and calendar display;

Software reset function;

Printer function: can connect laser printer and Video printer directly;

Comment: Date, Name, Sex, Age, Hospital, Annotation;

Zooming: *1.0, *1.2, *1.5, *2.0;

Port: USB 2.0, VGA, Video connector;
Measurement:

General menu: Distance, Area, Volume, Angle, Ellipse;

Obstetrics menu: GS, CRL, BPD, HC, AC, FL, Fetus Weight;

Heart menu: Distance, Time, Slope, Rhythm;

USB Function of image store: more than Sixteen thousand images;

Power supply: AC 110V-240V, 50HZ/60HZ;

Probe connector: 2;

USB/VGA/ ports;

Video printer connector;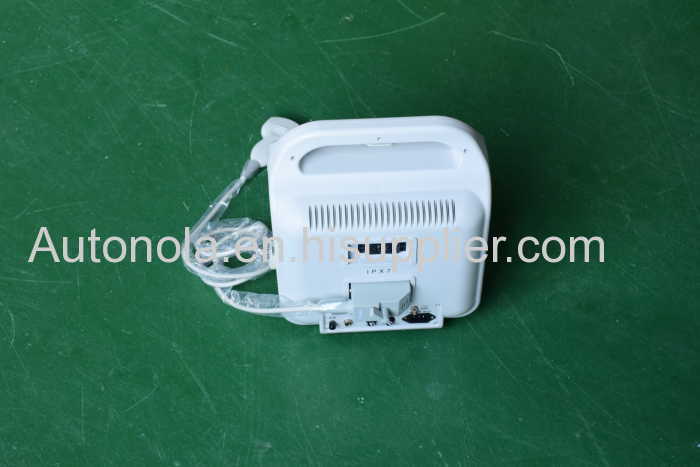 Standard configuration:

12 inches LCD main unit 1set;

60R/3.5MHZ Convex array probe 1pc;

Power line 1pc;

Ground line 1pc;

Fuse 4 pc;

User's manual in English 1pc;

Warranty card 1pc;

Options:

L40/7.5MHZ Linear array probe;

20R/5.0MHZ Micro-Convex array probe;

6.5MHZ Transvaginal l probe;

Mitisubishi Video Printer;

Inside battery(3hours);
Shipping Terms:
We will delivery the goods within 2-3 days after get your payment.
If you need to change the other shipping ways please contact to us by message firstly to confirm .
Quality Control :
We have a strict quality control procedures before the delivery to expressly warrants that the goods are free from all defects
Package:
The package of our goods fully meets the international transportation safety
Customer Clearance:
We will show a low value on the package bill to avoid produce tariffs. Every country has different tariffs policy, So we will not be responsible for the customer local clearance, Please note it!
If you have any requirements for the customer please contact to us by message firstly
After-Sales Service:
We will supply a good and professional after-service to you as a professional supplier .
Feedback :
Your satisfaction and positive feedback is very important to us. If you have any problems, please feel free to contact us firstly before open a dispute. We will do our best to solve any problems and provide you with the best after-sale service.
Thanks.