IV Infusion Soft Bag Production Line
Main usage:
SRD series of non-PVC film soft bag I.V. infusion automatic production line has made great improvement on DSY series of soft bag I.V. infusion production line basis and has made comprehensive upgrade in performance which is the most advanced fourth generation product in the world at present. it is characterized by small volume, high output, high qualified rate and is mainly used for manufacturing non-PVC film packaging I.V. infusion product. In addition, it can complete the following procedures of film opening, printing, lot number printing, bag making, filling, cap-feeding automatically, welding & sealing , outputting bag automatically.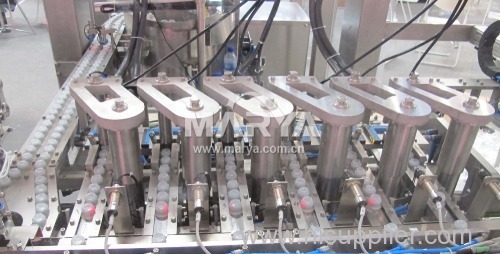 Performance and characteristics:
Compact structure, small occupying area. A decrease in clean workshop and energy-consumption of air-conditioner purification.

Adoption of continuous film-stretch technology reduce accupying time for bag-making station, high-efficiency for bag-making.

The width for bag-making is adjustable, so it reduces film consumption and saves cost. The bag shape is more beautiful.

Both main driven motor and long stroke cylinder adopts servo, running smoothly with small impact and good reliable improves output.

There is interface preheat mechanism before moulding, which is suitable for welding between film from different manufactures and interface, adequate preheat for interface and leakage rate of bag is extremely small.

Shaped mechanism with optimal design makes welding station speed improve greatly.

Inner surface of interface will not contact with part in the course of bag transferring, so it avoids generation of odd matter.

The base adopts table-type integrated design, which is easy to install, short adjustment time, easy clean




Technical data

Model Item

SRD2500

SRD3800

SRD5000

SRD7500

SRD10000

Max Production Capacity(b/h)

2500

3800

5000

7500

10000

Bag-making number each time

2

3

4

6

8

Filling and sealing number each time

2

3

4

6

16

Electric capacity(kw/v/Hz)

25/380/50

28/380/50

32/380/50

43/380/50

60/380/50

Cooling water consumption

15-20℃300L/h

Filling drug solution

T≤50℃0.1-0.2Mpa

Bag making film

Non-PVC double layer flat film Film thickness:190±20um

Film canister size

Inner diameter:Ø150; outer diameter of film canister≤Ø600

Bag making shape

Single tube, heat welding sealing

Specification

50ml,100ml,250ml,500ml,1000ml

100ml,250ml,500ml

50ml, 100ml, 250ml

Weight

5000kg

6000kg

7000kg

8000kg

8000kg

Overall dimension(L×W×H)

7650×2335

×2500

6100×2880

×2140

9600×2250

×2400

8400×2880

×2140

3200×2880

×2140




Company Information


Shanghai Marya Pharmaceutical Engineering&Project Co.,Ltd is a professional Pharmaceutical Turnkey projects Contractor .We have 3 our own factories and more than 30 OEM factories under quality Control of Shanghai Marya,We have a 30 year experienced professional team for doing the turnkey project from design to construction.

Our Pharmaceutical projects can be done according to international standard like EU cGMP, USA FDA, WHO GMP, UK MHRA, Australian TGA, etc

We are not noly a manufacturer but also a designing and construction company. We can provide much better price and better technical support and service than other companies

We can design and manufacture machines based on Customer's request ,Your satisfaction is our top Priority.

With 30 year experienced professional design team and construction team.Under the support of our factory ,We can provide customer with high efficiency and quality in project, save your time and cost.

Our machineries and projects have sold all over the country and they are exported to America, Europe and middle east ,South east Asia, Africa and other countries and regions.

Welcome to Visit Our factory in China

Our Services

WHY US?

We can provide Pharmaceutical Turnkey project Service including all the pharmaceutical machineries and clean room projects from designing to construction

We can provide our project according to the international regulations like EU cGMP, USA FDA, WHO GMP, UK MHRA, Australian TGA, etc

We can provide 30 year experience engineer team go give you free Consultation service We Can provide FAT and SAT Service

We can provide DQ,IQ,PQ,OQ documents service

We can provide overseas machine installation and commissioning

We can provide free training service for your employee

We can provide One year guarantee for the machine and project

We can provide 24 hours technical support by email

We can provide our installation team to your country to do the installation

We can provide user friendly English Software ,user manual and detailed video

You have nothing to worry if you cooperate with us for the pharmaceutical Project

Looking forward to cooperating with you.