| | | | | | |
| --- | --- | --- | --- | --- | --- |
| TYPE\SIZE | d | D | D1 | L | L1 |
| TS155-10 | 10 | 20 | 18.1 | 20.8 | 5.5 |
| TS155-11 | 11 | 22 | 20.6 | 23.8 | 5.5 |
| TS155-12 | 12 | 22 | 20.6 | 23.8 | 5.5 |
| TS155-13 | 13 | 25 | 23.1 | 28.3 | 6 |
| TS155-14 | 14 | 25 | 23.1 | 28.3 | 6 |
| TS155-15 | 15 | 29 | 26.9 | 29.3 | 7 |
| TS155-16 | 16 | 29 | 26.9 | 30.3 | 7 |
| TS155-17 | 17 | 29 | 26.9 | 30.3 | 7 |
| TS155-18 | 18 | 33 | 30.9 | 32.3 | 8 |
| TS155-19 | 19 | 33 | 30.9 | 33.3 | 8 |
| TS155-20 | 20 | 33 | 30.9 | 33.3 | 8 |
| TS155-21 | 21 | 38 | 35.4 | 33.3 | 8 |
| TS155-22 | 22 | 38 | 35.4 | 33.3 | 8 |
| TS155-23 | 23 | 38 | 35.4 | 35.3 | 8 |
| TS155-24 | 24 | 38 | 35.4 | 35.3 | 8 |
| TS155-25 | 25 | 40 | 38.2 | 35.8 | 8.5 |
| TS155-28 | 28 | 46 | 43.3 | 38.3 | 9 |
| TS155-29 | 29 | 46 | 43.3 | 39.3 | 9 |
| TS155-30 | 30 | 46 | 43.3 | 39.3 | 9 |
| TS155-32 | 32 | 46 | 43.3 | 39.3 | 9 |
| TS155-33 | 33 | 48 | 53.5 | 50.8 | 11.5 |
| TS155-35 | 35 | 50 | 53.5 | 50.8 | 11.5 |
| TS155-38 | 38 | 56 | 60.5 | 50.8 | 11.5 |
| TS155-40 | 40 | 58 | 60.5 | 50.8 | 11.5 |

Main Characteristics
Mostly Use: water pumps and circulation pumps etc.
Pressure in the sealed chamber: <= 0.8Mpa
Temperature in the sealed chamber: -20oC~100oC
Linear Velocity: <= 15m / sec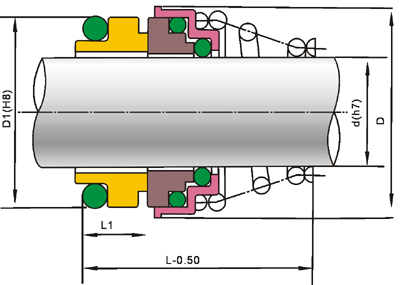 Sample Time:
Weprovide free samples for parts in stock. Client pays for air freight for sampledelivery or provide freight account on collect.
Sample can be sent outnext day upon request.
Please send email forsample requirement.
Bulk Order Delivery Time:
Stock in hand: Shipnext day after receipt of payment.
Bulk production: 30~45days after receipt of deposit (may vary depending on specific items and itemquantities)
For urgent order, wecan make it faster. Please send email to negotiate.

Shipping Options withestimated charge (freight may vary depending on specific weight, volume, andaddress, check with us for the exact freight):
- Air freight to door byFedEx (100KGS-300KGS)= $4.40-$5.80/KG
- Air freight to door byFedEx (less than 100KGS)= $6.20-$8.00/KG
- Ocean freight to door=$600-$1,200/ shipment
- Ocean freight tonearest port= $100-$200/ shipment
Wework with the most professional forwarders in the world and we share our largeshipping discounts with all our customers.

Weusually accept T/T (wire transfer), PAYPAL, Western Union,
Other terms like MONEYGRAM, L/C, D/P, D/A, O/A can be negotiated.

1.Neutral packing(neutral plastic bag+ neutral carton+ Plywood/Iron pallets)
2.Custom packing (withlogo or barcode according to clients' requirement)
1. As a directmanufacturer and also a trading company, we are able to have the best resourcesintegrated in China and offer our clients qualified parts at the mostcompetitive price.
2. Quality Assurance:100% QC inspection before delivery; ISO9001:2008, and SGS certified; Full refundor replacement for quality faulty; 90 days quality warranty for ALLproducts.
3. Excellent customerservice, responded within 24 hours.
4. Fast delivery: we havelarge amount of stock ready to ship the next day after order, and for bulkproduction, we can work on urgent order and deliver in time.
5. We provide OEM serviceand can make custom parts according to clients' prints or sample pieces.
6. With 10 year'sexporting experience, we've worked with customers worldwide (NORTH AMERICA 80%,EUROPE/11%, Oceania/5%, RUSSIA/2%, South Korea/1%, Japan/1%).
7. Monthly productioncapacity over 200,000pcs, one of the three largest in our field in China.
8. Cheapest Shipping: theprice we enjoyed is the cheapest in Shanghai, "84% off from FedEx" and "80% offfrom DHL".
9. One-Stop service: wecan take care of everything from production, shipping, import clearance, door delivery until your order is right there in your hands.

1.Client confirms price, lead time, sample (if needed) from SYZMACHINE.
2.Client sends 30% deposit (or other terms agreed) after receiving SYZ MACHINE'sProforma Invoice.
3.Client approves our production sample, and get the testing report ifneeded.
4.SYZ MACHINE arranges shipment and provides necessary documents and send copy ofthese documents.
5.Client sends balance payment.
6.SYZ MACHINE sends original documents or telex release the goods.
7.Client receives order and gives feedback on quality, service, andsuggestion.
8.Quality warranty for 90 days after shipment.
The oneness of hydraulic seals for hydraulic pneumatic plays an important role, if the seal of a hydraulic pneumatic components products do not pass, then the hydraulic pneumatic components products, it is not a good product.There are many factors that can affect the seals.
First, stress is an important factor affecting the seal is good or bad, high and low pressure, change the length of the pressure cycle, to seal damage (such as extrusion) has a great influence.The higher the pressure, the greater the other factors that affect the performance of the seal, such as temperature, speed, seal material, the clearance between the piston and cylinder, the clearance between the piston and cylinder head.