Our "Two Tier Bike Rack" has the unique aspects of efficient space and cost saving, so the market demands for such product have been rapidly increased; especially in the areas of high population densities such as schools, offices, car parks, stations and shopping centres.
Layout: Front-load
Min. spacing between adjacent racks (mm): 600
Standard outer diameter of bike wheel (in): 22 to 28
Width of handle (mm): Up to 600
Height of bike (mm): Up to 1,150
Length of bike (mm): Up to 1,900
Width of tyre (mm): 32 to 48(net width of slot:55mm)
Weight of bike (kg): 15 to 20
Advantages 1.Supported by single pillar;2.The angle of bike rack can be freely adjusted as per the site size;
3.With a safety lock, safer in bike access.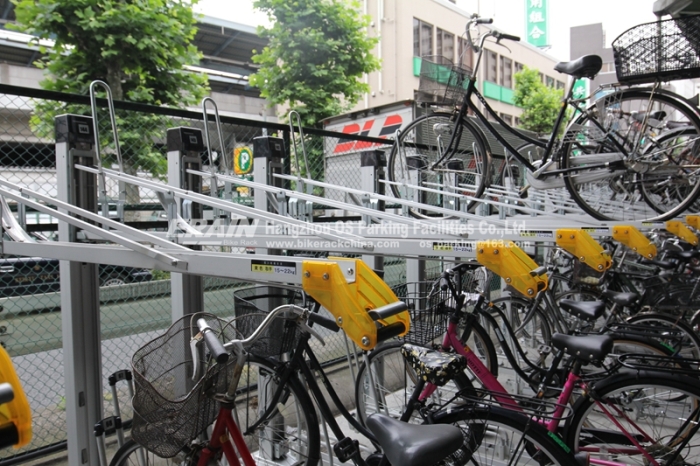 Manual top racks plus horizontal sliding racks
Handle of two tier bike racks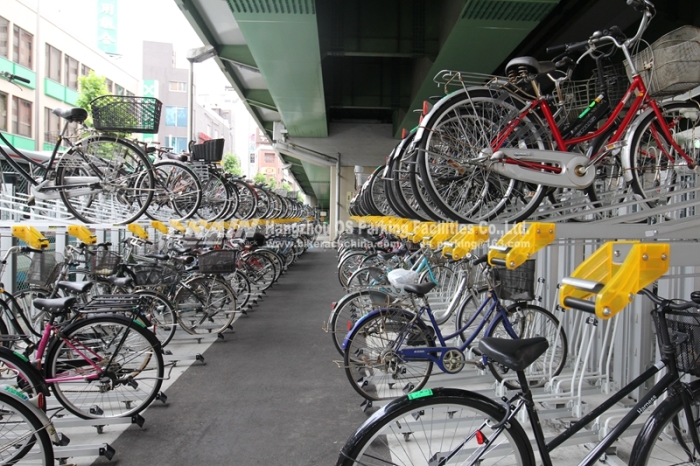 Two tier bike racks installed at the subway station
Solidness, durability and longevity
Our vertical lift rack is made from aluminium alloy, which ensures solidness, durability and longevity. It's especially suitable for outdoor applications. The aluminium alloy makes it lighter and more solid than ordinary hot dipped galvanized steel. All the components of rack are light enough, so it can be easily assembled or disassembled by only one worker. It has a long service life without rusting!
Compact structure and wide applicability
This rack is excellent for space saving because the center distance of bike racks are only 450mm. The racks can be installed against a wall or down onto a central spine. To ensure the desired width of bike path, they can be installed at 10, 30, 45 degree angle according to the site size. The minimum width of bike path is only 1200mm, which fits the narrow aisle very well. Tip: Ensure your space height is a minimum of 2.6m, that's all you need.
Easy and simple
The eye-catching design of roll-up spring inside the vertical lift strut makes it effortless to lift the bike up and down on the top rack.
Just put the bike into the slot, and you even needn't apply any force to lift the bike to the upper level, because the rack will go up automatically. This feature makes the vertical lift rack easy and simple to use for all ages.