Introduction of automatic two tier bike racks
The full-automatic vertical lift rack is the top rack of the bike parking unit, which is pioneering and user-friendly cycle parking product with excellent space saving bike storage, superb usability and high value. It is our newly released product developed on the basis of manual vertical lift rack. The full-automatic vertical lift rack combines with manual vertical lift rack and horizontal slide rack together, and it's our flagship cycle parking product.
When loading or unloading a bike, the only thing you have to do is to press the button at the end handle, the rack will come down automatically. After loading or unloading the bike, just raise the end handle from the bottom with your foot, the rack will rise up automatically.
Our "Two Tier Bike Rack" has the unique aspects of efficient space and cost saving, so the market demands for such product have been rapidly increased; especially in the areas of high population densities such as schools, offices, car parks, stations and shopping centres.
Detail of two tier bike racks
Features
•In case of parking any bike into the rack, it's only required to press the blue button of its end handle for realizing the free lifting or falling of rack.
•The lifting arm pushes the piston via the cylinder inside the pillar to lift or lower the rack freely.
•In order to ensure the width of bike path, adjust the bike racks at 10°,30°or 45°according to the site conditions.
•The top rack can be arranged to make front wheels of bikes first loaded into the racks or front and rear wheels of bikes into the racks alternatively as per the quantity of bikes.
Technical Parameters
Layout: Front-load Front&rear-load
Min. spacing between adjacent racks (mm): 600(650) 450(650)
Standard outer diameter of bike wheel (in): 22 to 28
Width of handle (mm): Up to 600
Height of bike (mm): Up to 1,150
Length of bike (mm): Up to 1,900
Width of tyre (mm): 32 to 48(net width of slot:55mm)
Weight of bike (kg): 15 to 20
Advantages:
1.Supported by single pillar.
2.The angle of bike rack can be freely adjusted as per the site size.
3.With a safety lock, safer in bike access.
Typical Cases: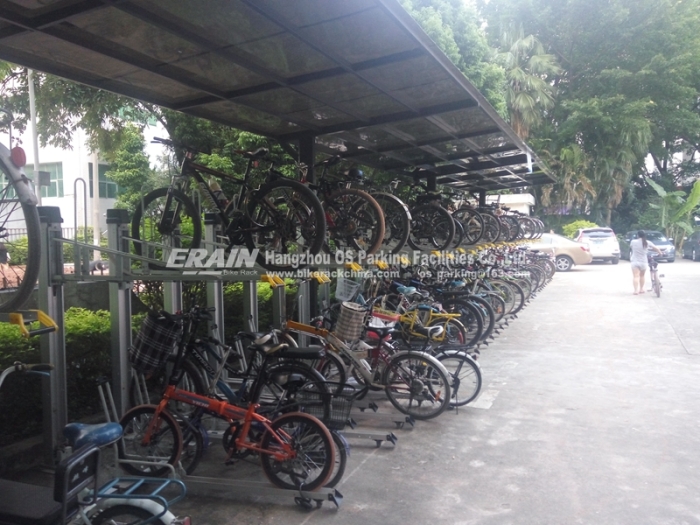 Two tier bike racks installed in Shenzhen Bonded Area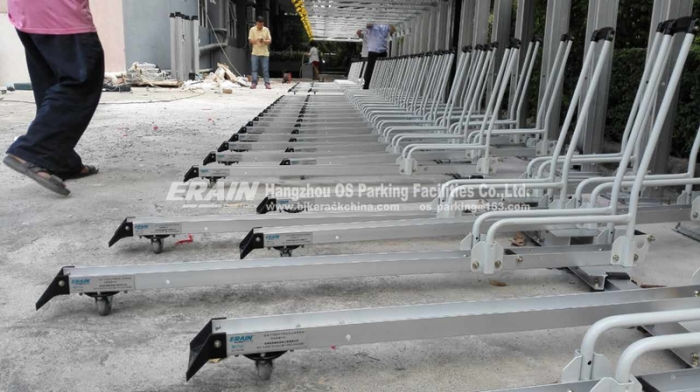 Horizontal sliding bike racks on the bottom of two tier bike racks