AEM Ultrasonic Cleaner for cleaning fuel nozzle injector and pump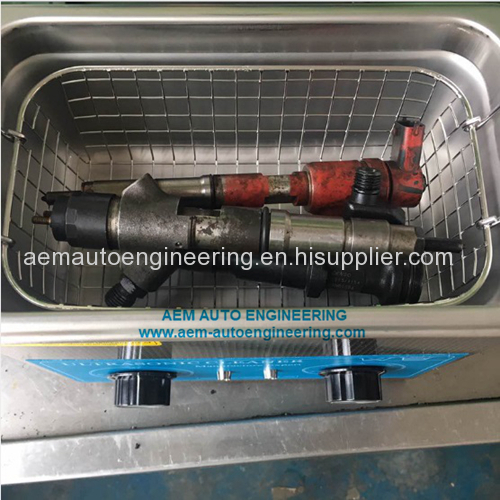 Industrial or experimental models
1.Effect:
1. cleaning: In addition to ink, in addition to, in addition to dirt, dust,
in addition to various types of grease, and powerful.
2. Decomposition of homogenization: carbon ink, pharmaceutical, alcohol,
etc. are available on the role of ultrasound to accelerate chemical reaction and
shorten the Aging, emulsification, homogenization, homogenization, chemical
combination of time.
2.USE:
1, advertising equipment, such as inkjet printing machine, printer, nozzle, nozzle, sprayer, etc. cleaning.
2, mobile phone, mobile phone earphone, MP3 and other communications
equipment, electrical appliances, precision circuit boards, parts cleaning.
3, glasses, optical instruments and parts cleaning.
4, hardware, watches, precision instruments, such as cleaning.
5, jade, jewelry and other cleaning after processing.
6, various medical equipment, laboratory beaker test tube experiments such
as cleaning.
7, all kinds of carbon ink, a mixture of pharmaceutical agents, chemical
combination could increase the efficiency and cleanliness, speed up the
chemical reaction and shorten the time.
3.Technical Specifications:
Model JP-C50A
Power 50W
Frequency 40KHz
Power Supply 220V-50Hz
Cleaning tank size 155 *135 **100mm
Outside the tank size of 175 * 160 * 200mm
Weight 2kg
Working time: 8 hours continuous work
4, service commitment: free of charge warranty is one year.