NIDE CNC electirc motor commutator turning machines for armature rotor with PLC
(1)Applications of armature electirc motor commutator turning machine


The motor armature rotor electric motor commutator turning machine is widely used in the motor field, such as wiper motor, vacuum cleaner motor, mixer motor, window lifter motor, condenser motor, power tool motor, DC motor, etc.
(2) Machine function and characteristic of armature electirc motor commutator turning machine


Equipped with lubrication device and aluminum alloy frame, this commutator turning machine features advance technology and modern shape, has easy operation system and self-checking system.

Meanwhile, this machine can be equipped with an automatic feeding device to achieve a fully automatic operation. PLC and touch screen control. Cutter feeding and cutting is controlled by servo motor.
Servo motor drives the belt rotating, meanwhile, the friction of flat belt and rotor surface make the rotor shaft high speed rotating on V block. Equipped with lubrication device and aluminum alloy frame, this machine features advance technology and modern shape, has easy operation system and self-checking
(3) Main technical data of armature electirc motor commutator turning machine


| | |
| --- | --- |
| Product Name | ND-LHL-QSFA1electirc motor commutator turning machine |
| Concentricity | ≤0.0025-0.003mm |
| Roundness between bars | ≤0.0015-0.002mm |
| Armature diameter limit | 20~82mm |
| Surface roughness | Ra 0.40-1.0 |
| Shaft length limit | 50~250mm |
| Armature shaft diameter limit | 3~12mm |
| Commutator OD limit | 12~42mm |
| Weight each cutting | Max 0.12mm |
| Speed frequency limit | 0~90Hz |
| Control | PLC system |
| Cutting speed | PLC adjustable |
| Efficiency | Cycle≤10s per pc |
| Air pressure | 4~6kg/cm2 |
| Fixture | Diamond V block |
| Motor Power | 6KW |
| Frequency | 50/60Hz |
| Mchine Weight | 1100Kg |
| Voltage | AC380V±10% |
| Machine dimension | 850mm x 950 mm x 1830mm |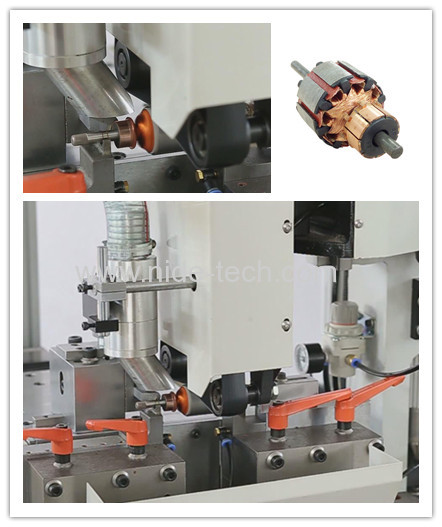 the commutator turning machine