Common Name:

Sodium Cyanide

Synonyms:

Hydrogen cyanide, sodium salt;

Hydrocyanic acid, sodium salt;

Cyanure de sodium;

Cyanogran;

Cyanobrik;

Cyanideofsodium;

Cyanide of sodium;

Cyanasalt S;

Cyanasalt H;

Cianurodisodio;

Cianuro di sodio;

Ccris 7712;

Caswellno758;

(Cyano-kappac)sodium.

CAS No.:

143-33-9

EINECS No.:

205-599-4

Melting Point:

563°C

Boiling Point:

1,496°C

Appearance:

White solid block or granule

Odor

Faint almond-like

Density:

1.595 g/cm3

Flash Point:

Non-flammable

Storage Condition:

Cool, dry

Molecular Formula:

NaCN

Molecular Weight:

49.01
Specifications:
Specifications of Sodium cyanide
Product name: Sodium cyanide

Manufacturer: Ningbo Titan Unichem Co., Ltd.

TEST ITEMS

SPECIFICATIONS

Appearance

White briquette or crystal pill

Content of Sodium Cyanide

98.0% min

NaOH

0.5% max

Na2CO3

0.5% max

Moisture

0.5% max

Water insolubles

0.05% max
Pictures: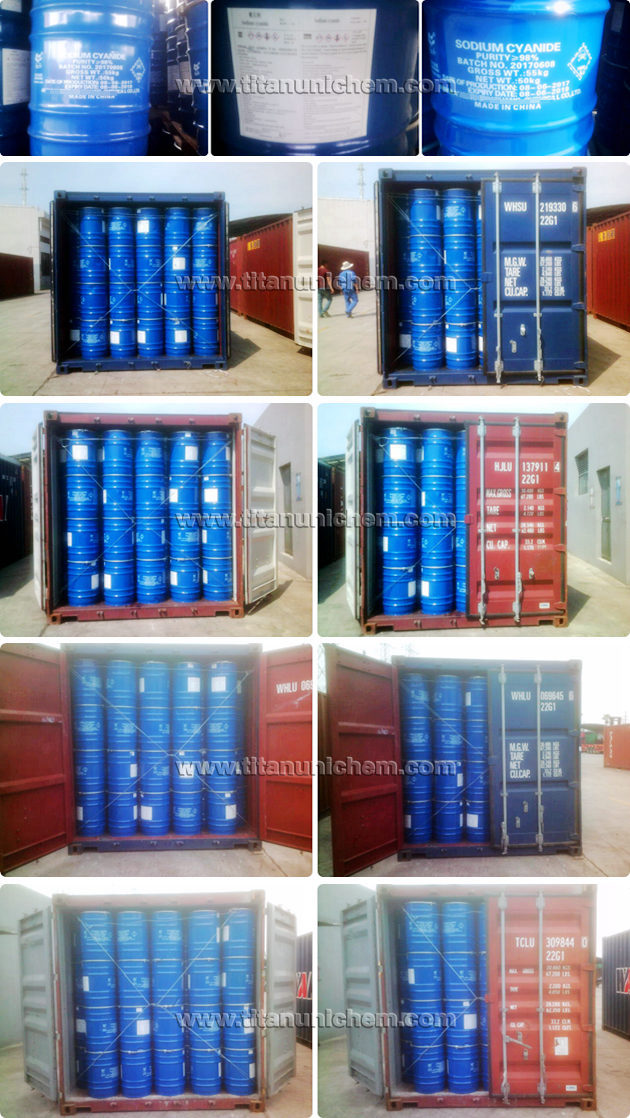 Loading of Sodium cyanide (NaCN) 143-33-9 from TITAN UNICHEM.
Sodium gold cyanide

Sodium cyanide is mainly used to extract gold and other precious metals in mining.

This application exploits the high affinity of gold for cyanide, which induces gold metal to oxidize and dissolve in the presence of air and water, producing the salt sodium gold cyanide (or gold sodium cyanide) and sodium hydroxide:

4 Au + 8 NaCN + O2 + 2 H2O → 4 Na[Au(CN)2] + 4 NaOH

A similar process uses potassium cyanide (KCN, a close relative of sodium cyanide) to produce potassium gold cyanide (KAu(CN)2). Few other methods exist for this extraction process.
Chemical feedstock
Several commercially significant chemical compounds are derived from cyanide, including cyanuric chloride, cyanogen chloride, and many nitriles.

In organic synthesis, cyanide, which is classified as a strong nucleophile, is used to prepare nitriles, which occur widely in many specialty chemicals, including pharmaceuticals.
Niche uses
Being highly toxic, sodium cyanide is used to kill or stun rapidly such as in widely illegal cyanide fishing and in collecting jars used by entomologists.
Toxicity
Cyanide salts are among the most rapidly acting of all known poisons. Sodium Cyanide is a potent inhibitor of respiration, acting on mitochondrial cytochrome oxidase and hence blocking electron transport. This results in decreased oxidative metabolism and oxygen utilization. Lactic acidosis then occurs as a consequence of anaerobic metabolism.
Contact Information:
Attn: Hannah SUN

Skype: hannahsun007

Tel: 86-574-8816 4570

WhatsApp: 86-136 1659 3691