Blister packing machine price
Features and Functions:
1):Anti-spark Protection
When spark occurs, the high sensitiveness spark protects electric system, cutting high frequency power immediately toprotect mold and material.

2):Jamming prevention device
Equipped with frequency stabilizer and high frequency magnetic leakage suppressor, this device provide leakage of suppressor, this device provide leakage of electron magnetic radiation to avoid jamming other electrical instruments such as television and radios etc

3):Safety device
When the current exceeds its limit, the overload relay functions automatically to protect oscillation tubes and rectifier. Frequency deviation caused by disoperation is also prevented.

4):High power welder
Using a special designed mechanism, the maximum pressure of foot pedal can reach up to 400KGS so as to meet most operating conditions. The high quality components make these machines work very smoothly and precisely.

5):Special protection circuit
The selectable output power ensured a stable quality of the products for it could reduce the heating time when joining is being carried out.
6):Easily adjustable tuner

Output power can be adjusted at the tuner according to electrode size and material thickness. In addition,othercontrol devices and special electrical circuits have cut down required welding time considerably to raise the machine productivity.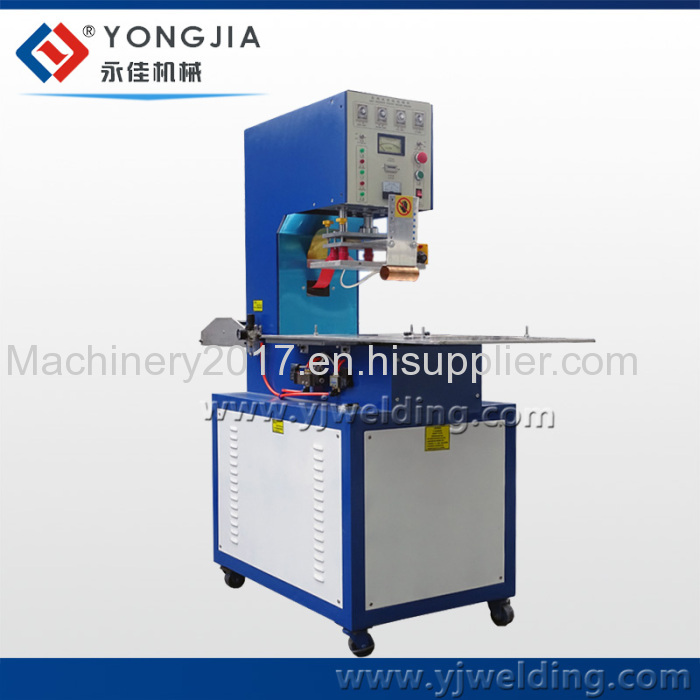 Scope of Application
HF plaything blister packing machine is customized for blister paper card pakcing ,manually put the blister to mould , using air pressure to attract the paper card ,than put it to mould ,when welding finished the Manipulator is automatically taking it .The machine is suitable for electric ,u disk ,mouse ,toothbrush ,hardware ,commodity ,toy for kids,battery etc.
Company information
Contact Me
Contact person :Grace zhang
Email :grace#yjwelding.com
change # to @
Address :Donghua Industrial Park, Chashan Town, Dongguan City, Guandong Province, China