Thyroid TSH Chemiluminescence Immunoassay Kit
Methodology

Chemiluminescence Immunoassay

Product Show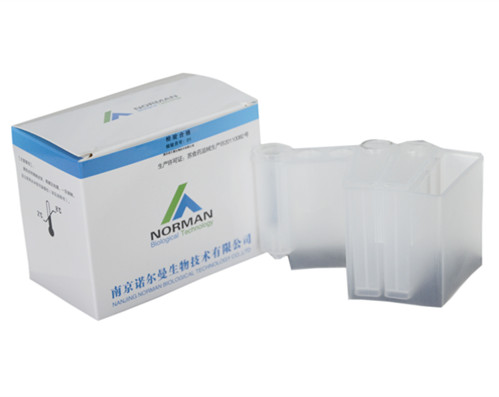 TSH

Thyroid-stimulating Hormone (TSH) Kit (Chemiluminescence Immunoassay) is intended for in vitro quantitative determination of thyroid-stimulating hormone (TSH) content in human serum, based on NRM411 system.
TSH is a hormone secreted by pituitary gland which stimulates all stages of thyroid hormone formation and secretion. It is composed of 211 amino acids and 15% saccharide. TSH stimulates the thyroid gland to synthesize and secrete T3 and T4 and its own synthesis is reversely regulated by a negative feedback mechanism involving concentrations of FT3 (free T3) and FT4 (free T4).

Clinical Significance

The determination of TSH serves as the initial test in thyroid diagnostics. Even very slight changes in the concentrations of the free thyroid hormones bring about much greater opposite changes in the TSH level. In primary hypothyroidism, TSH levels are significantly elevated, while in primary hyperthyroidism, TSH levels are low. Accordingly, TSH is a very sensitive and specific parameter for assessing thyroid function and is particularly suitable for early detection or exclusion of disorders in the central regulating circuit between the hypothalamus, pituitary and thyroid.

Test Principle

The assay is a sandwich immunoassay for quantitative determination of TSH concentration based on chemiluminescence immunoassay technology. The Magnetic Microbeads Reagent contains protecting reagents and magnetic microbeads that are coated with a biotin labeled anti-TSH antibody. The Antibody Reagent contains the protecting reagent and acridinium ester labeled specific TSH antibody. Sample, calibrator or control is mixed with Magnetic Microbeads Reagent and Antibody Reagent to form a sandwich complex. After incubation and automatic magnetic separation conducted by the instrument, trigger solutions are added to generate chemiluminescent reaction and the relative light units (RLUs) are measured by a photomultiplier. A proportional relationship presents between the concentration of TSH in the sample and the RLUs detected by the NRM411 system.

Packages

100 Tests/Box, 200 Tests/Box.
Storage and Stability

Sealed: Stable until the expiry date when stored at 2-8ºC.
Opened: Stable for 4 weeks for reagents. Stable for 1 week after dissolved/opened for solid control material/liquid control material. To ensure the kit's best performance, it is recommended to place opened kits in the refrigerator if it's not going to be used on board during the next 12 hours.
Do not use it beyond the expiration date.

Calibration and Traceability Calibration
Each batch of kits contains specific calibration information, stored in the Calibration Card.
Traceability
The TSH assay is traceable to a NIFDC standard reference material(Lot No. 1803-201502).