Autoantibody To TSH Receptor (TRAb) Kit (Chemiluminescence Immunoassay)
Methodology

Chemiluminescence Immunoassay

Product Show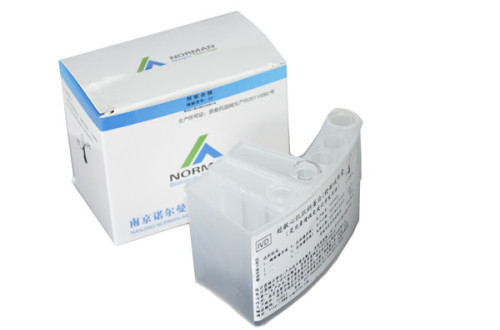 TRAb

Autoantibody To TSH Receptor (TRAb) Kit (Chemiluminescence Immunoassay) is intended for in vitro quantitative determination of autoantibodies to TSH receptor (TRAb) content in human serum, based on NRM411 system.
TRAb represents autoantibodies to the TSH receptor (or thyrotropin receptor), which is a receptor that responds to thyroid-stimulating hormone (TSH) and stimulates the production of thyroxine (T4) and triiodothyronine (T3). TRAb is closely related to Graves' disease and autoimmune hypothyroidism as it can activate TSH receptor stimulate the production of T4 and T3 as the same as TSH.

Clinical Significance

Clinically, TRAb content in human serum is an important index to diagnose Graves' disease and can be used to identify up to 80%~100% of the positive patients with Graves' disease. The presence of TRAb suggests that patients' hyperthyroidism is caused by autoimmune thyroid disease rather than toxic thyroid adenoma. TRAb may also present in patients with hypothyroidism and autoimmune thyroiditis thus TRAb test can also help with the diagnosis of these diseases.

Test Principle

The assay is a sandwich immunoassay for quantitative determination of TRAb concentration based on chemiluminescence immunoassay technology. The Magnetic Microbeads Reagent contains protecting reagents and magnetic microbeads that are coated with biotin labeled TSHR antigen. The Antibody Reagent contains the protecting reagents and acridinium ester labeled goat anti-human IgG antibody. Auxiliary Reagent contains protecting reagents. Sample, calibrator or control is mixed with Magnetic Microbeads Reagent, Antibody Reagent and Auxiliary Reagent to form a sandwich complex. After incubation and automatic magnetic separation conducted by the instrument, trigger solutions are added to generate chemiluminescent reaction and the relative light units (RLUs) are measured by a photomultiplier. A proportional relationship presents between the concentration of TRAb in the sample and the RLUs detected by the NRM411 system.

Packages

100 Tests/Box, 200 Tests/Box.

Storage and Stability

Sealed: Stable until the expiry date when stored at 2-8ºC.
Opened: Stable for 4 weeks for reagents. Stable for 1 week after dissolved for the control material. To ensure the kit's best performance, it is recommended to place opened kits in the refrigerator if it's not going to be used on board during the next 12 hours.
Do not use it beyond the expiration date.

Calibration and Traceability

Calibration
Each batch of kits contains specific calibration information, stored in the Calibration Card.
Traceability
The TRAb assay is traceable to a NIBSC standard reference reagent (NIBSC code: 08/204).