Product Description
Gravity, Fashionable jewelry specialist.
Adopting exquisite technologies, smooth jewelry presents a simple and graceful art, and stable material will not deform your jewelry.
Jewelry electroplating in environment-friendly protect your skin from allergies and hurts.
No lead and nickel in the jewelry make female safer.
Zircon, one of the best imitation diamonds of jewelry, perfect cutting process, glittering and translucent.
More than 20000 styles, each female can get her proper jewelry.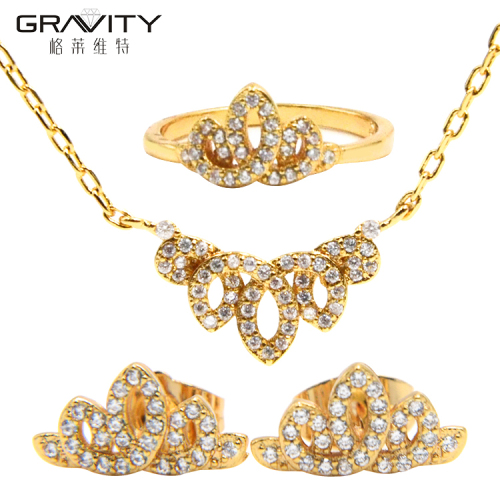 Gravity

At the beginning of 1980s,Mr Gravity went into a jewelry factory, starting to be an apprentice. After a short of time, he became the regular worker, and then promoted from group leader,director, to factory manager.
Through the whole journey, Mr Gravity established jewelry workshop in 1980. In 1999, his own electroplating factory was built. With constant efforts, his business was flourishing.
Till the day, his little kid asked him in puzzled, "Papa, why don't you get close to your clients ?" Mr Gravity got touched, "Yeah, working in the industry for many decades, and I have delivered out billions of jewelries through others to the customers, but never by my own." Therefore, he seted up Shenzhen Gravity Trading Co., Ltd, his first foreign trade company.
FAQ
WHY TO CHOOSE YOURS?
Gravity has our own factory, supplying the best quality and good services.

CAN YOU SEND US SOME SAMPLES ?
Of course. We are glad to send you some, if you need.

HOW TO CUSTOMIZE ?
Customized order is warmly welcoming. Send us pictures or the size and materials.We will check and make the sample as you requested.

IS CUSTOMIZATION JEWELRY MORE EXPENSIVE ?
No, if you have enough quantities.
Contact us