Thickness:3.5mm-16mm
Regular width: 1220mm 2100mm
Length:can be customized
Color:Clear,Blue,Green,Brown,Opalescent and so on.


pc hollow sheet/pc twin-wall sheet/pc sheet/polycarbonate sheet/pc sun sheet/pc triple-wall sheet/polycar bonate hollow sheet/plastic sheet/polycarbonate sheet/makrolon sheet/twin-wall pc sheet/hollow pc sheet/pc mutil-wall sheet/hollow polycarbonate sheet /pc board/pc panel
Specifications
1) Width: 2,100mm
2) Regular Length: 5800mm/11800mm
3) Available in 4mm-16mm
4) Color:lake blue, green,dark blue,opalescent,brown,clear and so on
5) Customized colors and dimensions available upon requests
6) Packing:Both sides covered with PE film
Products Features
1) Light transmission: up to 88%
2) Impact resistance: 80 times that of glass, 15 times that of acrylic sheeting
3) Temperature resistance range: -40 ~ 120C
4) Light weight: only 1/12 of the weight of glass of the same thickness
5) Ultraviolet resistance: with UV protective layer
6) Flame resistance: rated class B1
7) Sound and heat proof
The products are widely applied to the interior and exterior decoration of commercial buildings and curtain walls of the modern urban building. It is also used for telephone booths, street name plates, sign boards, other high quality indoor decoration and agricultural greenhouses,etc.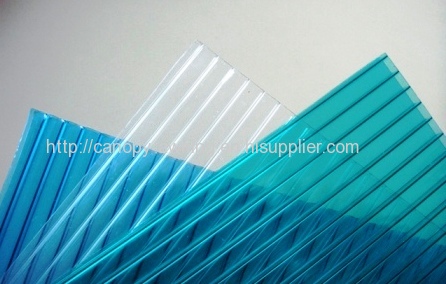 Applications
1) Unusual decorations, corridors and pavilions in gardens and recreational and rest places.
2) Interior and exterior decorations of commercial buildings, and curtain walls of the modern urban buildings.
3) Roofing for swimming pool, shopping malls, commercial streets.
4) Lighting of modern villa,rainproof lighting shed of underground garage entryway.
5) Lighting canopy for corridors, passages and subway entries.
6) Walls, roofs, windows, screens and other high quality indoor decoration materials.
7) Sound insulation shields on express ways,city overhead highways and high-speed railway.
8) Agriculture greenhouses and sheds.
9) Sunshade for stadiums and bus stops, gazebo, open air carport.
pc hollow sheet/pc twin-wall sheet/pc sheet/polycarbonate sheet/pc sun sheet/pc triple-wall sheet/polycar bonate hollow sheet/plastic sheet/polycarbonate sheet/makrolon sheet/twin-wall pc sheet/hollow pc sheet/pc mutil-wall sheet/hollowpolycarbonate sheet
Basic Information
Business Type:
Manufacturer,Wholesales,Trade
Product/Service (We Sell):
Polycarboante sheet,Polycarbonate Solid Sheet,Polycarbonate Hollow Sheet,Polycarbonate Big Embossed Sheet,Polycarbonate Small Embossed Sheet,Polycarbonate Crystal Sheet,Polycarbonate Frosted Sheet,Polycarbonate Diamond Sheet,Awning,Awning Bracket,Greenhouse.
Accessories: H&U PC profile,and relate accessories.
Number of Employees:

100 - 200 People
Trade&Market
Main Markets:
North America
South America
Eastern Europe
Southeast Asia
Africa
Oceania
Mid East
Eastern Asia
Western Europe
Total Annual Sales Volume:
US$30 Million - US$50 Million
Factory Information
| | |
| --- | --- |
| Contract Manufacturing: | OEM Service Offered Design Service Offered Buyer Label Offered |