Common Name: Melamine

Synonyms: 2,4,6-Triamino-s-triazine; Cyanuramide; Cyanuric Triamide; Cyanurotriamine; Tripolycyanamide;

CAS No.: 108-78-1; 94977-27-2

EINECS No.: 203-615-4

Appearance: White powder

Density: 1.573

Melting Point: 354°C

Boiling Point: 300°C at 760 mmHg

Storage Condition: Stored in RT.

Stability: Stable. Incompatible with strong acids, strong oxidizing agents.

Molecular Formula: C3H6N6

Molecular Weight: 126.12

Molecular Structure:

Specifications:
Specifications of melamine
Product name: Melamine

Manufacturer: Ningbo Titan Unichem Co., Ltd.

TEST ITEMS

SPECIFICATIONS

Non-pressure process

High-pressure process

Appearance

White powder

White powder

Purity

99.80% min

99.95% min

Moisture

0.1% max

0. 1% max

Ash

0.03% max

0.03% max

pH value

7.5~9.5

7.5~9.5

Turbidity

20 max

20 max

Color

20 max

20 max
Pictures: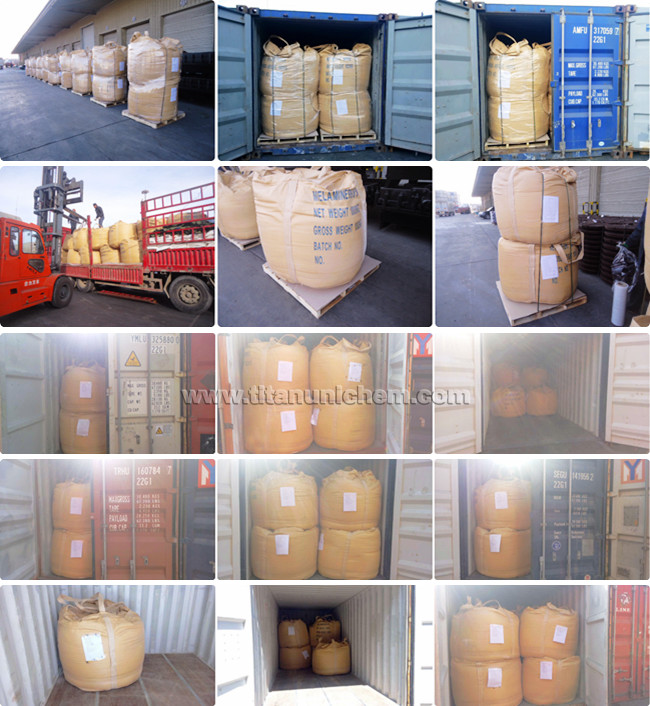 Loading of Melamine from TITAN UNICHEM.
Loading of Melamine from TITAN UNICHEM.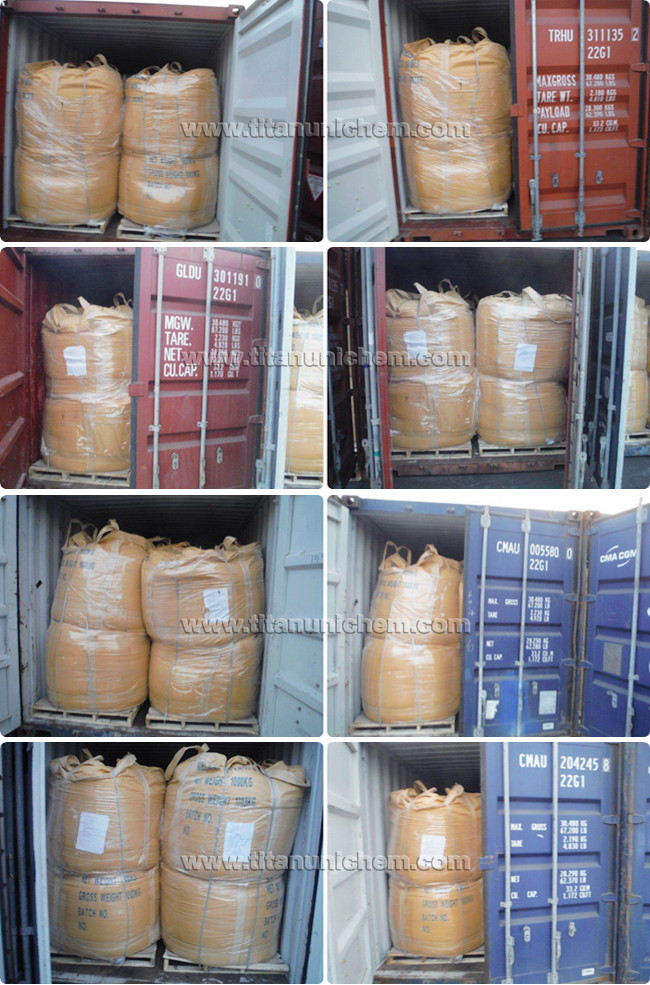 Loading of Melamine from TITAN UNICHEM.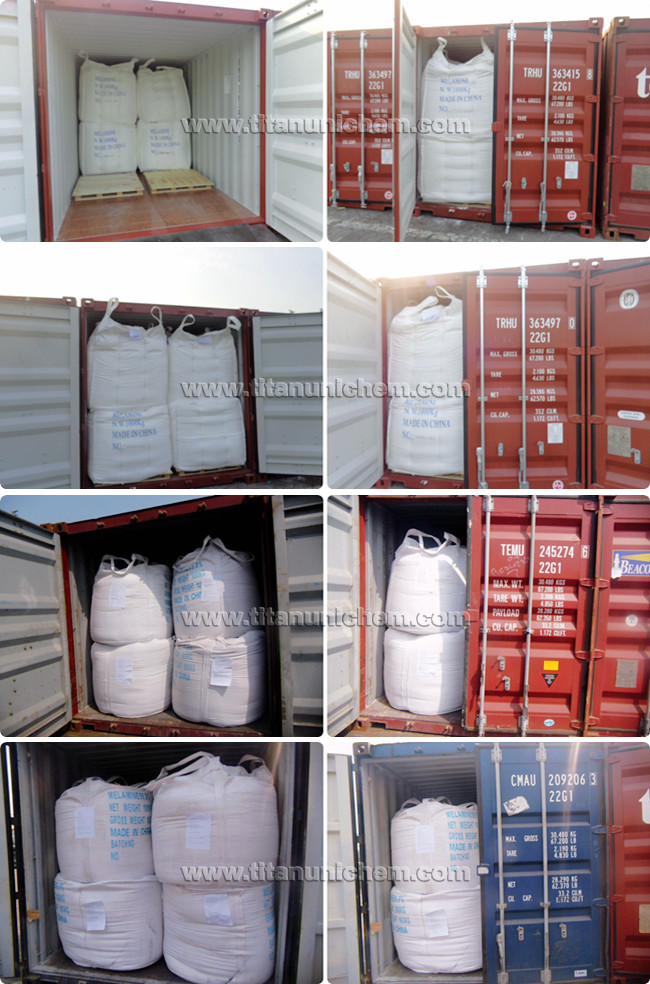 Loading of Melamine from TITAN UNICHEM.
Packaging:
25kg bag, 500kg bag and 1000kg bag, or package as per customer's request.
Delivery:
Prompt shipment within 2 weeks.
Storage & Handling:
Should be kept in a clean and dry, cool and well ventilated warehouse, avoid to be stored or transported with acid and oxidant together.
Safety Information:
Hazard Codes: Xi, Xn

Risk Statements: 43-44-20/21

Safety Statements: 36/37

RIDADR: 3263

Packing Group: III
Descriptions:

Melamine is a fine, non-toxic and odorless crystalline powder.

Melamine is incompatible with strong oxidizing agents and strong acids, sublimes when gently heated.
Uses:
Melamine is combined with formaldehyde to produce melamine resin, a very durable thermosetting plastic used in high pressure decorative laminates such as Formica, melamine dinnerware, laminate flooring, and dry erase boards.

Melamine foam is used as insulation, soundproofing material and in polymeric cleaning products, such as magic eraser.

Melamine is one of the major components in Pigment Yellow 150, a colorant in inks and plastics.

Melamine also enters the fabrication of melamine poly-sulfonate used as superplasticizer for making high-resistance concrete. Sulfonated melamine formaldehyde (SMF) is a polymer used as cement admixture to reduce the water content in concrete while increasing the fluidity and the workability of the mix during its handling and pouring.

Melamine and its salts are used as fire-retardant additives in paints, plastics, and paper.

Melamine derivatives of arsenical are potentially important in the treatment of African trypanosomiasis.
Contact Information:
Attn: Ms. Hannah SUN

Skype: hannahsun007

Tel: 86-574-8816 4570

WhatsApp: 86-136 1659 3691

Email: hannah (at) titanunichem.com