Machine basic structure
Machine compose of three faction parts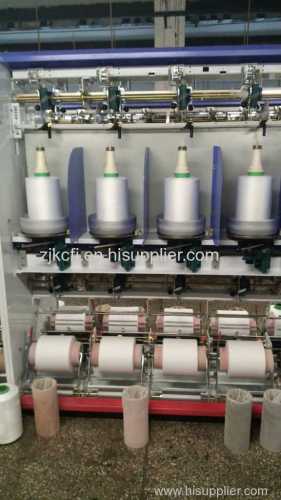 Contain motor ,spindle speed exchange belt pulley, electric control box ,operating element, heater,displayer.
·Two-for-One Twisting parts
The machine two sides working structure is symmetrical ,use mental plate structure ,each section is compose of several Two-for-One Twisting structure units .
·Driving part
Machine power passed to spindles via apron belt , through synchronous pulley to driving box; Driving box drive winding system, over-feed roll, and lifting device, etc
3.5 Structure of Two-for-One Twist unit
3.5-1 spindle brake apparatus
It stops the spindle to rotate by using the combination of separate spindle and brake slice. When braking ,separate the spindle from the joint of apron belt by hand, make the spindle away from apron belt, prolong the lifetime of the belt and spindle plate ,meanwhile reduce the power consumption.
3.5-2 Two-for-One Twister spindle
a)Threading form: thread manually
· Fixed pot,for putting in feeding bobbin
·Twisting plate for yarn storing and guiding: storage district of twisting plate ,can be form proper yarn storage to balance the change of tension in unwinding process
Maintenance
Please pay attention to the chapter of "security"for all maintenance work.. Please use our company's original accessories while maintaining.
1.1 Change the Strap Wheel
l.1.1 Release the blot and gasket in the end of bearing of pulley;
l .1.2 Pulley off ;
l .1.3 Fit on the pulley with bolts fixed.
1.2 Exchange Spindle Apron Belt
l Loose the fixed bolt in belt tightening pulley beside the motor, and turn the direction of spindle to loose the apron belt;
l Get off the old apron belt and exchange the new one;
l Start the machine and check the operation of apron belt, and check the spindle operation with flash speed detector and stopwatch
7.3 Exchange of Belt Tightening Pulley
l Loose M8 screw and get off belt tightening pulley;
l Fit on the new belt tightening pulley and tight the M8 screw;
l Start-up the machine to observer the operation of apron belt, adjust it if necessary.