High Pressure Integral Pipe Fitting for Wellhead Flow Control
Wellhead High Pressure Integral Pipe Fitting
Introduction of high pressure integral pipe fitting
High Pressure Integral Pipe Fittings are cementing and fracturing equipment High Pressure Fluid Control
Products. Widely used in the acidic operating environment (excluding containing CO2, H2S sour gas
operating environment) in the high-pressure discharge line, input line, a temporary flow line, well testing,
and other high-voltage transmission lines on pipelines. There are high-voltage connector specification 2in ~ 4in,
rated working pressure 42MPa ~ 105MPa, working temperature -46oC ~ 121 oC .
High Pressure Integral Pipe Fittings technical parameters and performance specifications are conformed with
API 6A. Its product specification level PLS3, performance levels for the PR2, it can work with SPM's similar
products interchangeable.
Specification of high pressure integral pipe fitting
Wellhead flow control Integral fitting

buckling size

working environment

Buckle model

long sweep elbow

2"


3"

42Mpa(6000psi)


70Mpa(10000psi)


105Mpa(15000psi)

F×M,M×M,F×F,Welding type

right angle elbow

Tee

FMF,FMM,FFM,FMF,MMM,FFF,Welded fitting

Y-tee

MFF,Welded fitting

manifold tee

MFF,FFF,Welded fitting

cross tee

FFFF,FFMF,FFMM,FMMM,FMMF,MMMM,


Welded fitting

manifold cross

MFFF

integral fitting

2" ×3"


2" ×4"


3" ×4"

Terminal connection type: fig602-fig1002fig602-fig1502fig1002-fig1502

Adapter:F×M,F×F,M×F,B×F,M×P,flange fitting×union,Welded fitting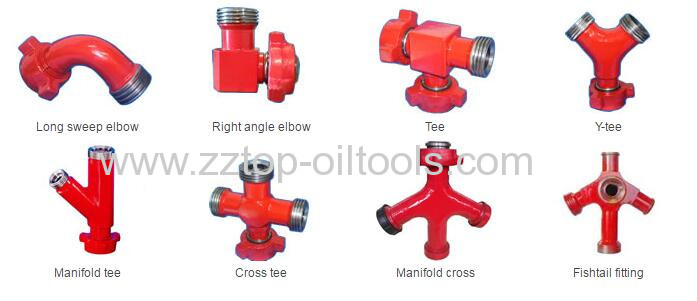 ZZ TOP with two sub-factories, is specialized in manufacturing the Drill stem testing tools ,Downhole tools and wellhead equipments. Meantime in order to meet the customer's different requirement on oilfield equipments, with the skilled and experienced engineers, ZZ TOP works with some large factories as authorized sales branch, mainly providing the well completion tools and oilfield equipment parts.
ZZ TOP is the distributor of the complete line manufactured Flow line crossover & unions and fluid control products as well as cross sub, elbow and tee Configurations, and Chiksan-style hose loops.