| | | |
| --- | --- | --- |
| No | Model | Part No Name |
| 1 | D50-18 | 130-14-64281 Drive Shaft |
| 2 | D50 | 07137-03505 Bearing |
| 3 | D50-15 | 144-14-14292 Transmission Planet gear No1 |
| 4 | D50-15 | 130-14-64320 Transmission Planet gear No2 |
| 5 | D50-18 | 130-14-64340 Transmission Planet gear No1 |
| 6 | D50A-18 | 130-14-71110 Drive Shaft gear |
| 7 | D50-18 | 135-27-31510 Gear |
| 8 | D50-18 | 135-22-31110H Drump |
| 9 | D50-16 | 131-27-61510 Gear |
| 10 | D50-16 | 131-27-61310 Transmission gear |
| 11 | D50-18 | 135-27-31410 Pinion |
| 12 | D40 | 120-14-33131 Transmission gear |
| 13 | D40 | 120-14-33112 Transmission gear |
| 14 | D20 | 103-27-31212 Pinion |
| 15 | D20-5 | 103-22-21130 Drump |
| 16 | D20 | 102-21-52120 Drive Shaft gear |
| 17 | D20 | 102-14-51322 Transmission Planet gear |
| 18 | D20 | 102-14-51232 Transmission gear |
| 19 | D20 | 102-14-51332 Transmission Planet gear No1 |
| 20 | D20 | 101-27-21140 Nut |
| 21 | D31-18 | 114-15-42310 Transmission Carrier No1 |
| 22 | D31-17 | 113-15-22310 Transmission Carrier No2 |
| 23 | D31 | 113-15-32330 Transmission Carrier No2 |
| 24 | D31 | 113-15-29240 Ring |
| 25 | D31 | 07018-01305 Ring |
| 26 | D31 | 113-15-00046 Transmission Pin No2 |
| 27 | D31 | 113-15-22510 Transmission Pin No1 |
| 28 | D31 | 113-15-29410 Bearing |
| 29 | D31 | 113-15-33210 Transmission gear |
| 30 | D31 | 113-15-33220 Transmission gear |
| 31 | D31 | 111-15-00041 Transmission gear |
| 32 | D31 | 131-21-52320 Nut |
| 33 | D31-18 | 113-27-31230 Gear |
| 34 | D31-18 | 113-15-22421 Transmission Planet gear No2 |
| 35 | D31-16 | 113-15-22231 Transmission Sun gear No2 |
| 36 | D31-16 | 113-21-22122 Pinion |
| 37 | D50 | 131-10-63100 Universal Joint Assy |
| 38 | D50 | WXJ6128 Universal Joint |
| 39 | D50-18 | 135-27-21122 Flange |
| 40 | D20 | 102-14-51121 Drive Shaft |
| 41 | D20 | 102-10-47320 Coupling |
| 42 | D20 | D20-6 Nut |
| 43 | D20-6 | 103-22-32110 Flange |
| 44 | D20-6 | 103-27-31233 Flange |
| 45 | D20-5 | 103-27-21232 Flange |
| 46 | D31-16 | 113-22-23110 Flange |
| 47 | D40 | 120-27-31211 Pinion |
| 48 | D40 | 120-27-31411 Pinion |
| 49 | D50-16 | 131-27-61210 Pinion |
| 50 | D50-16 | 131-27-31410 Pinion |
| 51 | D20-6 | 103-22-31131 Drump |
| 52 | D50-16 | 131-14-64120 Transmission gear |
FAQ
Q: Are you manufacture or trading company?
A: We are manufacture and trade company .
Q: Can you custom my design?
A: Yes, OEM&ODM service are available.
Q: If i send my design , can you make it for myself only , and will not show it to anyone else?
A: Yes, we will not show it to others .
Q: What's your delivery time :
A: It depending on the order quantity , normally the bulk order delivery time is within 15days .
Q: What's your packing method?
A: Our packing way is box or wooden pallet ,depending on which kind of product and how many pieces .
Q: What is your Minimum Order Quantity ? Can I order small quantity trial order to see quality first?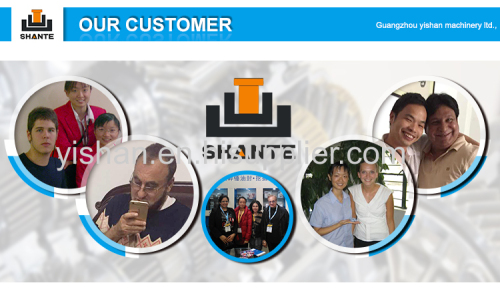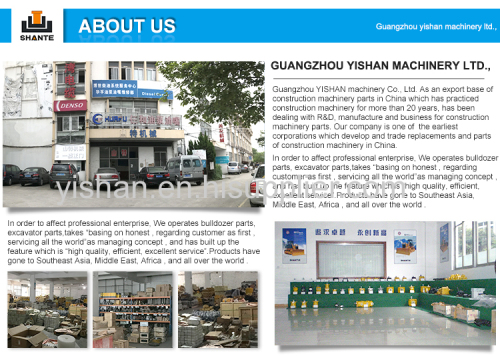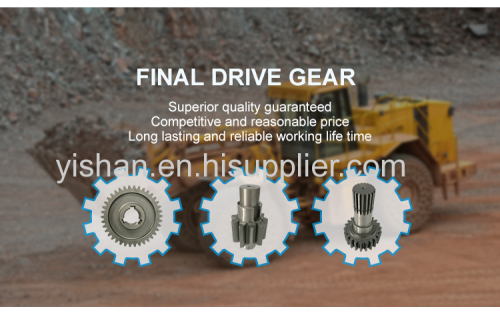 Yishan machinery was established in 1999 as a leading manufacturer and exporter in undercarriage parts enjoying great reputation in this field over 18 years.
We supply with Track Link Assy , Track Rollers, Carrier Rollers, Sprockets, and Idlers. Track Links Assy is supplied with non-sealed, sealed, lubricated type for excavators and bulldozers.
The brands we can supply with are as follows;CATERPILLAR, FIAT, HITACHI, KOMATSU, ATLAS-COPCO, BENATI, BENFRA, CARRARO, CASAGRANDE, NEW HOLLAND, CLAAS, DAEWOO, DEMAG, DEUTZ, FAI, HANOMAG, P&H, HYDROMAC, ILME, INGERSOLL, INTERNATIONAL, ITMA, J.C.B., JOHN DEERE, KOBELCO, KUBOTA, NISSAN, LATELSI, LAMBORGHINI, LAVERDA, SAME, VOLVO, SAMSUNG, HYUNDAI, SIMIT, VENIERI
The high-resistance to fatigue and wear, even under the worst operating conditions, distinguishes track links .They are made of deep hardened boron steel, which has appropriate hardness and adequate thickness of case hardened area.
We take pride in the quality of our products thanks to the excellence of its heat treatment process which enables the company to produce stronger, long lasting track chains which surpass international standards and are recognized and accepted in the world market.