Product Application

1.Machine's main components under guaranteed quality or trustable company The motor and electronic system elements are all composed from Siemens or Schneider
2.We use Germany Schneider Stroke Button with high good durable stability, the stroke will be worked stable or be suspending without any sudden down movement which is serious dangerous.
3. Oil pump can be used from China chengjie enterprise who is used in China's Aircraft industry.Or we can use Germany ECKERLER enterprises.
4.The hydraulic system and valve will be from USA OMG or Germany BOSCH company.
5. The security protection equipment: The design always care about the worker security when operation both working or checking stationary. We equipped both side magnetic door to avoid any penetration inside. At the back,we will provide 3 Section close door with the middle door moveable and the power will be off when the door open, power on when the door close. The light curtain is useful components to aware any finger in dangerous position.

6.has much experience in CNC Press Brake.Our sales machine including CYBELEC 8 Axis automatic Electronic-Hydraulic synchronization machine. We can design different requirement for axis control with both 3D and touch-screen needs.The CNC including torsion synchronization and also Electro-hydraulic synchronization two kinds and also two linked press brake under electro-hydraulic or both mechanical synchronization. always can find out the most cost-effective way between so many normal system brand like ESTUN/DELEM/CYBELEC.
Main Features
1) The fuselage adopts the overall welding and overall machining structure, and ANSYS finite element analysis software is used to analyze the machine to ensure the precision of the machine tool.
2) The hydraulic system adopts integrated control system imported from Germany
3)The numerical control system adopts the special numerical control system of Italian ESA, Dutch DELEM or Switzerland cybco.
4) The workbench has the automatic compensation mechanism of the hydraulic automatic compensation system to realize the effective compensation without the blind area, and the bending precision is high, ensuring long-term stability.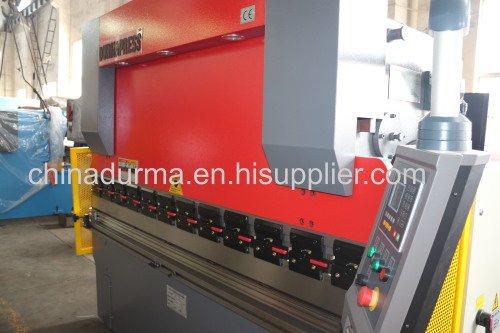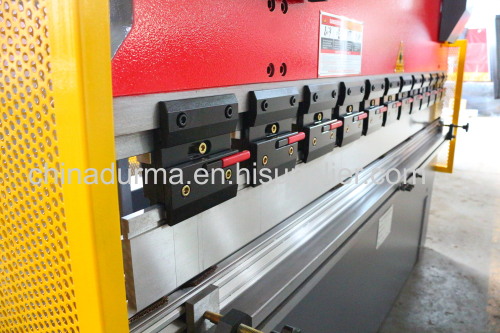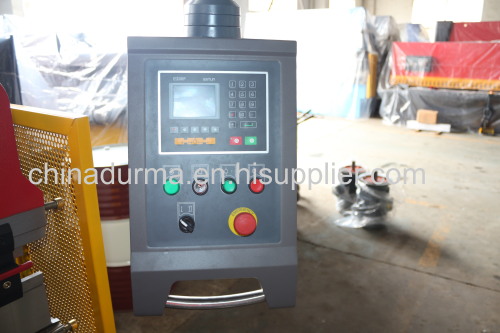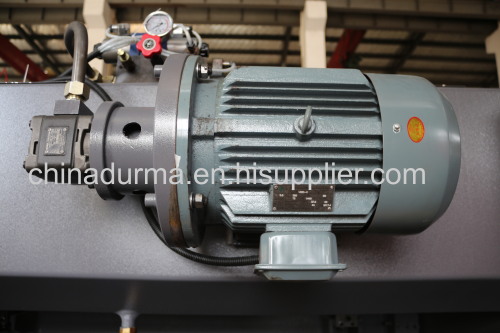 How about your machine quality?We are worry about the quality.

DURMAPRESS is a mature brand in CHINA,through our many years research in technology,our design including structure and detailed sercurity and precision has enhanced greatly,and can match all the CE standard or more strict standard.Our machines distribute worldwide to about 50 countries where there are metal plate industry ,there are SIECC machines.And where there are our machines,there are good reputation and terminal user satisfaction.
Whether the machine price can be more discount

DURMAPRESS always provide high quality machine,as we know ,oversea market is more important and difficult than domestic market because of communication time costing after sales,So always,our machine has enough qaulity standard to make sure the machine can work more than the real warranty period.In this way ,we will save a lot and think in advance for the clients.
Actually DURMAPRESS also think about our price level,we are sure to provide quality=price and pice=quality ,the matched price and acceptable for the clients and durable for our machines.We welcome your negotiate with us and get a good satisfaction.
How about your manufactory in CHINA

DURMAPRESS located in MAANSHAN CITY ,ANHUI PROVINCE province who is the leading area in China and also in the worldwide as the center of the metal plate solution machines,We have worked about 10 years in this area and totally have about 150 staffs.Rich experience in this field with professional technical supporting and oriented service.
We welcome your visit to us any time.