Maanshan Durmapress Machinery Technology Co., Ltd >>>
Our company founded in 1990s is a fixed-point company of Ministry of Construction of China, we are engaging in construction machinery researching, development and manufacturing. Our main products are JZM series electric rolling drum concrete mixers, JS Series Double shaft concrete
mixer,JZR series diesel engine concrete mixers, PLD series aggregate batching and dispensing machines, LSY series cement screw conveyors and HZS/HLS series concrete mixing and batching plant. All these products have won great favor and popularity with more and more customers in
domestic and oversea markets.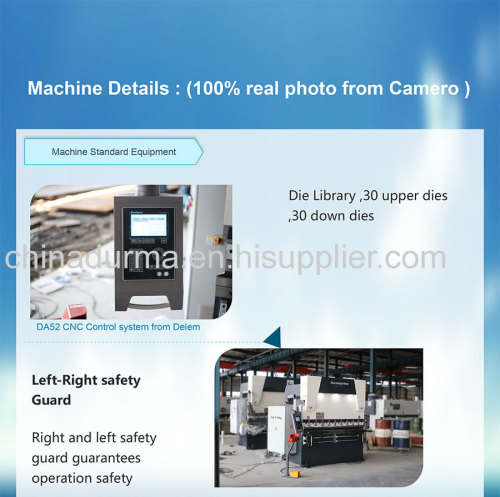 Main feature
1. The frame is steel structure, left and right vertical plate, table and pressure plate welded into a unitary structure, after welding to eliminate internal stress by tempering, exceptional rigidity, high stability.

2. Important parts of the frame, sliders, etc. are used ANSYS finite element analysis software to ensure machine reliability.

3. Hydraulic drive, cylinder on both end of machine, disposed on the slider to drive it work directly.

4. Torsion axis synchronization for slide synchronous mechanism.

5. Adopt a mechanical stopper mechanism, stable and reliable.

6. Back Gauge size and slide stroke controlled by CNC system, back gauge with high precision ball screw, stable operation and precise positioning.
7. The CNC system adopts frequency conversion control technology, with multi-step
programming function, simple and easy to operate.
8. Inclined wedge deflection on the compensation mechanism, in order to guarantee access to high bending accuracy

9. Safety barrier device all around the machinery, electrical cabinets equipped with Open door cut-off function, emergency stop button around front and back, protective cover foot switch to ensure safe working.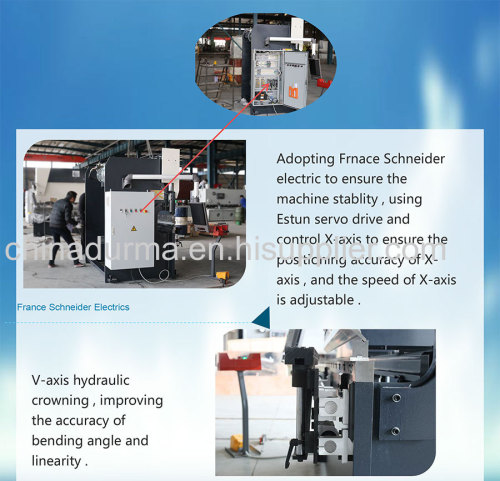 2. HYDRAULIC SYSTEM:
It adopts integrated hydraulic control systems which is more reliable and easy for maintenance.

3. SYNCHRO CONTROL SYSTEM:
The slide synchro system adopts steel torsion bar synchro system with very simple structure but very high accuracy. 2 ends of slide has 2 synchro fork which make the slides movement is always parallel to the working table. And this will make the movement effect balanced during operation. The system uses upper die compensation to improve the brake precision.

4. NC control system:
Holland DELEM DA41 system
4.7inch bright LCD display
angle programming
tool programming;
Two speed AC control stepless speed adjustment, enhancing the working efficiency;
imperial /meter unit convert
Auto retract function, avoid interference between plate and backgauge;
Technical parameters:


| | |
| --- | --- |
| Type | WC67K-63T/2500 |
| CNC system | DA52 |
| Nominal pressure | 630KN |
| Length of table | 2500mm |
| Distance between columns | 1970mm |
| Slide stroke | 100mm |
| Max. opening height | 320mm |
| Throat depth | 250mm |
| Main motor power | 5.5KW |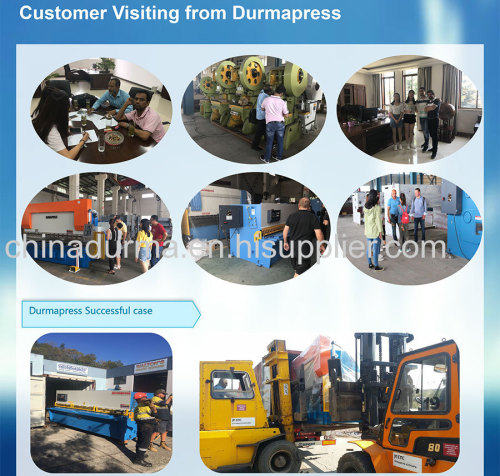 Requirement for Customer:
1. Hydraulic oil: imported VG46# anti-wear hydraulic oil; and the required oil mass depend on the machine specification
2. Environment temperature: 0°C - +40°C
3. Environment humidity: relative humidity 20-80%RH(non-condensing)
4. Keep away from the strong vibration source and electromagnetic interference
5. Prepare the foundation according to the foundation drawing
6. Voltage fluctuation 10%--5%
1.Standardization of Service "212"
2: Response in 2 hours
1: Provide solution in 1 day
2: Solve complaint in 2 days
2.Installation Service
Installation Services are available with all Pacific machines.We dispatch technician to customer's factory for installation and preoperation of machines. ( Customers only need to pay the airfare and hotel )
3.Training Service
Our technician is available to your factory and offer training of how to use our machines. As well, you may send your technician to our company to learn how to operate machines.
4.Quality Guarantee
We guarantee the quality of machine (e.g. processing speed and working performance is the same as the data of samples making). We sign the agreement with detailed technical data.
We arrange final test before shipment. We run the machine for a few days, and then use customer's materials for test. After making sure machine is the best performance, then make shipments.
Machine warranty is 1 year. We offer flexible extended warranties if needed.
Q1:How Can i calculate the Machine Capacity?
A: Max thickness x Max length x 1.25 x 6.5= Press Brake Capacity(Different Angle Different Die)
Q2:How about the machine warranty?Is the whole machine?
A:We can offer 4 years warranty for the following parts :
--Hydraulic System with pump and Valve
--Hydraulic Cylinders
--Electric units
--Hydraulic Cylinders
--Gasket Ring( We will send you extra with the machine also )
--Tube Connector
--Control Button
--Limit Switch
--Controller
During the warranty period we provide any accessories for free
Q3: How is your service after-sales?
A:We have 10 Engineers available to service machinery overseas
Q4: What is your delivery time?
A:We supply prompt delivery time:30-35 days.
Q5:What kind of payment does your company support?
A:T/T, L/C , Cash, Western Union are all accepted