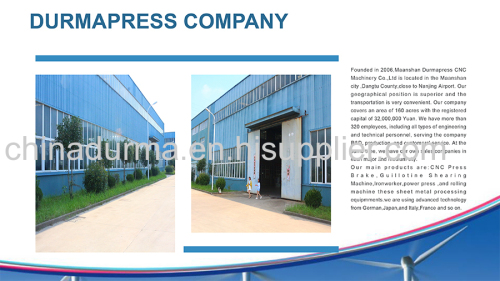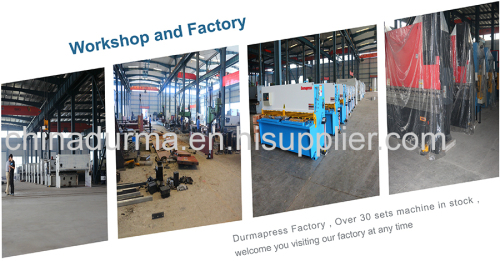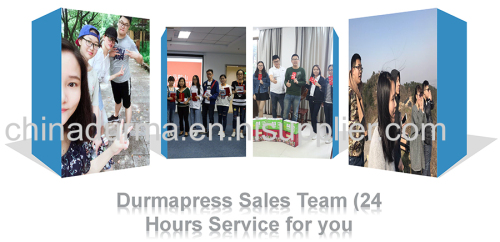 DURMAPRESS has over 40 years history.The company's development with good performance. Zhongwei is bursting out of the booming energy, ranked the top 30 largest taxpayer, won the "national high and new technology enterprise","Trustworthiness enterprise of Jiangsu province","Chinese enterprise certification system demonstration unit","Industrial growth-oriented enterprise","advanced technology and science unit","AAA credit enterprise" and own self export right. Company covers an area more than 80000 square meters, the building area about 65000 square meters, registered capital of 18 million dollars, more than 300 employees. About 500 equipments such as boring and milling machine, 20 meters gantry processing center ,
Face to the changing domestic and international market, Zhongwei breakout to meet new challenge, China Beijing international Machine Fair, Canton Fair, all major international machine exhibitions. Zhongwei always standing on the world stage.
Market is the sea, quality is ship, brand is the sail.Zhongwei is ready to start, towards to new peak of career development using fully plan and confidence.
Creating the world famous brand, build a large modern enterprise in the forging industry are Zhongwei's dream.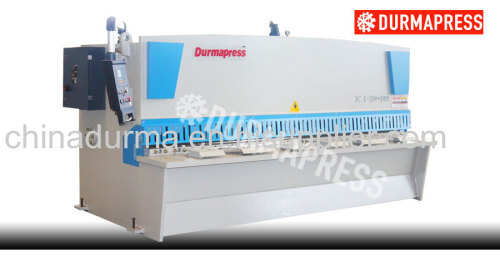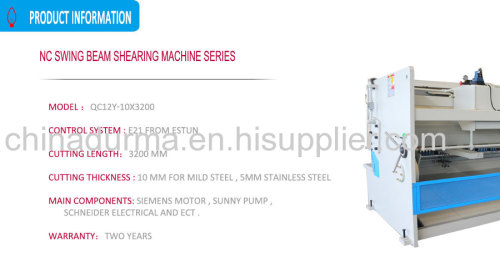 Main Features
Streamlined design originated from EU, the kind of machine tool consists of rack, cutter holder, oil cylinder, hydraulic controller, backgauge and other components. Finite-element analysis of main parts, welding parts uses tempering, vibration and other processing methods to eliminate stress ensuring the structural strength and rigidity of the rack and components.

Cutter holder use three-point support rolling guide rail, reducing the friction to the greatest extent and realizing seamless rolling during cutter holder moving.

Leftmost front holder configured with verticality regulator and front positioning device, easy operation and high efficiency.

Simple and effective adjusting mechanism is used to rearrange blade clearance via CNC system, improving the cutting quality.

Fine ball screw and bar structure, good performance frequency converter is used to positioning X axis to ensure accuracy, unique designed timing transmission mechanism, stable and reliable.

Light and shadow line is conductive to manual scribbling for cutting, stable and reliable hydraulic transmission, integrated hydraulic system is able to significantly alleviate problems causing by hydraulic fluid leakage.

Made by high-quality ally tool steel capable enough to against impact load and high wear resistance when cutting.

With reference to ergonomic design, easy CNC system surface, improving the operation precision and comfort, rolling ball worktable to reduce friction and prevent work piece from scratching, novel and practical safety guard device, line with safety specification, protect the personal safety, delicate design, petty work piece can be done easily by hand.




Configuration

Estun E21S NC control System

Powered Back gauge X-axis electrical control

DELTA Converter controlled back gauge

HIWIN Ball screws & Polished rod with 0,05mm accuracy.

Controller cantilever and Front Support Arms

Germany Bosch-Rexroth Hydraulic Valve

Germany EMB Tubing connector

Germany Siemens Main Motor

France Schneider Electrics

Hydraulic &Electrical overload protection

Light aligning

Top blade with four cutting edges and bottom blade with four cutting edges.(6CrW2Si)

South Korea KACON foot switch

Angle regulator

Electric rearrange the cutting clearance







Estun E21S NC Controller

Cutting stroke: built in time relays, easy operation, low cost

One-key backups and restores parameters

Control angle-cutting degree and blade clearance

Metric type, mm/inch transmission

One side positioning, retract function

Blade clearance: encoder feedback, timely displays the size of the blade clearance

Angle cutting: built in angle cutting regulator, eliminating the angular degree indicator and buttons

High-definition LCD display with both Chinese and English languages, multti stage programming, 40 programs, each program has 25 stepts.

Backguage: intelligent positioning, or adjust by hand, remove the mechanical hand positioning device




We assist customers in well understanding the product information like features, functions and applications and so on. As for the detailed procuring information or drawings, our professionals will first conduct a careful examination and then recommend the most suitable machines or devise proper schemes for customers. We also provide free samples if necessary.
Service during the Sale
1. We are manned with professional salesmen and technicians to provide the information, technical support and the optimal solutions with high cost performance.
2. Based on the specific requirements of customers and the lead time, we will formulate a rigorous operation process. Through the close cooperation of Commodity Department, Sales Department, Technical Department and the Ocean Shipping Department, we are devoted to timely supplying customers with superior machines.
3. Generally, certain quantity of quick-wear parts will be delivered with the goods. The delivery deadline depends on the specific order, which is usually within 1 to 3 months.

After-Sale Service
1. One year warranty is provided.
2. Customers can send photos or samples for our confirmation once the parts are damaged within the one year warranty. If the parts are not damaged by misoperation , we will reply to customers within 48 hours and provide free parts for replacement. Besides, for the parts out of commission and beyond the
warranty, we only charge for the basic costs of parts.
3. We regularly follow up the service condition of products, and timely analyze and copy with the feedbacks. As