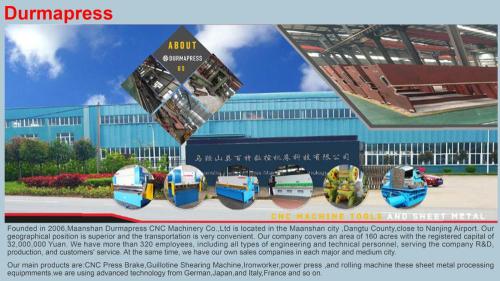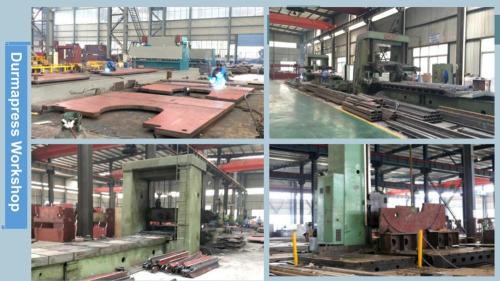 Maanshan Durmapress is located in the national spark technology intensive areas-Bowang industrial concentration area, close to the Nanjing Lukou Airport , Covers an area of 130 mu, building area of 48000 square meters, the registered capital of RMB 33800000 , currently has 460 employees to improve product development , quality and service .
Company in 2003 through the ISO9001:2008 International quality system certification, in 2008 botained CE certification.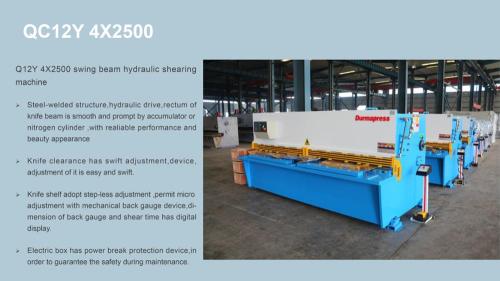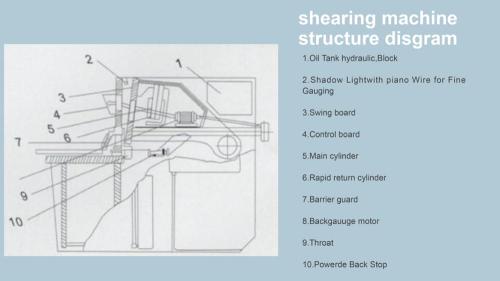 Main Features:
1.Totally EU streamlined design,Monoblock by welding robots & aparatus and stress relief process by Annealing treatment.
2.ERMACO engineers utilize parametric 3D SolidWorks using FEM & DOE analysis as well as static and mechanism analysis.
3.ERMACO Hydraulic Shearing Machine is a Swing Beam Action machine which is produced in a variety of cutting lengths and capacity options.
3. Adopt integrated hydraulic system, more reliable and easy for maintenance. and the hydraulic system from Bosch-Rexroth, Germany,
4. Equipped with lighting-alignment, so as to align when shearing. The stroke of knife beam can be adjusted in stepless mode.
5. Hydraulic drive, return of knife beam is smooth and prompt by nitrogen cylinder.
6. CE conformity including Tiltable Fornt Finger Guard and Optical Rear Safety Guard,
7. Safe fence and the electric interlocker have been designed for the machine to ensure the operation safety.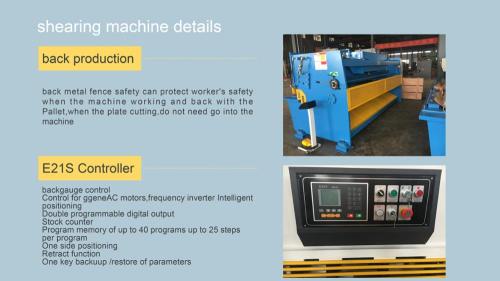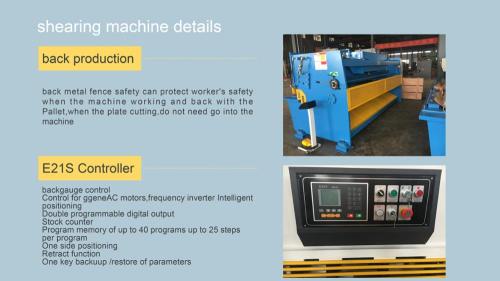 Standard Equipment:
1. Rapid and precise blade clearance adjustment by single handle on the side frame
2. Multi Edge Blades for cutting Aluminium, Mild Steel and Stainless Steel
3. Cutting Line Illumination and wire for shadow line cutting
4. Counter of Strokes, Cutting Length Adjustment
5. Hydraulic and Electrical overload protection
6. Squaring Arm and Front Support Arms
7. Estun E21 NC control
8. Germany Bosch-Rexroth Hydraulic
9. Telemecanique/SchneiderElectrics
10. Hydraulic and Electrical overload protection
11. Delta inverter with ball screw and polished rod with 0,05 mm accuracy.
12. Side guard is standard meeting CE regulations.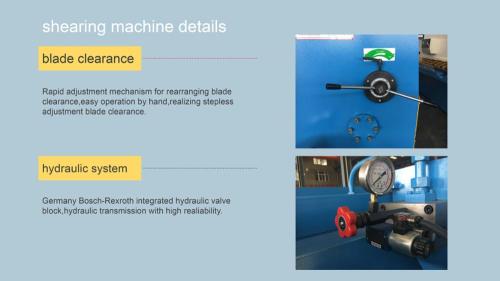 Better Cuttings:
1.Backgauge adjustment according to blade gap.
2.Backgauge retraction feature.
3.Sub-program and programming loop.
4.Sequence repeat function.
5.Auto cutting (Flying cut).
Estun E21s NC Shearing Machine Control system:1. Monochrome LCD Box Panel.2. Integral factor programmable freely3. Automatic positioning control4.Spindle allowance offset5.Internal time relay6.Stock counter
7.Backgauge position display, resolution in 0.05mm
The best cutting results You can cutt longer and narrow parts with standard AC/MS7-Cutt Series.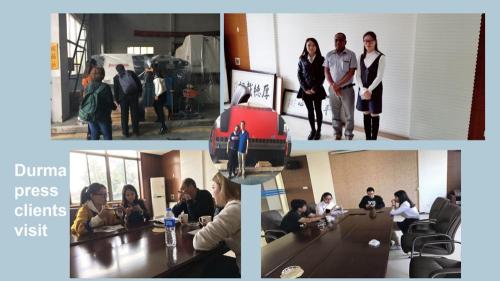 1.Standardization of Service "212"
2: response in 2 hours
1: provide solution in 1 day
2: solve complaint in 2 days
2.Installation Service
Installation Services are available with all ERMACO machines. We dispatch technician to customer's factory for installation and preoperation of machines. ( Customers only need to pay the airfare and hotel )
3.Training Service
Our technician is available to your factory and offer training of how to use our machines. As well, you may send your technician to our company to learn how to operate machines.
4.Quality Guarantee
We guarantee the quality of machine (e.g. processing speed and working performance is the same as the data of samples making). We sign the agreement with detailed technical data.
We arrange final test before shipment. We run the machine for a few days, and then use customer's materials for test. After making sure machine is the best performance, then make shipments.
Machine warranty is 3 year. We offer flexible extended warranties if needed.