Double position laser marking machine for LED bulb lamp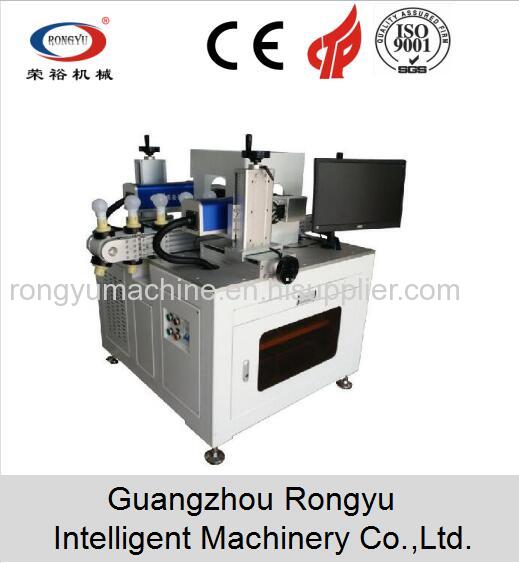 The product description
(1) the equipment USES fiber optic laser as the light source, stable performance, high photoelectric conversion efficiency, low energy consumption;
(2) traditional printed materials such as ink are not needed. The processing cost is much lower than traditional silk printing and is marked clearly and not easily worn.
(3) product application: applicable to ball bulb lamps with above 10K/d, requiring double-sided marking products (e.g. MR16/E14/GU10/E27/ B22, etc.). Can share E27\B22 lamp holder; The automatic feeding system can be installed automatically between stations, and the operation of the whole machine only requires the simple and easy operation of the ordinary manual. The operation is simple and precise.
(4) the applicable materials: common metals and alloys (especially suitable for aluminium alloy), special surface treatment (phosphating, anodized aluminum, electroplating) of metal, most of the plastic (PE/PA/PC, ABS/epoxy resin, etc.)
(5) special applications: control software running on Windows, Chinese interface, easy to operate, and can be compatible with AutoCAD/Coredraw/Photoshop software, can be directly applied PLT/AI/DXF marking/BMP, JPG format, at the same time also can directly use the system character, serial number, bar code and qr code can be automatic flow number marking.
Technical parameters:
The laser structure unit MOPA
model

RY-JG-1500

capacity

>1500pcs/h

Applicable specification

E27 E 14 B 22

Equipment power

<650W

Laser type

2 laser marking

Laser range

110*110

Weight

< 600KG

Department type no.

20-RE* -s< 1.5 M ^ 2

Output armor length

M 2

Average output power

W >20

Maximum pulse energy

MJ 0.67

Full power frequency range

KHZ 30-80

Frequency adjustable range

KHZ 30-80

Pulse width

NS 200

Output stability

%<5

Supply voltage

V 24

Environmental supply

Power consumption

A >10

W < 240

Center wave length

NM 1064

Spectrum width

NM<15

Beam diameter

MM 7 + / - 0.5

Power adjustment range

0~100

Working temperature range

0 ℃ ~ 40

Storage temperature range

10 ~ 60 ℃ -

Machine size MM

315*220*99

Package size MM

595*398*210

Weight KG

net weight:8 gross weight: 9.75