Professional Infrared Technology Solutions.
OEM/CUSTOM According Your Request.
One-Stop Service From Quote To After Sale.
Best Price And CE Quality.
1300 Watt Halogen R7s Infrared Heat Lamp 235 Volt 254mm x 10mm Gold
The Philips 1300 Watt Halogen R7s/RX7s Infrared Heat Lamp operates at 240 Volts and features a Gold colour. A double ended lamp, measuring 254mm x 10mm this lamp has an average lamp life of 5000 hours. Suitable for Patio Heater applications as well as Research, testing and Welding.
| | |
| --- | --- |
| Long life | 5000h on average |
| High Speed | within 1 second to switch on |
| Peak Wavelength | 1-2 um |
| Power Density | 500-4000 W |
| Filament Temp. | 1100-2600 Degree Celsius |
| No air draughts | because of radiation(like solar energy) |
| Clean and adorless | no risk of contamination over environment or target object to be heated |
| Extensive assortment | many types of voltage,wattage,length,base,cables,niversal burning position is available |
| Flexible | special lamp designing service on demand is available |
Product application:
1.Paint drying in tunnels
2.Blowing of PET bottles
3.Plastics thermoforming
4.Heating of food and keeping warm
5.Paper drying in paper mills
6.Drying of lacquer, printing inks
7.Pre-heating of wood prior to lacquering
8.Heat sterilization
9.Softening, melting of plastics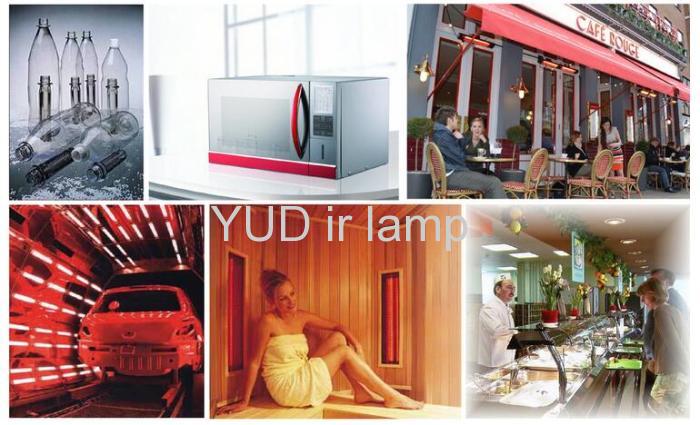 - Industrial Card type package.
- Special Sleeve package.
- Single White box package or Customized Color box.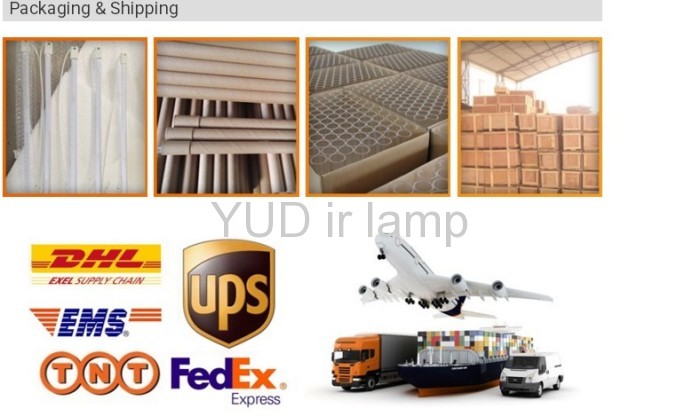 Lianyungang Yuanda Quartz Product Co.,Ltd is a highly professional and experienced manufacturer of infrared heat lamps ,halogen lamp and quartz glass products in China.We manufacture and supply a wide range of infrared heat lamps and quartz products to customers across the world.