Ma'anshan Durmapress Co., Ltd mainly produces "Tenroy" brand press brake, shearing machine, rolling machine, punch press, air duct making machine, press brake tools, punch press tools and shearing blades etc. Our products are sold throughout the country, exported to more than 80 countries.
Sophisticated equipment and specialized manufacturing, provide us a strong guarantee for the large-scale growth and quality assurance on high-tech products. Tenroy has a number of professional products installation and commissioning workshop and precision parts processing workshop, owing numerical control milling planer, large-scale numerical control boring lathe, numerical control horizontal type treating center etc.
Tenroy always regard "quality first, credibility first, customer first" as purpose, and "blaze new trails, people-oriented" as the spirit of our enterprise. We provide first-class service for customers and a platform for our staff members. We'd like to provide our full support to our new and old customers! So as to help the company that handle with sheet metal manufacturing production create efficiency, and reduce each product processing costs to the minimum.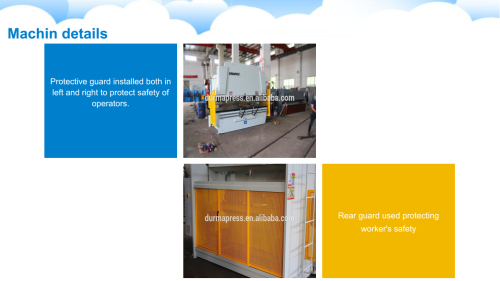 The whole structure of the hydraulic press brake:

Welded structure: the stress of the welded parts can be eliminated by vibration; so this forging press gives high accuracy.

Frame: consists of right and left wall boards, working table, oil box, slot steel and etc. The stress of the welded parts can be eliminated by vibration. The machine enjoys high accuracy and high strength and can be transported easily.

High accuracy,high efficiency,simple and convenient operation,good performance, favorable price and best service.


1. Hydraulic system:

Adopt integrated hydraulic control system, more reliable

Be installed at the top of the oil box, which can assure that the cylinder is always full of oil when the slide is moving down at high speed

Consist of motor, oil pump and valve groups

Complete working cycle can be realized through the control of hydraulic valve.

The working pressure at the right side of the wall board can be adjusted by the remote adjustment valve


2. Protective fence and the safety interlock


Protective fence and the safety interlocker to ensure the operation safety. Power supply switch that is set in the electric box will be automatically turned off when the box's door is opened or the fence is turned up. Protecting barrier with safety interlocker is mounted on the back of the machine. Another, there are travel limit protection and foot pedestal mounted emergency off switch.

3.Synchro control system:


Slide syncho system: adopt steel torsion bar synchro system, simple in structure and high in accuracy

2 ends of slide has 2 synchro fork which make,The system uses upper die compensation to improve the brake precision.

Adopt upper die compensation to improve the brake precision

4. Sectional Ram Clamp Bars:


Separate sectional clamping bars are supplied as standard equipment in order to securely fasten short dies, as well as standard length tooling. Unique crown correcting device is standard.

5. Advance technology and procedures:

This metal machining tool is a kind of steel torsion bar synchro press brake. -Electronic control of back gauges and ram stroke, data displayed and manual setting

Process of cylinder and sealing component:
Cylinder: no.45# steel treated, inner holes fine machined and extruded.
Valve rods: no.45# steel treated, nickel and phosphorous coated outside.



1. Standard Equipment:
Estun E21NC control System

Powered Depth Y-axis&Back gauge X-axis

DELTA Inverter controlled back gauge

HIWIN Ball screws & Polished rod with 0,05mm accuracy.

Plate Support Arms

Germany Bosch-Rexroth Hydraulic

Germany EMB Tubing connector

Germany Siemens Main Motor

Tele mecanique/Schneider Electrics

Hydraulic &Electrical overload protection

Top and Bottom Tooling(86°,R0.6mm)

Safety Standards(2006/42/EC):

2. Safety Equipment:


1.EN 12622:2009 + A1:2013 2.EN ISO 12100:2010 3.EN 60204-1:2006+A1:2009

Front finger Protection(Safety light curtain)

South Korea Kacon Foot Switch(Level 4 of safety)

Back metal safe fence with CE standards

Safety relay with Monitor the pedal switch and safety protection

3. Estun E21 NC Control system:

Back gauge and block control

Control for general AC motors,frequency inverter

Intelligent positioning

Stock counter

Holding/decompression time setting

Program memory of up to 40 programs Up to 25 steps per program

One side positioning

Retract function

One key backup/restore of parameters

mm/inch

Chinese/English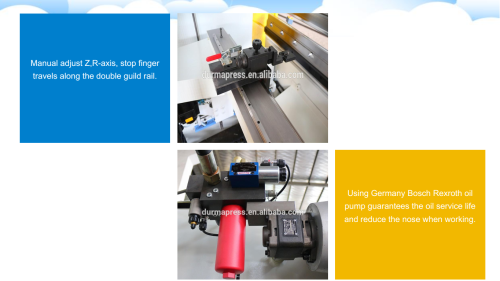 The whole EU streamlined design, heat treatment rack, high rigidity worktable, optional mechanical compensation device, to achieve precision bending.

Hydraulic synchronous control and Estun NC programmable logic controller ensure accurate repeatability and ease use.

Integrated hydraulic system (Bosch Rexroth Germany) allows automatically switch to slow bends in a quick way.

X axis and Y axis realize accurate positioning function by frequency converter through NC E21 system programming control.

Cutting-edge frequency response hydraulic control technology, more stable machine tools, more reliable operation.

The best ratio of parameters, optimal core configuration ensure stable performance, more convenient operation.

WC67K standard single-axis back gauge system and single-axis bending angle system, you can choose to add the V-axis compensation function, and select the appropriate mold to bend complex shape workpieces easily.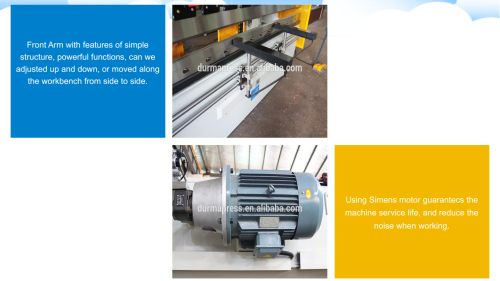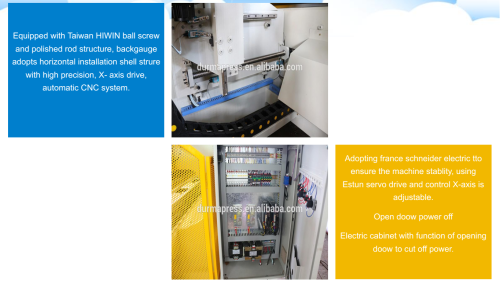 Main Features:
1.Totally EU streamlined design,Monoblock by welding robots & aparatus and stress relief process by Annealing treatment.
2.All ACCURL machines are designed using SOLID WORKS 3D programming and made with enhanced ST44-1 quality steel with the latest technology.
3. MB8 Series are among the highest rated machines which will help you increase your productivity and keep costs at minimum levelwith its user friendly CNC controller and low cost hydraulic maintenance.
4. High quality and repetitive bending is obtained by using synchronized cylinders and valves.

5. Automatic axis referencing and calibrating when machine is turned on.
6. Rigid upper beam runs on 8-point bearings with bending precision of 0.01 mm
7. Well-known top and bottom tool brands are long lasting stiffened and provide precise bending.Silent high pressure pump.
Standard Equipment:
1. 4- axis Delem DA52s programming mode CNC control
2. Full synchronisation of Y1 + Y2 axes with proportional hydraulic valve system and constant monitoring by CNC system to +/- 0.01mm accuracy
3. High precision linear scales for measurement of stroke depth mounted on side frames rather than top beam to prevent any distortion in accuracy as beam comes under load
4. CNC-controlled X & R-axis as standard ballscrew backgauge with servo drive motors.
5. Light guards
6. Two micrometric backgauge finger-stops with lateral adjustment

7. Steel mono-block construction
8. Polished chrome plated and ground cylinders
9. Long stroke and large open height dimensions
10. High approach and return speeds for production bending.
11. Euro style quick release top tool holders with intermediaries including wedges for crowning.
12. 88 degree sectionalised goose neck top tool
13. 4 way sectionalised multi vee bottom tool

14. Double footswitch control and pendant type control arm.

15. AKAS laser tooling guards

16. Electrically interlocked side guards

17. Electrically interlocked read access door

18. 2 sliding front support arms with linear guide rails for lateral adjustment and hand wheel for height adjustment, 1000mm long from centre of bottom tool vee.

19. Side guard is standard meeting CE regulations.
Delem DA66T CNC Press Brake Control system:
1. 2D graphical touch screen programming mode
2. 3D visualisation in simulation and production
3. 17" high resolution colour TFT
4. Full Windows application suite
5. Delem Modusys compatibility (module scalability and adaptivity)
6. USB, peripheral interfacing
7. User specific application support within the controllers multitasking environment
8. Sensor bending & correction interface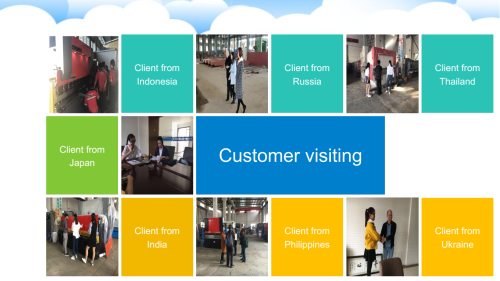 Our service

1. Standard Service:
Our factory provide the service for the customer forever, if the customer need operation help,
can contact us by MSN, Skype, Email and Telephone at any time, we provide 24 hours on-line service.
2. Installation:
Our factory can send our engineer to the customer's factory install, commission and training freely .The customer provide the double trip tickets, food and accommodation for our engineer. The customer also can send the engineer to our factory to learn the operation and maintains freely.
3. Quality Guarantee:
Our guarantee time is 14 months from B/L Date ,If any component is damaged during guarantee time,we can send the component to the customer By DHL,TNT freely.
4. Order Processing: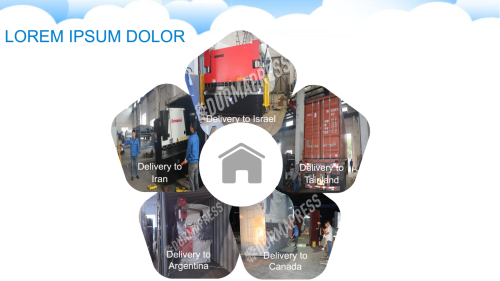 RFQ
Q:How about your machine quality?
A:Our machines distribute worldwide to about 50 countries where there are metal plate industry ,there are Brillante machines.And where there are our machines,there are good reputation and terminal user satisfaction.

Q:The machine price can be more discount?
A: We think about our price level,we are sure to provide quality=price and pice=quality ,the matched price and acceptable for the clients and durable for our machines.We welcome your negotiate with us and get a good satisfaction. and Increase the order quality or long-term cooperation in the future will get our discount.

Q: Where is your factory?
A:We located in Ma'anShan City, Our factory is particularly close to Nanjing, about an hour, if you are to visit the factory .We can pick you up at the airport.Welcome to visit our factory!